And we begin using the iron.
Set the iron on the hottest setting (usually Cotton).
Apply light to medium pressure, moving in a circular pattern.
For a board this size, 45 seconds to 1 minute should be fine.
It also helps if you hold down a corner of the photo paper with something (NOT YOUR FINGERS!),
until the circuit pattern starts to stick to the copper.
This part can be a bit tricky and may take some practice. it took me several tries to get it right
the first few times I made my own boards.
For larger boards, it will take more time. Also for larger boards, I generally use a toaster oven I use
for baking pedal enclosures after I paint them. What I do is heat up the board first. About 150 - 200 degrees should be fine.
This only applies to larger boards. For small boards its not necessary.
If you use a toaster oven for either purpose, DO NOT USE IT FOR FOOD EVER AGAIN!
We now have the circuit transferred to the copper, time to give it a bath.
I use warm soapy water. What we want to do is soften the paper so it comes of easily, leaving the trace on the board.
Now let it soak for 10 - 20 minutes.
After we remove the board from its bath.
You can just use your fingers and a toothbrush to remove the wet paper.
And here is what we get from that:
Ready for etching!
Next step...
Now what I have done here is taken some strips and little squares of plexiglass to create something
to hold the PCB at the proper height. We want the board raised up enough so that it is just barely
in the solution.
The mixture of the solution, well, ask ten people, you will get ten different answers.
As for me, I use a mixture of roughly 3/2 - Muratic Acid/Hydrogen Peroxide.
Pour just enough in the barely cover the board.
Muratic Acid and the Hydrogen Peroxide.
The little cup on top of the peroxide I use to measure out the chemicals.
measure carefully.
Here I use a small air pump you can get at anyplace that sells fish for $5 or so.
Buy it at an electronics supply store and its around $10. But you also get the hose and something
to attach it to. What you want for this to do is create multiple small bubbles underneath the board.
This greatly speeds up the etching versus just letting the board sit it the solution.
Another option is to continually rock you etching tank back and forth.
Trust me the air pump is the way to go by far.
What you want if using the air pump is something non-metallic to plug the hose into with multiple
holes in it that blow air bubbles at the board. I use a hard piece of rubber. A real bitch to drill holes
in but I have a big piece that 1/2 inch thick and about 5 x 5 feet.
Now here we are etching. Notice the bubbles. And the shield.
Now we have our etched board (ok, I took it out to soon and left a tiny piece of copper there.
Not to worry in this case. Its away from the circuit and will likely be trimmed anyway.
Now you see why the text was printed in reverse :)
Now we start drilling the holes needed for the components and wires:
Note #2: Before you start drilling make sure that the little holes the components will go through are clear of the toner. It helps to keep the drill bit from drifting or wobbling.
Those drill bits are very thin and bend easily. And fiberglass tends to dull the drill bits a bit. Carbide bits are an option but they cost about $6 each. regular ones, you can get like 10 of them for a few bucks.
(Sorry, a little blurry)
NOTE: make sure you wear eye protection and some sort of mask to prevent inhaling fiberglass dust
(Another blurry picture)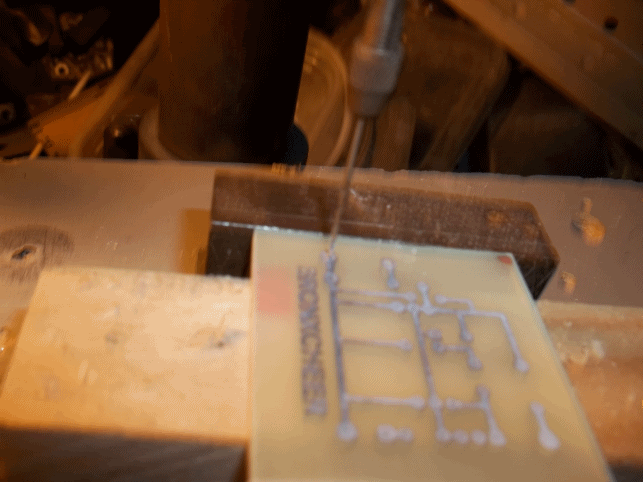 After we drill all the holes (see list for drill sizes), we need to debur the holes and remove the laser toner.
Use the 400 grit paper to remove the burs and Acetone to remove the laser toner
And we get....
Nice and purty
And there we go, ready to be assembled.
Any questions, problems, etc, reply in this thread.
Enjoy...and be careful.