| | |
| --- | --- |
| MrFlibble | 12-06-2012 01:51 PM |
---
NGD - dirt cheap fun times

Meant to be downsizing my collection, but I'm a sucker for anything that looks pretty. Luckily this one turned out to be a keeper.
Grabbed meself a B-stock Epiphone Les Paul Studio Deluxe, £170 from Thomann. I can't tell why it's B-stock, my only guess is it was sat on the shop floor for a couple of weeks or something. Bridge saddles are only just starting to show a little tarnishing, otherwise it's utterly flawless - a double surprise, given it's a low-end Epi too. Set up right out the box was pretty poor, but nothing critical. A quick turn of the truss rod and thumbing the bridge down and it's all perfect. Frets are nice and level, nut is cut decently enough.
Spec is:
''Mahogany'' body, i.e. god knows what wood stuck together in ply fashion, with very nice mahogany veneers.
Mahogany neck - penlight down the truss rod access suggests this part actually is some sort of proper mahogany.
Rosewood fretboard - surprisingly nice, tighter grain than you usually get in this price range.
Alnico Classic Plus humbuckers, basically the usual '57 Classic copy that Epi Studio and Standards get but overwound in both positions. Bridge pickup is surprisingly articulate; neck pickup is utterly worthless.
Kluson-style tuners - dunno what the gear ratio is, but they feel very sturdy. The Klusons on my 2004 Epi Joe Perry have never given me any problems, so I'm happy to trust these and not replace them. Improvement over the flimsy Grover copies that the normal Studios usually have, at least.
Locking Tune-O and stopbar. Seem functional enough. Always nice to have the locking ones over the usual ones which fall off every time you change strings.
Full-size Alpha pots and Mylar caps. This one surprised me, I was pretty sure Epi were only using mini pots and ceramic disc caps. Much nicer feel to these, not stiff like CTS pots can be and not completely loose like the minipots are.
Got some custom order Seymour Duncans on the way that will be going in it. I like the stock bridge pickup, but I have no practical use for another medium-hot, warm humbucker guitar. What I've ordered is a hybrid of the Full Shred and Custom designs, with black hex pole pieces coming through gold covers (I always like putting a slightly unique spin on the look of my guitars). Very high output in the neck, slightly low output in the bridge; I'm weird and don't like them to be balanced. I'm going for a significantly brighter and tighter tone. I may also disconnect the bridge tone control for added brightness, since I never use it anyway.
Also I'd just like to add, everyone at the SD custom shop - Seymour and MJ themselves, especially - have been so helpful, I doubt I'll be able to bring myself to buy pickups anywhere else now. It's lovely to just be able to tell a manufacturer directly "I have THIS crap guitar and I want THIS tone" and they just go "we'll wind you something specially for it, see you in a couple of weeks". Of course, I'll update this once the pickups are here and installed.
It's not that exciting, but I know the rules so have the mandatory, arbitrary photos.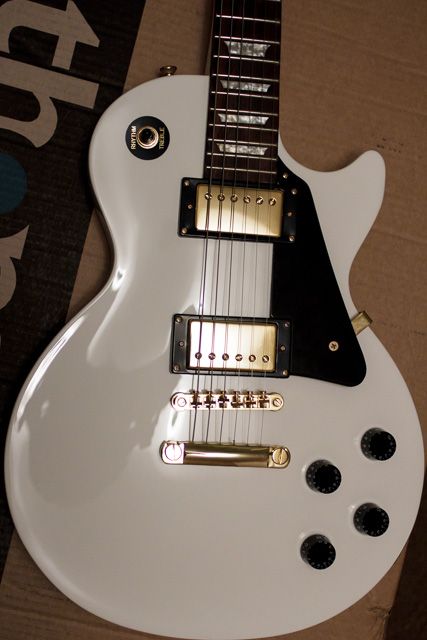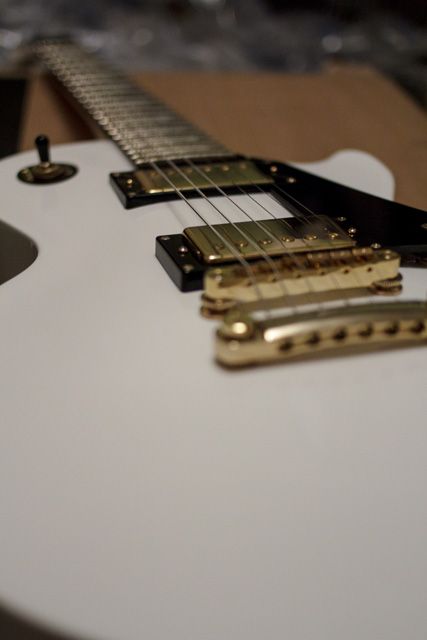 Second cheapest guitar I've ever bought and I think it might become my #1 beater. Not blowing my load over it, but it really is a helluva lot better than I was expecting from the low end of Epiphone.