Hay I have a T14. It's the same thing without
the quilted top.
The controls are the standard 3 knob setup on
a passive PJ bass. There is a master tone and
a separate volume for each pickup.
As is common, the neck pickup is louder and
bolder than the bridge pickup. The neck pickup
by itself is one of the most useful settings. The
bridge can be turned up all the way and it adds
a small amount of edge to the sound, which is
another useful setting.
Now, if you turn the neck down just a tad, you
can get to a place where the two pickups put out
about the same volume. But you will notice that
the overall volume has decreased a little. Just use
the amp to make up the difference.
If you decrease the neck a little more, you get a
more edgey tone from the bridge pickup, again
with less overall volume than the neck pickup.
I wasn't real pleased with the pickups at first, but
They grew on me. I really like the pickups now.
I defretted mine and made the neck a little thinner
and less thick than a Jazz bass neck,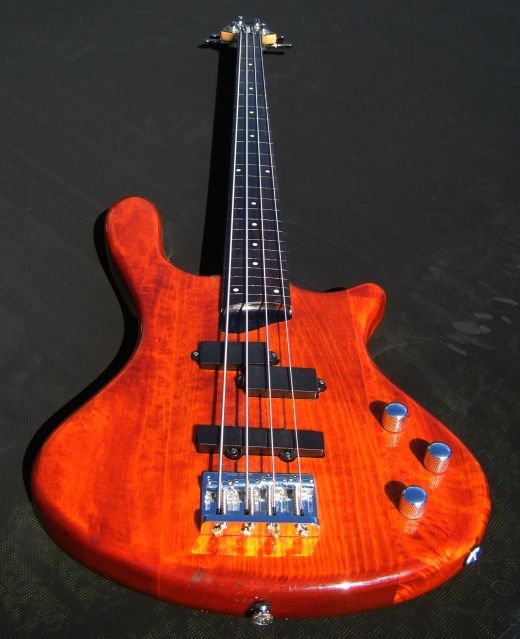 If you keep playing it, I think you will find that you
have a pretty cool bass,
Tabdog