Hey guys.
This, is
megalania prisca
he was a super bad ass lizard, basically the same as the modern goanna/monitor lizards but massive.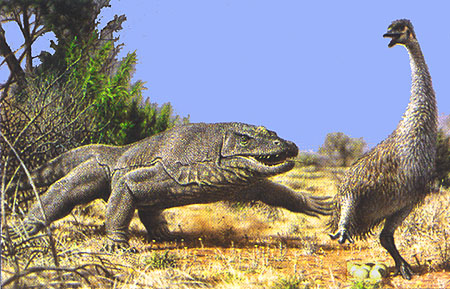 He was not the only animal in history that is basically a gigantic copy of similar animals. (megalania/lace monitor) this was actually a common occurrence among many different species of animals, that evolved after the fall of the dinosaurs. (basically once dinosaurs went extinct the opportunity arose for mammals, amphibians and other such creatures to grow and evolve to the size of dinosaurs.) We called this "Pleistocene Megafauna"
However don't confuse with the modern megafuana, such as elephants or hippoes.
Megafauna: Mega = large, fauna = animal = large animal
I don't know if you are aware or not, but the average komodo dragon is about the size of a
lion
This mofo was bigger than
dairy cows
. Megalania also had venomous pouches in his mouth making him the largest venomous vertebrae we know existed. You did not want to mess with him. What I am getting at is, humans use to co-exist with this monster lizard in Australia. Some people give megalania credit to being the origin of dragons.
TL;DR
Dinosaurs got wiped out, mammals, other reptiles and, amphibians got the opportunity to step into the slot of "New biggest and baddest creatures" and after thousands of generations of breeding they eventually grew into megafuana from the Pleistocene epoch. (giant beavers, giant sloths, giant birds, all kinds of giant shit that slowly went extinct as humans began to expand across the planet.) One of the creatures was Megalania; a real life dragon/godzilla/reptar which co existed with the human race until about 40,000 years ago.
END TL;DR
Now, lets pause for a moment. Are you familiar with Foster's Rule? or "The Island Rule" ? If so continue on to the next section, if you don't know what it is; it is a principle of evolutionary biology that states species will get either smaller or bigger according to the available resources on the island.
"It was first stated by J. Bristol Foster in 1964 in the journal Nature, in an article titled "The evolution of mammals on islands". In it, he studied 116 island species and compared them to their mainland varieties. He proposed that certain island creatures evolved into larger versions of themselves while others became smaller versions of themselves. For this, he proposed the simple explanation that smaller creatures get larger in the absence of the predators they had attracted on the mainland and larger creatures become smaller with the absence of food sources"
I am no biologist and I am not claiming megalania's existence was because it lived on an island. (Come on guys Australia is just a giant island) I believe it exists because of evolution, which is also known as natural selection.
Now, if these creatures have existed once through natural evolution, what if they were recreated through unnatural evolution (ie, selective breeding) The process of isolating genes and breeding certain traits in and out of the species, The whole point of this post comes down to this question: As humans can we use natural selection to breed giant animals? Naturally I look at the evolution of dogs (they mapped out the Canines Genome and found that all dogs come from wolves, after thousands and thousands and thousands of rounds of selective breeding we transformed a wolf into a chihuahua) Can we take it the other way and breed only the largest of the species and eventually transform it into a megafauna?
Some people (not me) think Megalania never went extinct and it still lives in Australia. I have seen zero evidence to support this; there are no tracks or carcass's or any other form of evidence. The closest thing we have to evidence is hundreds of testimonials, but if I am correct, the megalania is popular in cryptozoology and urban myths in Australia. it becomes a situation like the debate of the existence of big foot, no evidence other than blurry pictures or some stories of campers/hikers/hunters who are most likely making it up (Jane Goodall believes there is undoubtedly some sort of giant primate that lives in the forests of North America which is very interesting but that is a topic for another day.)
Humans have experimented with cloning extinct animals and we have actually successfully cloned extinct species back to life before (a species of deer, from a while ago maybe couple thousand years or so, successfully cloned from preserved DNA, although it died 7 minutes after birth due to lung defect) Instead of ressurecting Megalania through cloning, is it possible to recreate or create new species of megafuana through selective breeding?
I know this may seem trivial "why make a giant animal" "it would take so long" "blahblahblah" but I am speaking theoretically, if we had to could we do it? This subject is very interesting to me, same with anything related to extinct animals or dinosaurs, if you have similar questions or ideas or thought experiments post them here