Celebrity Rig: Eddie Van Halen
Guitars
Full name- Edward Lodewijk Van Halen
Birth date ? January 26 , 1955
Birth place ? Nijmegen, Netherlands
Some info on Ed ?
Full name- Edward Lodewijk Van Halen
Birth date ? January 26 , 1955
Birth place ? Nijmegen, Netherlands
"Eddie was around age twelve when he first started to learn guitar. He was so committed to playing the guitar, that he played it all day, everyday. Sometimes, he would even skip school to stay at home and practice. By 14 he had learned almost every Cream solo of Eric Clapton note for note. In an April 1996, interview with [[Guitar World]], when asked about how he went from playing his first open G chord, to playing "Eruption", he simply replied "''Practice. I used to sit on the edge of my bed with a six-pack of Schlitz Malt talls. My brother would go out at 7 P.M. to party and get laid, and when he'd come back at 3 A.M., I would still be sitting in the same place, playing guitar. I did that for years--I still do that.''"
Eddie Van Halen! What dont you like about him? His blindingly fast self taught technique? His insane tapping and finger stretches? The fact that all of his solos and his playing are derived from blues? The fact that he was shredding like noone else had ever heard(was shred even a term back then?, and ever will? In
1978
!
Eddie Van Halens main influences:
Eric Clapton
He liked other guitarists, but i wouldnt count them as influences. I've read over 30 evh interviews before doing this celeb rig, and have read where hendrix wanst a influence at all. Which was a suprise to me... He said hendrix wasnt the style he liked, and wasnt into him at all.
Ill just give you the interview section my self. Check it out.
I did an interview once with Circus magazine, and they asked me, "Who are your main influences?" I said, "Well, Clapton, you know, the usuals." And they said, "Oh, not Jimi Hendrix?" I go, "No, actually I didn't like Jimi Hendrix at all. He was too flash for me. I get off on the bluesy feeling that Clapton projected, even though I don't play like Clapton or sound like him at all." Which doesn't sound egoed out, because I don't sound like him. But when I read it back, they made it seem like, "I don't play like Clapton. I'm better than all of 'em." That's the way it read in print. So I called the guy up. I just go, "Hey, **** you, man! That's the last time I'm doing an interview with you." Which I guess is bad to do too, but the ****ed thing is the kids only know me through what they read. I feel like going door to door and going, "Hey, this is bull****. Don't believe it." But the kids do. I ain't no extrovert. I'm a quiet person. That's probably why I do all these weird things on guitar.
Just a short list of some guitarists who were influenced by Eddie Van Halen:
Joey Allen - David Anderson - Jennifer Batten - Jason Becker - Vito Bratta - Michael Britt - Jerry Cantrell - Phil Collen - Dimebag Darrell - Warren DeMartini - C.C. DeVille -Brett Garsed - Greg Howe - Damon Johnson - Jake E. Lee - Vernon Reid - Randy Rhoads - Joe Satriani - Steve Vai - George Lynch
This Is.
Eddie Van Halen
Guitars
Im not listing all of his guitars. He's got WAY to many. i'll just list his main ones.
Charvel Strat
. Although he used it throughout his career, it was used mainly on VH1 and VH2.
Edward bought Charvel ash body in 1975 for fifty dollars and a charvel neck for eighty dollars. Originally, the body came with single-coil bridge, neck, and middle pickup positions pre-routed and Van Halen, with a chisel, excavated a hole to house a humbucker in the bridge position. He placed in this chiseled hole a P.A.F. from a 1961 Gibson ES-335. Fender trem, brass nut(would oil it so it wouldnt go out of tune so he could use the wammy bar), schaller tuners... Personally, this is my favorite guitar he used. It just screams Van Halen! Don?t you think? On Van Halen II Ed went with a similiar strat body, made by Ed (just like all of his guitars) with the help of Charvel. He wanted it to be rear-loaded, so he wouldnt have a pickgaurd. At the time, he couldnt afford a router, so he had Charvel route the body. The pickup used on the photo session for VH2 was not the actual pickup he used, he just slapped one in there for the shoot. He tried out lots of pickups he didnt like, so he tried a DiMarzio pickup, and he didnt go for them. Eddie has said he likes a clean sound, but with sustain. The DiMarzio pickups are real distorted. From there, Ed custom wound his pickups , particulary a DiMarzio pickup and a PAF magnet, rewound with copper tape around the windings, dipped in paraffin wax, to cut down on feedback. He actually ruined 3 pickups trying to wound it, by the 4th time he got it to work. This was a factor in his "brown sound" ... If you havent noticed, Ed's original work has never been the same since Van Halen I.
Kramer Strat
. In 1983 Ed began endorsing Kramer guitars and used customized Kramer guitars and necks.He started using Kramers in the Diver Down era.
1984 Kramer Baretta Guitars
Edward Van Halen's 1984 and 5150 guitars are one of the most recognizable guitars in rock history. Ed assembled the guitars himself at the Kramer factory, and even painted it himself with Krylon "rattle-can" paint. The guitars consisted of an original Floyd Rose tremolo, one humbucker, and a single volume knob. A very simple guitar, for a very simple sound that is truly amazing.
The myth behind this great guitar is that it is a Kramer Baretta. This is actually a totally custom guitar made from custom parts in the old Kramer Guitar Factory in Neptune NJ. Another fact is that the body isn't actually a Baretta. The body is what would have been known as a Kramer Pacer Special. In fact, the control cavity is very different from most Kramers that were produced in the 80's. They proved to be a good candidate to hold his cigarattes :haha
MM Ernie Ball Guitars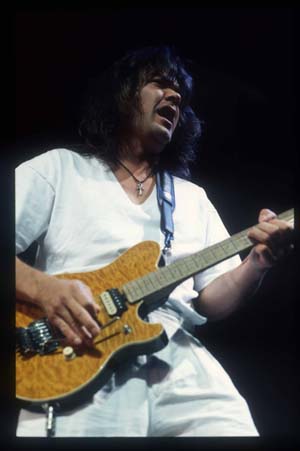 IMO this guitar totally changed VH imo. He should of stuck with the original striped stuff, but whatever. Here, eddie changes everything! From guitars to picks. Ill tell you about his huge change in equipment later down the page.
Im not to knowledgable of this guitar, im not really into the 88'+ equipment...
Heres the specs though -
Size: 12 5/8" wide, 1" thick, 36 5/8" long
Weight: 8 pounds. Varies Slightly
Body: Wood Basswood with bookmatched figure mapel top
Finish: High gloss polyester
Bridge: Music Man Floyd Rose licensed tremolo
Neck
Size Scale: 25" Radius: 10"
Headstock: Only 5 7/8" long
Frets: 22 - Special design unique profile fretwire
Width: 1 5/8" at nut, 2 5/32" at last fret
Wood Selected: maple neck and fingerboard, digitally carved
to Ed's specifications
Tuners: Schaller M6La with pearl buttons
Electronics
Pickups: 2 Custom DiMarzio Humbucking
Controls: 500K volume pot with "tone" knob (the way Ed likes it!)
Switch: 3-way toggle pickup selector
Peavey
From there, he started using Peavy guitars VERY similiar to the MM guitars. He named them after his son wolfgang(Which jams with eddie every once in a while at live concerts!).
PEAVEY PARTS WITH EDWARD VAN HALEN
World-famous manufacturer launches 6505? amplifiers, Carina? guitars
December 21, 2004
Peavey Int'l. Headquarters?Peavey announces it has parted with Edward Van Halen after a 13-year partnership. Peavey collaborated with the guitarist on his signature-model Peavey Wolfgang® Series electric guitars and Peavey 5150® Series amplifiers.
According to the company, Van Halen retains the rights to the names 5150 and Wolfgang, as well as certain design elements of the Wolfgang guitar, but the 5150's circuitry and tone will remain in the Peavey family as the 6505? amplifier. Peavey will launch the new 6505?named in celebration of Peavey's first forty years, 1965 to 2005?at the Winter NAMM (International Music Products Association) Expo, Jan. 20-24, 2005, in Anaheim, Calif.
Peavey will also debut its Carina (Italian for 'beautiful') guitars to replace the Wolfgang. Carina? Series guitars highlight many of the Peavey innovations used in the Wolfgang and other Peavey guitars, including computer-shaped necks that ensure all Carina guitars exhibit a consistent, comfortable neck radius and superior playability.
The hugely successful 5150 Series guitar amplifiers and Wolfgang electric guitars, which launched in 1991 and 1995, respectively, have become staples of modern rock music. Endorsers ranging from Ted Nugent, 3 Doors Down and Default to underground metal heroes Atreyu, Darkest Hour and God Forbid, and even power-punkers such as Visqueen, have lauded the contributions these Peavey products have made to rock 'n' roll.
"I'm very proud of the work we accomplished with Edward," says Peavey founder and CEO Hartley Peavey. "The 5150 Series has earned its place as a rock guitar standard, and the Wolfgang is a staple in the pantheon of rock instrumentation. They're both well respected pieces, and I'm glad we could bring those to life.
Well, i guess that about sums it up for the guitar part of this rig.