Hi, my name is Robert Mullally and welcome to my first lesson for Ultimate Guitar. I've been asked to talk about 7th chords because this is a popular topic amongst UG readers and an important one. I hope that this lesson serves as a good introduction to 7th chords for those readers who are new to the subject. I'll be covering such things as: what they are, where they come from, how you can play them and where you can hear them. I'll also give the more intermediate/advanced readers some food for thought. If you're a teacher, perhaps you'll even pick up some new ideas for your students along the way.
Prior Knowledge
This lesson assumes that you already have a good understanding of the construction of the Major scale and the triads that exist within it. You also need to be able to play these triads/chords using some of the most basic/common shapes. An understanding of the CAGED system would be an advantage. That being said, I'll remind you of some basic concepts to try and get as many of you involved as I can.
Figure 1 - C Major Scale (Ionian Mode)

Figure 1 shows the
C Major scale
(sometimes referred to as the
Ionian mode
) in standard notation across one octave. I've chosen to work with this scale for simplicity; there are no sharps or flats (which could otherwise complicate things). The notes are:
C
(
Root
),
D
(
Major 2nd
),
E
(
Major 3rd
),
F
(
Perfect 4th
),
G
(
Perfect 5th
),
A
(
Major 6th
) and
B
(
Major 7th
). The formula for any Major scale (where a tone is 2 frets and a semitone is 1 fret) is:
T
,
T
,
S
,
T
,
T
,
T
and
S
(which brings us back to the start).
Figure 2 - C Major Triad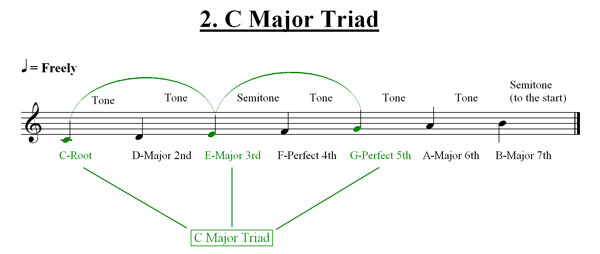 In figure 2 I've highlighted (in green) the notes of the
C Major scale
that, when played together, form a
C Major triad
. The notes are:
C
(
Root
),
E
(
Major 3rd
) and
G
(
Perfect 5th
). Play one, skip one, play one, skip one and play one.
Figure 3 – C Major 7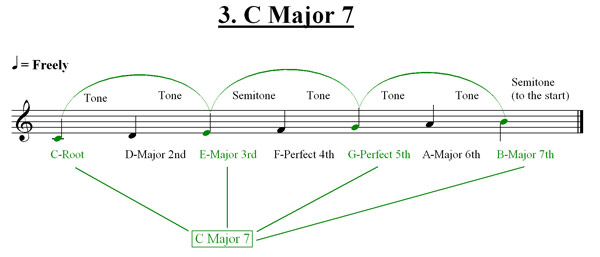 Figure 3 is like a continuation of figure 2. I've highlighted the notes that form a C Major 7 chord. Can you see that we've taken the "play one, skip one" idea one step further in order to gain an extra note (
B-Major 7th
)? We're stacking notes in intervals of
Major 3rds
and
Minor 3rds
just like we do with triads. The "stack" just becomes a bit taller in the case of a 7th chord. Another way to quickly find the 7th is to think of it as the scale degree before the root (i.e. go back one). You might be tempted to always go back 1 fret/semitone, but you need to think about the key of
C Major
. If the note you've landed on isn't in the key then it can't be right. Have a go at this short test to see if you're getting the idea. Remember, you're still in the key of
C Major
.
Short Test 1
1) What is the 7th of E? 2) What is the 7th of B? 3) What is the 7th of F? 4) What is the 7th of C? 5) What is the 7th of G? 6) What is the 7th of A? 7) What is the 7th of D?
Figure 4 – C Major 7 Shape

In figure 4 I've shown how you can turn a familiar
C Major shape
, such as position 4 (A shape from the CAGED system), into a
C Major 7 chord
. Starting with
C Major
, from low to high you have:
C
(
Root
),
G
(
Perfect 5th
),
C
again and
E
(
Major 3rd
). As you can see, there are two
C
(
Root
) notes in this shape. Let's take the higher of the two (
5th fret G string
) and lower it by 1 fret/semitone. This will give us
B
(
Major 7th
) and transform the chord into
C Major 7
. The fingering is shown in brackets. Many of the 7th chord shapes that you'll come across are based on the basic/common shapes that you probably learnt early on. They've just been modified so as to include a new note. In this case, it's a
Major 7th
. The new shape often requires you to adjust your fingering and leave out any unreachable or unnecessary notes. All of this can distort the appearance of the new shape and make it look a million miles away from where you started, but don't worry! You'll start to see the "ghost" of the original shape before long. You might be thinking "
Couldn't I have swapped the low C for B?
" Well, there are a few considerations. Firstly, if you swap your
low C
for
B
you will certainly have the notes of
C Major 7
in theory. However, just because it works in theory doesn't mean it will sound good. This particular alternative sounds just OK to my ears. Like most people, I prefer the first shape. Secondly, you no longer have
C
in the bass to keep things grounded in
C Major
land, so to speak. It also depends on context and personal taste. People have already done a lot of the hard work by experimenting with the basic/common chord shapes by shifting and omitting notes. The shapes that are now considered "standard" are so for good reason(s): they sound good, have the important notes and are physically playable.
Major 7 References
I think it's important to have some "real world" references to accompany anything theoretical. Without references, theory can just be letters, numbers and formulae on a page. References will show you what other musicians have chosen to do with the same theory (whether knowingly or not) and can help it all to sink in. This chord sounds happy like a
Major triad
. The presence of the
Major 7th
gives it a nostalgic quality. It spices up the triad in a similar way to how a
Minor 7th
spices up the
Minor triad
(I'll get to that). Some examples that spring to mind are: