10 Artists Who Hate Their Hit Songs. Part 2
We are our own biggest critics.
Maria_Pro
Ultimate Guitar
Posted Aug 08, 2017 05:48 PM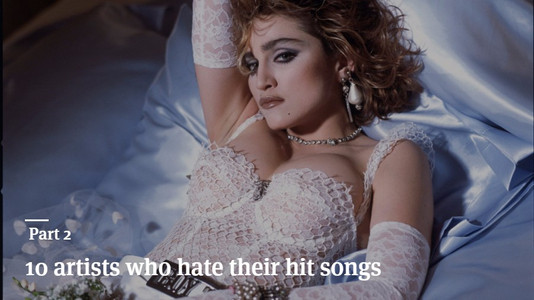 These 10 artists created great hit songs and they wish they'd never done this. Check out Part 1 to find out more stories.
R.E.M. 'Shiny Happy People'
The song appeared on R.E.M. 1991 album 'Out of Time' and was released as a single in the same year. It peaked at #10 on the Billboard Hot 100, and at #6 on the UK Singles Chart. Despite the song's success, band members were ambivalent about being known for a pop song that lacked gravitas.

The legend has it that when R.E.M. submitted 'Out of Time' to the Warner Bros., the label said that they needed an extra happy, upbeat song for radio. The band then wrote 'Shiny Happy People,' expecting the label to reject it. But instead, the Warners loved it!

Michael Stipe told the BBC in 2016:
'It's a fruity pop song written for children. It just is what it is, if there was one song that was sent into outer space to represent R.E.M. for the rest of time, I would not want it to be Shiny Happy People.'
Tina Turner 'What's Love Got to Do with It'
The song was recorded in 1984 and was taken from Tina Turner's fifth solo album, 'Private Dancer'. It eventually became Turner's most successful single, topping the U.S. Billboard chart for three weeks in a row. It served as one of the defining songs of her solo career.

According to the rumors, Turner hated the track from the moment she first heard the demo tape. But her manager Roger Davies convinced her to cut her own version. In 2012, the song was inducted into the Grammy Hall of Fame giving Turner her third Grammy Hall of Fame Award and her eleventh Grammy Award.

Something tells us that Tina's hairstyle in the music video might be another thing that she hates.
Madonna 'Like a Virgin'
'Like a Virgin' is a song recorded by American singer Madonna for her second studio album Like a Virgin (1984).

In a 2008 interview with New York's Z100 FM radio station, the singer said:
'I'm not sure I can sing 'Holiday' or 'Like a Virgin' ever again. I just can't, unless somebody paid me, like, $30 million or something.'
She reiterated her dislike of the track in 2009, telling reporters:
'For some reason, people think that when you go to a restaurant or you are going shopping that you want to hear one of your own songs. It's usually 'Like a Virgin' and that is the one I don't want to hear.'
Considering what came after it (the 'Sex' book and 'Holy Water') it's only logical that Madonna would almost feel a bit awkward performing this classic hit. It didn't stop her, though, from including
it on the setlist for her following two world tours.
Sinéad O'Connor 'Nothing Compares 2 U'

This is a song written and composed by Prince for one of his side projects, The Family, for the eponymous album The Family. It was later made famous by Irish recording artist Sinéad O'Connor. Her version of the song became a worldwide hit in 1990. Its music video received heavy rotation on MTV. Its lyrics explore feelings of longing from an abandoned lover's point of view.

Sinead O'Connor announced in a Facebook post that she'll no longer sing 'Nothing Compares 2 U' because she doesn't emotionally identify with the song. The singer explained:
'I don't want audiences to be disappointed coming along to a show and then not hearing it, so I am letting you know here that you won't. If I were to sing it just to please people, I wouldn't be doing my job right, because my job is to be emotionally available. I'd be lying. You'd be getting a lie. My job is to give you honesty. I'm trained in honesty. I can't act. It just isn't in my training. I have ceased singing other songs over the years for the same reason.'
The Smiths 'What Difference Does It Make?'
Morrissey has stated that 'What Difference Does It Make?' is among his least favorite Smiths songs. However, it became one of the band's first significant chart hits, peaking at #12 in the UK.
Morrissey told Following The Mozziah that he was not at all fond of this song's lyrics:
'What Difference Does It Make' is musically interesting but lyrically it is very...Simon Le Bon [Duran Duran]. I find the lyrics facile and mildly embarrassing. Otherwise, it's a majestic pop melody by Johnny and, ironically, had the lyrics indeed been penned by Simon Le Bon, I would probably cover it! As it is I'd feel too ashamed.'
Coldplay 'Speed of Sound'
'Speed of Sound' is a song written by British rock band Coldplay

for their third studio album, 'X&Y' (2005).

The band has admitted that they were trying to rip off Kate Bush's 'Running Up That Hill' but didn't quite get it right on this.

Chris Martin has said that it's one of his least favorite songs. To this day, Coldplay does not perform it in any of their concerts.

After being asked if any Coldplay songs had ever become hits that he personally thought were terrible, Martin explained that, while he thinks 'Speed of Sound' isn't necessarily a bad song, it pains him to think that they never got it right on the record. He cannot bear to listen to the current recording or play the song live.

When asked why Martin's reasoning was that the lack of enthusiasm would detract from the overall experience:
Chris Martin: 'It pains me.'
Howard Stern: 'Now, you have to play this in concert.'
Chris Martin: 'No, we don't. We don't play it.'
Howard Stern: 'Because of your feelings about the song?'
Chris Martin: 'Yeah, because, like I said, an audience can pick up real fast if you're not convinced by something…'
Kings of Leon 'Sex on Fire'

For Kings of Leon, fan insistence is probably the only thing keeping the song on their set list.

Nathan Followill, the drummer, reconfirmed in an interview for UK newspaper, The Sun:
'I would be pretty damn happy if my sex was never ever on fire again. Fans want it and you have to do it, and after so many albums together I can tell you, there's a lot of debate about what records make it onto a set list. Everyone has their favorites.'
MGMT 'Kids,' 'Time to Pretend'
NME named it a number-one song on its list of the Best Singles of 2008.

Andrew VanWyngarden said in his 2010 interview:
'It's not exactly hatred here, but there's not a huge amount of love either. 'I'm not saying that 'Kids' and 'Time to Pretend' are stupid songs, but I think there's at least partial irony and sarcasm. Now we're 27. It's hard to keep that naive-19-year-old-at-college philosophy going when you're writing a second album.'
MGMT is less than thrilled to revive any of their songs from the record that made them famous in favor of

composting

material that is entirely non-reminiscent of their earliest and most popular work.
Radiohead 'High and Dry'
While his dislike of Creep is well-known, he also disliked another iconic song from their early period. It was originally written for Pablo Honey, but put aside as the band thought it sounded like a Rod Stewart song. However, while The Bends was being made, it was rediscovered and the original demo mixed and put on the album.

In a 2007 interview with Pitchfork Media, Yorke stated that he did not like the song, saying:
'It's not bad... it's very bad.'
He also stated that he had been pressured into including the song on The Bends.
The Beatles 'When I'm Sixty-Four'

This was one of countless Beatles songs, written by Paul, that John Lennon hated.

He referred to this track as 'granny music.'

He also said that the song was 'Paul's, completely. I would never dream of writing a song like that.'