10 Bands That Don't Rock Anymore
Nothing lasts forever.
AndreyGlushkov
Ultimate Guitar
Posted May 26, 2017 08:41 AM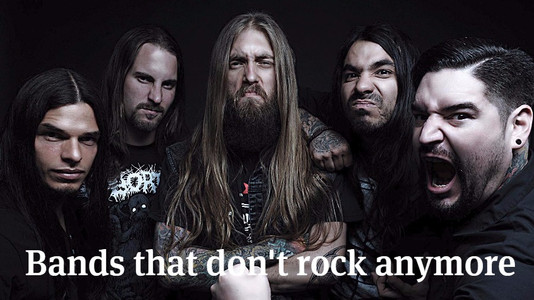 Have you ever heard somebody saying that "This band has sold out/They used to be awesome but now they've turned to shit"? Usually, it happens with popular bands that used to play in one genre and then started "experimenting with sound". So here's a list of such bands.
10. Papa Roach
Best album – Lovehatetragedy (2002), UG Score: 9.3
Worst album – F.E.A.R. (2015), UG Score: 4.9
Papa Roach were founded in 1993 and their albums Infest (2000) and Lovehatetragedy (2002) made them really popular. Guess every teenager in 90's or 00's was shouting "Cut my life into pieces this is my last resort" (I know you did at least once when you were home alone). But with every next album, Papa Roach sounded more and more "radio-friendly". We're yet to see what their new album "Crooked Teeth" will be like, but judging by singles that were released, it will not be a new Lovehatetragedy.
Used to be:
Now:
9. Bloc Party
Best album – Silent Alarm (2005), UG Score: 9
Worst album – Hymns (2016), UG Score: 5.1
English indie rock band Bloc Party was founded in 1999. Their first album Silent Alarm was picked "Album of the Year" by NME and was number 3 in the UK Albums Chart. Also, it's been certified platinum. After first success Bloc Party started experimenting with electronic music and all their albums after Silent Alarm were not so successful. Their last album Hymns was released in 2016 and got more negative reviews than positive. As it was said on TinyMixTapes.com: "Hymns, unfortunately, does not mark the logical next step for the band, nor does it exactly tread new ground. Rather, it denotes a descent into self-indulgence that's paradoxically reckless and complacent".
Used to be:
Now:
8. Fall Out Boy
Best albums – Take This To Your Grave (2003), UG Score: 8.4 and From Under The Cork Tree (2005), UG Score: 8
Worst album – American Beauty/American Psycho (2015), UG Score: 5.5
Founded in 2001 Fall Out Boy have become iconic with their first two albums "Take This To Your Grave" (2003) and "From Under The Cork Tree" (2005). Many bands all over the world were influenced by them and FOB with My Chemical Romance were the leaders of "mainstream emo" genre at the beginning of 2000's. However, Fall Out Boy's last album American Beauty/American Psycho released in 2015 wasn't emo or pop-punk at all. Too many samples, almost no guitar. There will be a new album released in September. Just listen to their single "Young and Menace". and you will know what to expect from these guys. The answer is – nothing good.
Used to be:
Now:
7. All Time Low
Best albums – Nothing Personal (2009), UG Score: 8.3 and Don't Panic (2012), UG Score: 8.1
Worst album (so far) – Future Hearts (2015), UG Score: 6.6
One more band that's better not to experiment with electronic music. After listening to their single "Dirty Laundry" I can't wait for their new album that will be released on June 2017 [sarcasm].
Used to be:
Now:
6. Paramore (as a rock band)
Best album – Brand New Eyes (2009), UG Score: 8.6
Worst album – After Laughter (2017)
Paramore were founded in 2004 and during their career turned from alternative rock band into pop/power pop band.
Used to be:
Now:
5. Bullet For My Valentine
Best album – The Poison (2005), UG Score: 8.9
Worst album – Temper Temper (2013), UG Score: 5.2
This band from Wales released their first album The Poison in 2005 and so far it has been best album. In 2009, 1,000,000 copies of The Poison sold worldwide and 500,000 copies in the US. After that there was a good album Scream Aim Fire released in 2008 and decent Fever in 2010. Everything was ruined by Temper Temper album. BFMV has raised the bar so high with their previous albums that they didn't manage to reach it themselves. This album could be labeled 'ok' if it was any other band, but for BFMV that's simply not enough. Fortunately, their last album Venom was not as bad as Temper Temper. Also, their last single Don't Need You was pretty good so we can wait for the new album with optimism.
Used to be:
Now:
4. Bring Me The Horizon (as a deathcore band)
Best album – Count Your Blessings (2006), UG Score: 8.1
Worst album – That's The Spirit (2015), UG Score: 6.3
Bring Me The Horizon were founded in 2004 and 2 years later they were awarded Best English Newcomer at the 2006 Kerrang! Awards ceremony. Also in 2006 Bring Me The Horizon released their best deathcore album Count Your Blessings that got a lot of positive feedback from fans of the genre. After that release BMTH started playing soft, non-aggressive music, and with each album they were becoming more and more "radio-friendly". Last album That's The Spirit was released in 2015 and it's unbelievable that it was recorded by the same band as Count Your Blessings. Some people say that they've grown up, some say that they've sold out (mostly deathcore fans), but it's a fact that from a deathcore band they've turned into an alternative metal band.
Used to be:
Now:
3. Suicide Silence

Best album – The Cleansing (2007), UG Score: 8.1

Worst album – Suicide Silence (2017), UG Score: 4.6

That was the biggest failure of 2017 winter. One of the best deathcore bands took a one-year break after the tragic death of vocalist Mitch Lucker in 2012. They came back with a vocalist Hernan "Eddie" Hermida and released You Can't Stop Me in 2014 that was not so bad. In February 2017, they've released a self-titled album. That was a disaster. Many people were joking about clean vocals on this album (the famous "teehee"haveby Jared Dines) and that Suicide Silence turned into Deftones cover band. What would Mitch say about this album?

Used to be:
Now:
2. All That Remains
Best albums – The Fall of Ideals (2006) UG Score: 9.5 and This Darkened Heart (2004) UG Score: 9.5
Worst album – Madness (2017), UG Score: 4.8
One more disappointment for hardcore music lovers. All That Remains have released absolutely generic, mediocre, lyrically repetitive album Madness. Bhas changed a lot since their first album. Vocalist Phil Labonte explains why they are not playing heavy songs from the first albums on concerts that their new fans won't like it. Ok, Phil, that's understandable. But don't forget who got you where you are.
Used to be:
Now:
1. Linkin Park
Best album – Hybrid Theory (2000), UG Score: 8.9
Worst album – One More Light (2017), UG Score: 3.9
Guess that you knew who would be on the first place when starting reading this article. Hell yeah, that's Linkin Park with their pop album One More Light. Probably will be nominated as"The Bummer of The Year". Metal Hammer stated that this album "makes Ed Sheeran sound like Extreme Noise Terror (grindcore band)... With One More Light album, Linkin Park have waved goodbye to rock". Some started saying that Linkin Park has sold out and Chester Bennington have replied on these accusations with really strong emotions "if you're gonna be the person who says like, 'They made a marketing decision to make this kind of record to make money,' you can fucking meet me outside and I will punch you in your fucking mouth because that is the wrong fucking answer!". Anyway, that doesn't change anything – Linkin Park's new album is not rock music at all.
Used to be:
Now:
Know any other bands that used to be good? Feel free to share them in the comment section below!