10 Best Glam Metal Songs
Best tunes from the age of hair metal.
Niass
Ultimate Guitar

Niass
Serial Walken comma user. Stroopwafel enthusiast.
Posted Mar 22, 2017 01:18 PM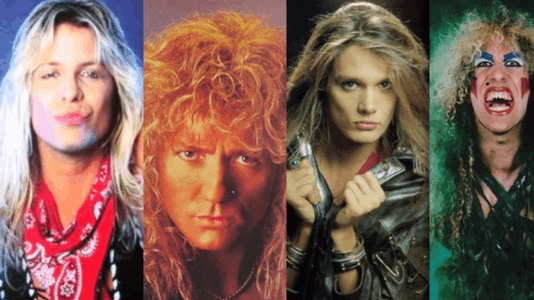 Welcome to the 80's!
Let's remember some of the most acclaimed songs of the glam metal aka hair metal.
10. Dokken - Alone Again
In this song Don Dokken sings about a man feeling lonely and depressed after a breakup. He said: "This is a thing I wrote when I was very young, very naïve. Everybody says, 'Who'd you write about?' 'I don't know.' 'What was the girl's name?' 'I don't know.' I must have been in love - it's a very sad song - but I don't remember who I wrote it about. I don't know. It was just a song that came out, I always say, from here [points up above his head] - whatever that higher power is."
9. Warrant - Cherry Pie
The lyrics and video in this one are quite comical because they are so obviously about sex. Warrant got away with it because the sexual imagery had double meanings: there was no way to prove they weren't singing about an actual pie.
8. Skid Row - Youth Gone Wild
This was the anthem of Skid Row's first album. It's about being true to yourself and not having to do what other people tell you or expect you to do.
Sebastian Bach told Guitar World that he latched onto the anthemic impact of the song before anybody else did. He explained: "When Skid Row wanted me to join the band, they sent me a cassette with a bunch of songs on it and that song was probably my favorite. When I joined the band, I got the tattoo of 'Youth Gone Wild' on my arm before we had a record deal, before we had a manager. I got 'Youth Gone Wild' tattooed on my arm when we were a club band."
7. Quiet Riot - Cum On Feel The Noise
This is a Glam Rock classic. Slade performed loud, anthemic songs in flamboyant costumes, often with lots of makeup and plenty of energy. Glam Rock was big in the UK in the mid-'70s, and this was one of the genré's first hits. Slade also hit #1 with similarly misspelled songs "Coz I Luv You" and "Mama Weer All Crazee Now."
6. White Lion - When the Children Cry 
This was the biggest American hit for White Lion, a Brooklyn-based band that fit every criteria for the emerging "Hair Metal" genre when they released their first album, Fight to Survive, in 1984. Akin to Bon Jovi and Skid Row, many of their songs took on social issues and were softer ballads. "When The Children Cry" and "Wait" were huge radio hits, but didn't fill arenas the way Motley Crue could with their swaggering stadium rockers. "Singing about big cocks is alright if you write it in one song, but it's always the same thing," their lead singer Mike Tramp once said.
5. Poison - Talk Dirty To Me
In his VH1 reality show Rock Of Love, Poison lead singer Brett Michaels made it clear that he prefers girls who are rather adventurous. This was Poison's first hit, and he's singing about just this kind of girl: one who will make love just about anywhere, and talk dirty while doing it. Probably not the girl you'll marry, but a good time nonetheless.
4. Twisted Sister - We're Not Gonna Take It
A mighty anthem for anyone lashing out at an authority figure and ready to put up a fight. The song is short on specifics, so it can apply to just about any situation where "we" are battling "the powers that be." This all-purpose approach was intentional and gave the song a timeless quality.
3. Ratt - Round And Round
"Round and Round" was Ratt's biggest hit, and one of only two Top 40 hits for the group in the US (the other was "Lay It Down," which reached #40 in 1985). The song was written by the group's lead singer Stephen Pearcy and their guitarists Robbin Crosby and Warren DeMartini. It finds Pearcy singing about a woman who broke his heart. The singer believes, however, that things will work out in the end, as what comes around goes around.
2. Cinderella - Nobody's Fool
Tom Keifer wrote this and all of Cinderella's other hits. He had a knack for writing power-ballads that he delivered with a sincerity rarely found in the Hair Bands of the '80s and early '90s. In this song, he feels used and mistreated by a girl, and is determined to leave her behind. He hints that she may have been a groupie or someone attracted to his wealth: "I scream my heart out, just to make a dime, and with that dime I bought your love but now I've changed my mind."
1. Mötley Crüe - Kickstart My Heart
Bassist Nikki Sixx told Rolling Stone: "That was a song I had written very quickly and had brought into rehearsal. I thought it was a throwaway, something that would belong on Too Fast For Love. It just really took on a life of its own and fit on the album a lot better than it should." This song is actually about Nikki Sixx' revival. One day Sixx literally died and when paramedics arrived they shot him with Adrenaline as a last ditch effort to save him, so the Adrenaline "kickstarted" his heart!
Know any better Glam Metal songs? Share your entries in the comment section below!