10 Best Neal Schon Non-Journey Songs
Neal Schon is 63 today!
N-D
Ultimate Guitar

N-D
UG editor. Music lover. Constant searcher of something interesting and unique.
Posted Feb 27, 2017 03:18 PM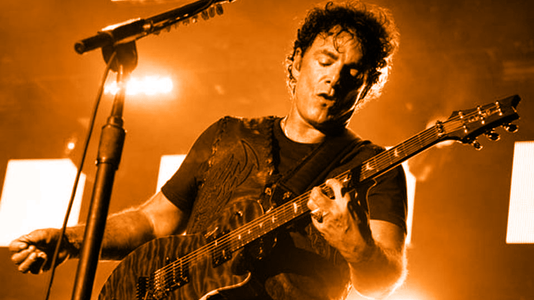 Today, February 27, 2017, one of the most melodic soloists in rock, Journey's guitar master Neal Schon turns 63!
Mr. Schon is well-known for his amazing riffs and solos in his main band, Journey, but his genius was involved in a lot of other bands and projects. And to celebrate this day we have prepared a special rundown of 10 great non-Journey tracks featuring Neal Schon!
Here's the list!
1. Santana - No One to Depend On (1971)
Before joining Journey, Neal Schon played in a number of other bands, and one of the most famous of them is Santana. "Santana III," released in 1971, is the album which debuted Neal Schon on lead guitar, then just 17 years old. And the track "No One to Depend On," while never a chart hit, still a staple of FM radio airplay. Also, the track's main riff is taken from Willie Bobo's "Spanish Grease" (1965).
2. Neal Schon & Jan Hammer - Wasting Time (1981)
In 1981 Neal Schon, already being a member of Journey, has started a collaborative project with a composer Jan Hammer, who was best known for his soundtrack work on the "Miami Vice" TV series. The duo has released their debut album "Untold Passion" in 1981, with Neal played guitars, synth guitar and performed vocals, with Jan Hammer on drums, keyboards (including keytar) and synthesizers. Colin Hodgkinson performed bass on that album. And the song "Wasting Time" is a great example of what the project sounded like.
3. HSAS - Missing You (1984)
After the release of Journey's album "Frontiers" in early 1983, Neal Schon decided to pursue another project with Sammy Hagar. They also were joined by the bassist Kenny Aaronson and drummer Michael Shrieve, and the supergroup called HSAS (Hagar Schon Aaronson Shrieve) was formed. The group reportedly rehearsed for less than a month before playing in concert. They released a semi-live album "Through the Fire," recorded during two live performances at The Warfield in San Francisco, with guitar overdubs added lateren - it was the band's only release. And "Missing You" includes Neal's staple guitar lines as well as a trademark solo.
4. Just-If-I - For Your Love (1991)
Just-If-I were another one-off project featuring Neal Schon, Mike Reno from Loverboy on vocals and Matt Frenette, Tom Cochrane's drummer. The group originally self-released their only album "All One People" in 1991, and the track "For Your Love" again includes Neal's trademark playing.
5. Bad English - Straight to Your Heart (1991)
Journey's Jonathan Cain and Neal Schon, who had enjoyed enormous success in Journey, formed new band titled Bad English after Journey disbanded with singer John Waite and bassist Ricky Phillips, Cain's former bandmates in the band The Babys. The supergroup's debut 1989 album, eponymously titled, was a big seller, though the second album, "Backlash" (1991), came and went without any fanfare. Both Ricky Phillips and Neal Schon expressed frustration with the "pop" side of the band's songs and wanted a harder edge. In the end, it proved to be the band's undoing as everyone left to pursue other projects. But the album's only single, "Straight to Your Heart," is featuring all the best we know from Mr. Schon!
6. Hardline - Takin' Me Down (1992)
After leaving Bad English, Neal Schon and drummer Deen Castronovo went on to join the newly-formed rock band Hardline in 1991. The group released its debut "Double Eclipse" in 1992, but then Schon departed for other projects after the band lost its record deal. And the album's lead single "Takin' Me Down" features straightforward-yet-melodic playing by Neal Schon.
7. Abraxas Pool - Szabo (1997)
In 1997 ex-Santana members Mike Shrieve, Neal Schon, Gregg Rolie, Jose "Chepito" Areas, Alphonso Johnson, and Mike Carabello released the self-titled album of their one-off band Abraxas Pool. And the track "Szabo," written by Neal Schon and drummer Mike Shrieve, is just a beautiful example of Mr. Schon's jazzy/Latina playing skills.
8. Neal Schon - It Will Happen (2005)
Besides numerous bands, Neal Schon also released a lot of solo albums since 1989, showing his versatility and diversity in different music genres. Neal's sixth solo album "I on U," released in 2005, showed his another side with a lot of progressive rock, jazz and even electronic influences, and the song "It Will Happen" is just another amazing journey through the Neal's musicianship.
9. Soul SirkUS - Another World (2005)
Soul SirkUS were another Neal Schon's supergroup along with Deen Castronovo (his bandmate from Bad English, Hardline and Journey), Marco Mendoza (Thin Lizzy, Whitesnake, etc) and vocalist Jeff Scott Soto. The musicians released their only album "World Play" in 2005, and and split a year later. And in the song "Another World" you can hear a bit unusual but really great Eastern influences in Neal's guitar playing.
10. Neal Schon - Lady M (Our Love Remains) (2015)
Neal Schon's latest at the moment solo album "Vortex" was released in 2015, and Neal said of it: "It is really representative of my best outing so far of what I have to offer as a solo artist." Schon told that the album captures him "being completely honest with the music that's on it and not catering to anyone, but actually playing spiritually and emotionally what's inside of me." In this record Neal mixed his blues- and jazz-influenced hard rock sound with elements of classical and world music. He dedicated the album as a whole to his wife, Michaele, whom he married in December 2013, with two tunes on the record were written specifically for her, "Lady M" and "Triumph of Love." Neal says those songs are among his favorites on the album.
Happy Birthday, Mr. Schon! We wish you all the best - thank you for the amazing legacy!