10 Best Rock / Rap Collaborations
Straight outta metal.
Niass
Ultimate Guitar

Niass
Serial Walken comma user. Stroopwafel enthusiast.
Posted Mar 23, 2017 12:59 PM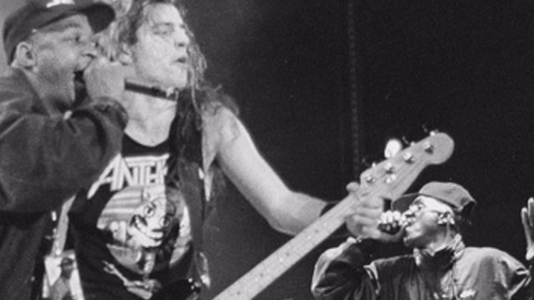 Nothing sounds better than sick solos... especially when they are accompanied by great flow.
Today, we present you 10 Best Rock / Rap collaborations.
Let's kick it!
10. Busta Rhymes / Lenny Kravitz - 'Make Noise'
Busta Rhyme's "Anarchy" album from 2000 had such dark undertones that it could've passed for a rock album on the shelves. This album cut from the project packs a hard-hitting Rockwilder-produced instrumental, but the real gem is Lenny Kravitz's constant-blaring guitar riffs throughout.
9. Tech N9ne / Five Finger Death Punch - 'Momma Said Knock You Out'
As one of the newer examples of rock rap (or rap rock - no favorites over here!), we appreciate this mix-up. LL Cool J's hip-hop hit got a full metal makeover, and it actually works for the genre. As an added bonus, Tech N9ne's entire persona looks like it was made for heavy metal music, making the pairing that much greater.
8. Puff Daddy & The Family / Tommy Stinson, Fuzzbubble, Rob Zombie and Dave Grohl - 'It's All About the Benjamins (Shot-Caller Rock Remix)'
It's not clear how this motley crew was assembled - and who's that white guy yelling in the background? But "Benjies" was just a natural fit for a rock re-cut. When Lil' Kim cuts in with her signature verse over Grohl muscling it out on the drum kit ("Wanna rumble with the Bee ha!"), it's fierce. Plus it's a rare treat to hear Biggie's legendary lines set to an alt-supergroup throwing it down. Problem is, only a radio edit was released, so segments of BIG's classic verse simply disappear. Still, Diddy and his all-star cast laid this joint out.
7. Jay-Z / Linkin Park - 'Collision Course'
Although the EP spans less than a half-hour in playtime, Collision Course packed a long-lasting sound. To have Jay-Z and Linkin Park - acclaimed artists of their respective genres - come together to mash up their greatest hits proved to be not only cool, but also sonically genius. Hearing Mike Shinoda flow over the "Izzo" beat and Hov going in on the "Numb" instrumental is awesome.
6. Cypress Hill / Slash - 'Rock Superstar' (Live)
B-Real, Muggs, and Sen appeared genre-conflicted in the '00s, dabbling in rock, including on their fifth LP, "Skull & Bones," a double disc, the first of which was composed of rap tracks and the second rock. They released both "Rap Superstar" and "Rock Superstar" as singles off the album, but it was the L.A. potheads' live 2003 version of the latter with fellow L.A. legend Slash and bandmates on (of all places) Jimmy Kimmel Live which created this rock-rap hotness, highlighted by the Gitane-lipped Gn'R guitarist delivering a scorching solo to close out this most memorable live rock-rap performance.
5. Six Feet Under / Ice-T - 'One Bullet Left'
Ice-T is no stranger to the metal realm. He's had his hardcore/thrash band Body Count for ages and even collaborated with Slayer long before he got the call to guest on "One Bullet Left." Chris Barnes, a media pariah after his explicit Cannibal Corpse lyrics caused boycotts around the globe, thought the author behind "Cop Killer" would make a swell duet partner and boy was he right. Ice-T impassioned delivery coupled with Barnes' indecipherable growl pushes this song into the stratosphere of guilty Six Feet Under pleasures.
4. System Of A Down / Wu-Tang Clan - 'Shame'
Easily the highlight of the "Loud Rocks" metal and hip-hop compilation, there's just something uncanny about hearing Serj Tankian's unmistakable wail side by side with Wu-Tang Clan's commander and chief RZA, on this early millennium collaboration. Wu-Tang's gritty beats mesh perfectly with System's buoyant instrumentation and best of all, the song captures the intensity and irreverence of both acts have become legendary for.
3. Snoop Dogg / Rage Against the Machine - 'Snoop Bounce'
This unreleased gem seems like a bit of a mismatch on paper: one of the most earsplitting bands in history backing one of the blizz-blazenest, laid-back-in-the-cut-enist vocalists of all time. But on this remake of a lost Z-funk jam from Snoop's '96 LP, "The Doggfather," Rage guitarist Tom Morello flanges up an appropriately straightforward groove that doesn't overpower fliggidy flow - saving the sonic boom for the chorus ("Bounce ta this!").
2. Public Enemy / Anthrax - 'Bring Tha Noize'
The natural progression of a typical heavy metal song is pretty fast, so it takes an MC with the proper flow to keep up. That's why Public Enemy - led by Chuck D's fast-as-fire bars -together with Anthrax made for a fitting union. The song's success made way for a joint tour between the two groups, but more than that it brought hip-hop and heavy metal together to show the triumph in teaming up.
1. Run D.M.C. / Aerosmith - 'Walk This Way'
Consider this the original. When Run DMC joined forces with Aerosmith to cover their 1976 single "Walk This Way" a decade later, the term '"rap rock" was created - and in the process gave way to hip-hop being seen as a marketable genre. The song was such an influential moment in history that it became the first hip-hop song ever to break into the top five on the Billboard Hot 100 chart.
Know any better cooperations? Share your entries in the comment section below.