10 Best Rock Operas / Concept Albums
Epic stories accompanied by epic music.
Niass
Ultimate Guitar

Niass
Serial Walken comma user. Stroopwafel enthusiast.
Posted May 27, 2017 11:10 AM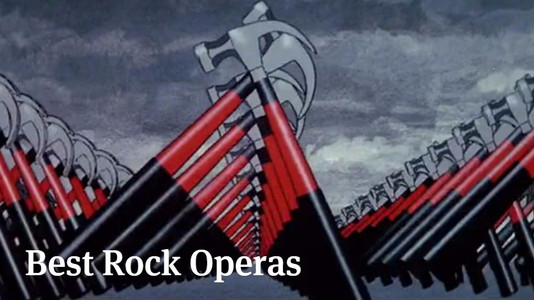 What is the best rock opera? That's quite a toughie.
Rock operas always tell some stories, and different stories appeal to different people. However, we tried our best to pick out the best of them. So enjoy the 10 best rock operas and concept albums and if you have your own thoughts on the matter, share them in the comment section below!
10. American Idiot / Green Day
Ok, whatever you may think of Green Day music you just have to admit that they made a drastic comeback with this rock opera. The story of Jesus of Suburbia conquered hearts of too many teenagers to count. It has a powerful political message and it managed to bring back the idea of rock opera to a younger generation who weren't alive when the most of the entries on our list were released.
9. Metropolis Pt. 2: Scenes from a Memory / Dream Theater
This was a major milestone for Dream Theater. 18 years since its release, it still constantly named by fans and critics as the band's strongest album to date.
The storyline may be a little complicated to follow because there are about 10 characters and frontman James LaBrie uses the same vocal delivery for all of them. But even if you don't get the story, you can't help yourself but enjoy this masterpiece. The story of a man named Nicholas who sees visions from his past life is sometimes just too much to handle.
8. The Lamb Lies Down On Broadway / Genesis
The last album to feature the enigmatic flute playing Peter Gabriel in his legendary role as one of Progressive Rock's most colorful frontmen, The Lamb Lies Down On Broadway. Psychotically brilliant, both lyrically and musically, Lamb showcases Genesis at the top of their game, borrowing heavily from religious hymns and a myriad of other classic song structures to create a sprawling epic unlike any other you are bound to hear. The album features such classics as the title track, as well as "Carpet Crawlers" and one of the coolest guitar solos ever in "Here Comes The Supernatural Anaesthetist."
7.
Joe's Garage Acts 1-3 /
Frank Zappa
" Zappa's 1979 comic tale is a rock opera about what would happen if music became illegal. Zappa appears on the cover in blackface, pledges his devotion to "Catholic Girls" ("with their tiny little mustache") and asks the burning musical question "Why Does It Hurt When I Pee?" And then the fun really begins.
6. The Rise and Fall of Ziggy Stardust and the Spiders from Mars / David Bowie
In this rock opera, David Bowie created his glittery, messianic alter ego Ziggy Stardust. He pulled off this legendary album by merging different styles, with such a passion and a deep sense of humanity that regularly emerges from behind the Star facade. But the best thing is that he managed to deliver his powerful message without sacrificing a tiny bit of entertainment value.
5. The Theory of Everything / Ayreon
Arjen Anthony Lucassen may be not famous as David Bowie but he is certainly known as an undisputed master of prog rock concept albums. Every album he releases is a rock opera, every album he releases is a blast.
The Theory of Everything is arguably the best of them. Ayreon worked with a lot of talented prog-rock musicians in order to make his character look alive. The story of a gifted boy and all the challenges he meets in his life is definitely must-listen.
4. Quadrophenia / Pete Townshend
While Quadrophenia never managed to escape the shadow of Tommy it surely has its moments. While Tommy was an epic fantasy, Quadrophenia set out to examine the band's mod roots and as such was more a commentary on British youth culture of the times. The story follows a young mod named Jimmy and his search for self-worth and importance, set in London and Brighton in 1965. It is the only Who album to be entirely composed by group leader Pete Townshend.
3.
The Wall / Pink Floyd
The story of a successful rock star named Pink who, as a child suffered trauma such as having his father killed in the war, and having to go to boarding school, as well as having an overprotective mother. this album tells the story of his life trying to cope with the wall he built between himself and the outside world. In the end, he puts himself on trial, is found guilty, and knocks down the wall.
The Wall is a musical triumph. Just the words "Hey you, would you help to carry the stone? ", especially with that harmonization, are enough to send chills down anyone's spine.
2.
Jesus Christ Superstar /

Andrew Lloyd Webber and Tim Rice

Well, There are musicals, there are operas, and then there is Jesus Christ Superstar.

A controversial opera right from its name was forbidden in many countries ( Fun fact: in USSR it was forbidden on the basis of religious propaganda, while in modern Russia it is forbidden because it offends orthodox Christians)

It represents one of those rare times in history when talent, inspiration, and magic clashed in a way that goes beyond music, into politics and into spirituality that affected the entire generation that listened to it. The story we all know is told with a kick-ass music, written by masters of rock operas - Andrew Lloyd Webber and Tim Rice.

Almost 50 years since its release and it still rocks hard. Don't believe it? Then listen to the starting guitar riff in 'Too Much Heaven on Their Minds' - perhaps one of the best things that happened to the genre.
1. Tommy / The Who
Townshend is pretty much a god of rock opera and 'Tommy' is his Opus Magnum.
A boy who witnesses his father's death and is told not to see or say anything about it and his mind takes it to an extreme and he becomes deaf, dumb, and blind. He is then given to his molesting Uncle Ernie. He discovers he is a "Pinball Wizard" and becomes famous around the world. He becomes very attached to mirrors and they feel he can't see the things around him but himself in these mirrors. His mother is mad that he is becoming too attached to the mirrors and smashes them. This cures Tommy of his odd disease, hence the songs "Sensation" and "I'm Free." Uncle Ernie tries to take advantage of Tommy's fame and starts a wildly overpriced camp for children of Tommy's old nature to be cured and learn pinball. The children in the end rebel, which is the song "We're Not Gonna Take It."
The story may be complex, but the music is raw, and it illustrates the story incredibly well and that's why the legendary rock opera by The Who takes the first place on our list.
What's your favorite rock opera? Share your thoughts in the comments section below!