10 Best Simon & Garfunkel Songs
Greatest songs by the iconic duo.
N-D
Ultimate Guitar

N-D
UG editor. Music lover. Constant searcher of something interesting and unique.
Posted Feb 28, 2017 02:14 PM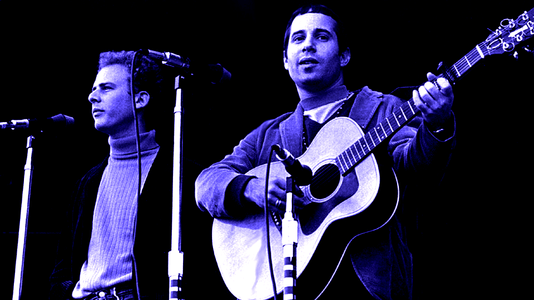 47 years ago, February 28th, 1970, the title track of Simon & Garfunkel's "Bridge Over Troubled Water" album hits #1 on the Hot 100, where it remains for six weeks, longer than any other song in 1970.
The iconic duo released a lot of great tunes, which become staples on the folk and rock music scenes, and we have prepared a special rundown of 10 greatest songs by Simon & Garfunkel! Of course, the list is not complete, as Paul Simon & Art Garfunkel wrote a lot of outstanding tracks, but we tried to pick the best 10 of them.
Let's start it!
10. A Hazy Shade of Winter
One of the most rock-oriented songs by Simon & Garfunkel, "A Hazy Shade of Winter" was released on October 22, 1966, initially as a stand-alone single, but was subsequently included on the duo's fourth studio album, "Bookends" (1968). Though being rock-oriented in sound, Paul Simon's lyrics are poetic as always.
9. I Am Rock
Originally written by Paul Simon in 1965 for his solo album "The Paul Simon Songbook," "I Am Rock" was later re-recorded by Simon and Garfunkel together, and was included as the final track on their album "Sounds of Silence." And the combination of upbeat music and rather depressive lyrics makes this song even greater.
8. Homeward Bound
Paul Simon originally wrote "Homeward Bound" for his London-based girlfriend Kathy Chitty (to whom he also dedicated another song, "Kathy's Song"). Away from his girlfriend, while touring clubs, Paul Simon felt depressed and homesick. He first penned the song on a scrap of paper at Widnes railway station, and later it became the duo's second single.
7. The Only Living Boy in New York
In 1969, the director Mike Nichols cast Paul Simon and Art Garfunkel in his upcoming movie "Catch-22," but he dropped Paul's part before filming began in Mexico. As a result, Garfunkel were in Mexico for three months filming a movie while Simon was stuck in New York. He poured his loneliness into "The Only Living Boy in New York." Simon and Garfunkel recorded as Tom and Jerry in the 1950s, and in this song, he addresses his partner as Tom.
6. America
Paul Simon wrote this song, inspired by a 1964 road trip that he took with his girlfriend Kathy Chitty. Fueled with angelic harmonies and really depressive lyrics, "America" become ultimate road trip song.
5. Cecilia
The song was written when Paul Simon, Art Garfunkel, Paul's brother Eddie and their friend Stewey Scharf were sitting around a house on Blue Jay Way in Los Angeles. Paul began playing his guitar and the others began creating a beat by banging on things around the room. Simon later found himself coming back to the tape, and while listening to the recording, he composed the song's guitar line. Paul found a section, the length of shortly over a minute, that he felt had a nice groove. He and producer Roy Halee made a loop of this section, which was not an easy task before the advent of digital recording. The duo later recorded additional elements of the song at Columbia Records' Gower Street location in Hollywood.
4. The Boxer
The original recording of "The Boxer" is one of the duo's most highly produced, and took over 100 hours to record. The recording was performed at multiple locations, including Nashville, St. Paul's Chapel in New York City, and Columbia studios in Nashville. As a result the song was released as a single and peaked at No. 7 on the Billboard Hot 100.
3. Mrs. Robinson
Director Mike Nichols was filming his movie "The Graduate" when ask for permission to license Simon & Garfunkel music for his film. Paul Simon was not as immediately receptive, viewing movies as akin to "selling out", but he agreed to write at least one or two new songs for the film after being impressed by Nichols' wit and the script. After writing two tracks for Nichols, "Punky's Dilemma" and "Overs," the duo showed the director an early version of the song then called "Mrs. Roosevelt." Nichols were really impressed by it, and then Simon and Garfunkel reworked the song into what we all know now as "Mrs. Robinson."
2. The Sound of Silence
Paul Simon had been working on a new song for a couple of weeks and he went into his bathroom to fiddle around with the echo effect in there. It was one of the best songs on the Simon & Garfunkel's debut album, "Wednesday Morning, 3 A.M.," but it didn't sell and the group essentially split. But later producer Tom Wilson added a band to "The Sound of Silence" without the group even knowing about it, and the song blew up on radio. The excited duo reunited - and we all know the history after it.
1. Bridge Over Troubled Water
One of the biggest hits of 1970 and Simon & Garfunkel signature song, "Bridge Over Troubled Water" stayed at the top of the Hot 100 for six weeks. It also won Grammys for Record of the Year and Song of the Year. The song was written by Paul Simon, but it's only Art Garfunkel whose voice we hear on it. Originally the first time that Art Garfunkel heard "Bridge Over Troubled Water," he told Paul Simon that he didn't want to sing it, but anyway the great song shows the talent of the mighty duo.
That's all! Feel free to share your personal favorites by Simon & Garfunkel in the comment section below.