10 Best Songs About Motorcycles
The essential playlist for all motorbike riders.
N-D
Ultimate Guitar

N-D
UG editor. Music lover. Constant searcher of something interesting and unique.
Posted May 30, 2017 07:38 AM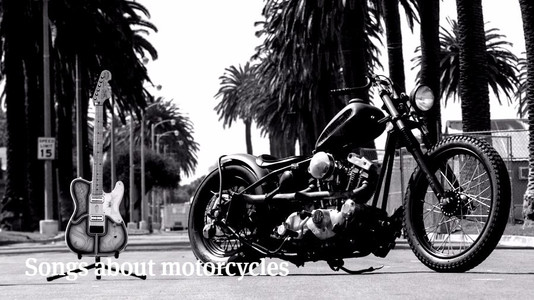 Motorbikes and rock music go hand in hand, being the epitome of freedom, and those two-wheeled machines have inspired so many songs.
So here are 10 great tracks about motorcycle riding!
10. Richard Thompson - 1952 Vincent Black Lightning
This ballad tells the story about the Black Lightning, a 380-pound bike that made 70 horses, and a redheaded girl.
9. Manowar - Wheels of Fire
Manowar sing about motorbikes in their own manner... Be warned: the below video is NSFW.
8. Montrose - Bad Motor Scooter
The song was written by singer Sammy Hagar, and it's a great legacy left by the great late guitarist Ronnie Montrose.
7. Jimi Hendrix - Ezy Ryder
The Band Of Gypsys original was written in 1969, but it was first released on Jimi's posthumous collection "Cry of Love" in 1971. This great song is a Jimi's reflection on 1969's cult biker movie.
6. Meat Loaf - Bat Out of Hell
A classic tribute to 1960s "teenage tragedy" songs (usually girls widowed by bike crashes) from the perspective of the doomed rider.
5. Twisted Sister - Ride to Live, Live to Ride
Dee Snider is an avid biker and he also organizes rides to raise money for charity (he has the annual "Dee Snider Ride to Fight Hunger"), so it's not surprising that he wrote a song about riding.
4. Motörhead - Iron Horse / Born to Lose
This song was an one-off songwriting collaboration between drummer Phil Taylor, roadie Mick Brown and Guy "Tramp" Lawrence, a London Hell's Angel and pal of the band. On "No Sleep Til Hammersmith," Lemmy dedicated this song to the Hells Angels, who were Motörhead's unofficial bodyguards at the time.
Note: Be warned, some NSFW pictures in the video below.
3. Saxon - Motorcycle Man
Just great song from the NWOBHM legends Saxon from their 1979 second album "Wheels of Steel."
2. Judas Priest - Hell Bent for Leather
Judas Priest has a few songs about riding but this track is so epic that Rob Halford rides a motorcycle on stage during the band's concerts just to sing it.
1. Steppenwolf - Born to Be Wild
Maybe some can call this song "too obvious" and "overplayed," but "Born to Be Wild" has literally become synonymous with biker culture since 1968.
Know more songs about motorcycles? Feel free to post them in the comment section below!