10 Best Songs by Lenny Kravitz
The greatest hits from famous multi-instrumentalist.
Unregistered
Ultimate Guitar
Posted Apr 07, 2017 01:06 PM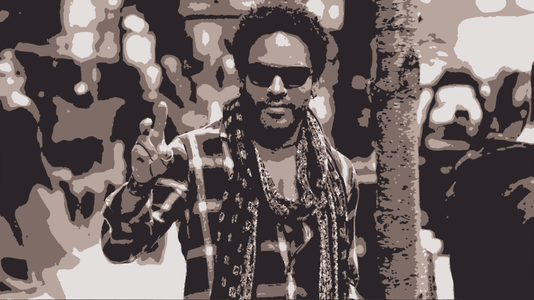 Kravitz's sonic template combined good old-fashioned rock & roll with glam, soul, and psychedelia, making him a massive success. Today Lenny Kravitz has become one of those who dominate the world musical Olympus. For many, he is a musical Guru. He is often compared to such legends of the outgoing musical generation as Jimi Hendrix and Bob Dylan. Here are 10 songs by Lenny Kravitz.
10. "I Belong To You", album "Greatest Hits"
"I Belong to You" is one of his most sensual songs. This ballad is all kinds of laid-back and sexy.
9. "Where Are We Runnin'?", album "Baptism"
It was the first single from his 2004 album, Baptism, and showed that Kravitz wasn't going to be mellowing out anytime soon.
8. "Can't Get You Off My Mind", album "Circus"
It was about this song that Kravitz said in an interview: "That lyric was not a pastiche. It came out of me naturally, just as all my lyrics do. I don't analyze songwriting, I simply write."
7. "Believe", album "Let Love Rule"
This rock ballad finds Kravitz singing of the power of faith. He explained on a Reddit AMA the song is, "about the power of God, self and positive thinking, which all equates to love."
6. "American Woman", album "Greatest Hits"
This was originally recorded by Canadian group The Guess Who in 1970, But at the request of the studio, which shot Austin Powers 2, The Spy Who Shagged Me, Lenny made a cover specially for the film.
5. "Dig In", album "Lenny"
It's got all the elements of a classic Kravitz rock song, including an addictive chorus and great rhythm. It's hard to forget this song once you've heard it.
4. "Lady", album "Baptism"
The song is believed to be written about Kravitz's then-girlfriend, Nicole Kidman. "Lady" was the most successful song from Baptism on the Billboard Hot 100, where it peaked at #27.
3. "Again", album "Greatest Hits"
This was the only new song on Kravitz' Greatest Hits album. It helped the album sell over 3 million copies, become the best selling album of his career and won the 2000 Grammy for Best Male Rock Vocal Performance.
2. "It Ain't Over 'Til It's Over", album "Mama Said"
Kravitz has said he wrote this song about the breakdown of his marriage to actress Lisa Bonet, and the heartbreak is oozing all over this song. This ballad is one of Kravitz's best ballads. It remains his highest-charting hit of his career in the U.S., where it peaked at #2 on the Billboard Hot 100 chart.
1. "Fly Away", album "5"
Among all the songs of Lenny, it was this one that stayed on the charts longer than any - already 41 weeks, but it did not rise above the 12th place in the end. However, it's one of the songs that won Kravitz a Grammy.