10 Biggest Nu Metal Hits
Back to the '00s...
N-D
Ultimate Guitar

N-D
UG editor. Music lover. Constant searcher of something interesting and unique.
Posted Mar 13, 2017 03:21 PM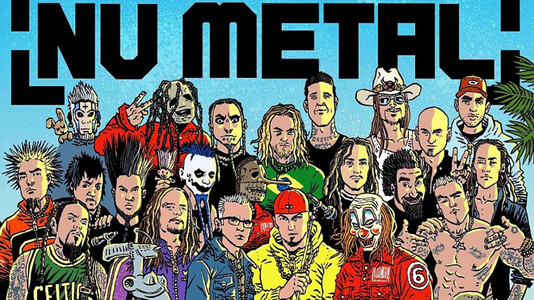 Nu-metal was a big thing in the '00s but now the nu-metal scene is kinda dead so let's remember some of the most acclaimed songs of the genre.
Before starting the list, here are honorable mentions:
Godsmack - I Stand Alone
Static-X - The Only
Mudvayne - Dig
Ill Niño - How Can I Live
Taproot - Poem
Adema - The Way You Like It
Spineshank - New Disease
Mushroomhead - Sun Doesn't Rise
Nonpoint - In the Air Tonight
Coal Chamber - Loco
Let's start it!
10. Papa Roach - Last Resort
Most famous line:
"Cut my life into pieces
This is my last resort..."
This was the first official single for Papa Roach - and it's their biggest hit until today. They recorded for an independent label for five years before signing with Dreamworks. Papa Roach's Tobin Esperance says the band did not expect "Last Resort" to be as big as it was: "No one ever thought it was going to be a huge, huge hit, but I guess you never expect anything, really, when you're first starting out." Originally written for a good friend of the band, the song is described by the lead singer Jacoby Shaddix as "cry for help."
9. Drowning Pool - Bodies
Most famous line:
"Let the bodies hit the floor
Let the bodies hit the floor..."
Released in May 2001, the song is Drowning Pool's signature song and has been featured in various films, TV programs, and advertisements since its release. It was written when the band's uitarist C.J. Pierce came up with the riff, and lead singer Dave Williams added the line "Let the bodies hit the floor," which became the basis for the song.
8. Limp Bizkit - Rollin'
Most famous line:
"Keep rollin' rollin' rollin' rollin'..."
"Rollin' (Air Raid Vehicle)" was a second single by Limp Bizkit from their third album "Chocolate Starfish and the Hot Dog Flavored Water." A remix of the song titled "Rollin' (Urban Assault Vehicle)," featuring hip-hop artists DMX, Redman and Method Man and produced by Swizz Beatz, was also featured on the album. This hip-hop version is how the song was conceived. "Rollin' was originally going to be just a straight Hip-Hop song," guitarist Wes Borland told. "But after we heard it, we were like, 'No, man, we've got to turn this into a Rock song.' We liked both versions so much that that's what it ended up being, two versions: a Hip-Hop version of the song and a Rock version of the song."
7. P.O.D. - Alive
Most famous line:
"I feel so alive
For the very first time..."
Released in July 2001 as the lead single from their fourth studio album "Satellite," "Alive" is arguably the band's most popular song. P.O.D. writes their music first, and before they added lyrics to this track, they referred to it as "Beautiful," since that's how the music made them feel. Sandoval wrote appropriately upbeat words to match the music.
6. Disturbed - Down With the Sickness
Most famous line:
"Ooh-wah-ah-ah-ah!.."
One of Disturbed's best-known songs and a concert staple, "Down With the Sickness" was released as the third single from their debut studio album, "The Sickness." It features a famous "ooh-wah-ah-ah-ah" staccato noise from Disturbed's singer David Draiman at the end of the intro, which reappears from time to time throughout the song. Draiman has stated the sound was made possible by effects on his vocal cords after receiving surgery for acid reflux, but he has dismissed the rumor the noise was actually caused by heartburn, further explaining, "I mean the song originally was written and just had a pause. Mikey's [drummer Mike Wengren] beat is just so tribal and you know it just made me feel like an animal... [The noise] came out one day."
5. Deftones - My Own Summer (Shove It)
Most famous line:
"Shove it, shove it, shove it!.."
This was the biggest hit for the Deftones, who released their first album in 1995 and spent time opening for Ozzy Osbourne and Korn. It was written in Seattle during the hot summer of 1994. Trapped inside of his room by the heat and sun, Chino Moreno boarded up his windows with aluminum foil and wished for "An apocalyptic-type thing" where all of the people on the streets would disappear and the sun would go away. He called this dream world "his own summer," which is where the song title comes from.
4. Linkin Park - In the End
Most famous line:
"I tried so hard
And got so far
But in the end
It doesn't even matter..."
Most of you won't probably remember, but yes, there was a time when Linkin Park were a nu-metal band. The lyrics in this one are based on the struggles lead singer Chester Bennington went through growing up. He was often picked on. Mike Shinoda: "I remember putting this together in our rehearsal studio on Hollywood and Vine, working overnight in a room with no windows. I had no idea what time of day it was; I just slept when I was tired, and worked on this song until it took shape. The first guy to hear it was Rob, who told me (I'm paraphrasing) that this was 'exactly the kind of song he wanted us to write.'"
3. Slipknot - Wait and Bleed
Most famous line:
"I wander out where you can't see
Inside my shell, I wait and bleed..."
The first big hit by Slipknot is about a man who keeps having repetitive black and white dreams about laying in a bathtub full of his own blood with his wrists slit. One day he wakes up and sees that his dream has become a reality, but he doesn't want to believe it and he tries to fall back asleep again.
2. Korn - Freak on a Leash
Most famous line:
"Something takes a part of me
Something lost and never seen..."
The video won two MTV Video Music Awards, one for Best Rock Video and another for Best Editing. It features a bullet speedily traveling through scenes of children playing and in school, among other things. It was based on an old Public Service Announcement about gun control. Lead singer Jonathan Davis wrote the lyrics about the music industry, which he compares to an owner walking a dog. While he's this freak being paraded around, corporate America is making all the money... and it's taking a part of him.
1. System of a Down - Chop Suey!
Most famous line:
"I, cry, when angels deserve to die
DIIIIEEE!.."
This was the first single from System of a Down's second album, and their breakout hit. The band feels they evolved a great deal between albums and did things on this that they wouldn't have thought of before. The original name of the song was "Suicide," but Columbia Records made them change it to make it radio friendly. In the beginning of the song, you hear Serj say "we're rolling suicide." The title is a bit of a play on words - "Suey-cide."
That's all! Feel free to most your favorite nu metal songs in the comment section below.