10 Bizarre-Sounding Guitar Pedals
Ffffkrrrrshhzzzwooooom..woom..woooom..
Niass
Ultimate Guitar

Niass
Serial Walken comma user. Stroopwafel enthusiast.
Posted May 16, 2017 01:15 PM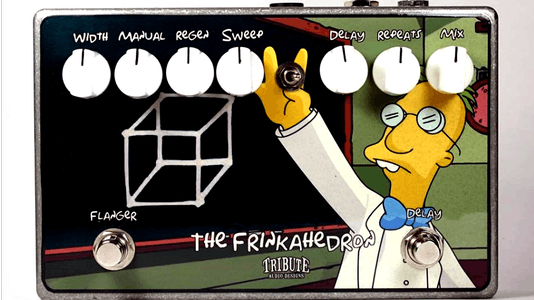 EMS Synthi Hi-Fli
Originally called the Sound Freak, the Hi-Fli was essentially an early multi-effect unit that combined fuzz, octave shift, ring modulation, phasing and resonant filters to generate synth-like tones. 
Maestro Filter Sample and Hold
This pedal can generate a surprisingly vast palette of strange but wonderful tones, ranging from juicy, drippy envelope-follower funk to guttural auto-arpeggiator stutters.
TOURETTES Boutique Guitar FX
If you think every 6 notes you play there would be someone shouting 'Ai!' or 'fuck off' you'll be disappointed. So was I. 
MWFX Judder
Now, this is an example of a weird, but still charming sound.
Gnomeratron VTF
 Name Gnomeratron WTF would probably suit this pedal better. 
WMD Geiger Counter
Yes, it does sound like your guitar is radioactive.
Maestro Ring Modulator
You know those bizarre, dissonant metallic boinks on ZZ Top's "Cheap Sunglasses" and the closing theme of South Park? That's the sound of a ring modulator.
Maestro Rover
The Maestro Rover is a rotating speaker unit that not only looks like a UFO but sounds like one, too, as the speaker can rotate at exceptionally high speeds to create watery, warbling Doppler effects.

Ludwig Phase II synthesizer
With a little patient tweaking, the Phase II can produce the sound of anything from alien conversations to spaceship landings.
KORG Miku Stomp
Japanese anime-sounding pedal. Well, that's pretty much all you need to know.
Know any weirder guitar pedals? Share them in the comment section below!