10 Facts about SOAD
The band that pushed the boundaries of modern metal with their Middle Eastern melodies and rhythmic shifts.
Maria_Pro
Ultimate Guitar
Posted Jul 18, 2017 01:03 PM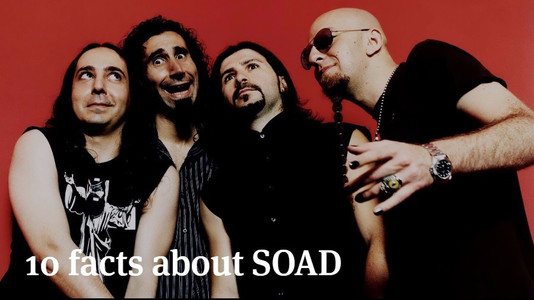 The band took its name from a poem that Daron Malakian had written titled 'Victims of a Down.'
The word 'victims' was changed to "system" because Odadjian believed that it would appeal to a much wider audience and also because the group wanted their records to be alphabetically shelved closer to their musical heroes, Slayer. Here is the poem:
'Toxicity' was released a week before 9/11 and topped the Billboard 200 the week of the tragedy.
On September 4th, 2001, System of a Down unleashed their sophomore album, 'Toxicity.' While SOAD's self-titled debut album took three years to sell 1 million copies, 'Toxicity' hit that total in just six weeks. This album brought commercial success to the band during one of the most painful months in American history.
SOAD wrote more than 40 songs for 'Toxicity.'
The band quartet wrote roughly 45 songs and recorded 33 of them.

Odadjian admitted, 'It was really tough. We had to choose from all those great songs. We had to pick 17 that Andy Wallace mixed, and out of those 17 we had to pick 14 that made the album.'





The next summer, unfinished versions of the 'leftover' tracks wound up on file-sharing sites under the name 'Toxicity II.' SOAD handled the incident in the best way possible. After re-recording most of the material and reshaping the track list, they released the smartly named 'Steal This Album!' record, packaged in a CD jewel case with no artwork.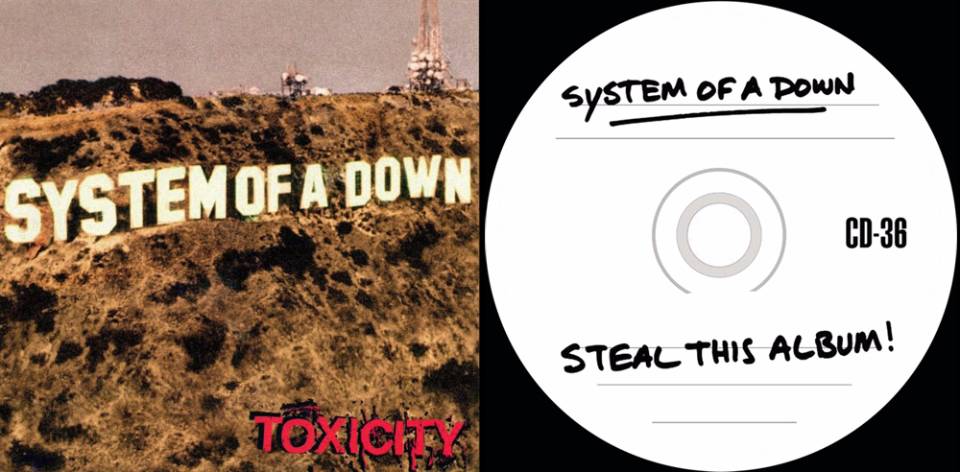 Metallica are huge fans of the 'Toxicity' album.
Ulrich named 'Toxicity' the second-best album of the decade, with 'Mesmerize' following at Number 16. Hammett named 'Mesmerize' the second-best album of the decade and 'Violent Pornography' the 16th-best song.

At a November 2003 concert promoting 'Steal This Album!,' Hammett even joined SOAD onstage to play 'Aerials.'
System of a Down appeared on South Park's 'Chef Aid' album (1998), providing the music for the song 'Will They Die 4 You?'
Near the end of the song, Tankian can be heard saying, 'Why must we kill our own kind?'. This line that was later used in the song 'Boom!' Although System of a Down is credited on the album, South Park character Chef does not introduce them as he does every other artist featured on the record.
Serj Tankian worked as a shoe salesman and ran a successful software company before joining the band.
After graduating, he bounced from job to job through manufacturing, retail, and accounting among several companies, before setting up a small business of his own called Proprietary Vertical Industry Modular Accounting Software. Serj later explained to the press that he and a small crew developed customized accounting software systems for the jewelry industry in California and worked manufacturing a wholesale, fully-integrated accounting system for jewelers and an accounting system of the metal industry.
John Dolmayan owns a high-end comic book store.
Nearly 30 years ago John Dolmayan began selling comic books and purchasing small collections in LA under the name Middle Earth Comics. After gaining some experience, the rock star opened a new store called Torpedo Comics near Tenaya Way and Arroyo Crossing Parkway.

Torpedo Comics has recently opened its first store in Las Vegas Nevada. Comprised mostly of comics ranging from 1938 to present they display nearly fifty thousand modern back issues and almost ten thousand golden-age, silver-age, and bronze-age back issues.
In 2006 Odadjian started a side project named AcHoZeN.
AcHoZeN is the musical alliance between Odadjian, Wu-Tang Clan founder RZA, Kinetic-9 (aka Beretta 9 from Killarmy), and the Reverend William Burke from Chicago. Achozen's mantra is: Many shall come, only a few shall be Achozen.
All members of the band either smoke or used to smoke marijuana.
Daran Malakian was even featured on the cover of 420 Magazine.
Shavo Odadjian is also involved in painting and acting.
Odadjian's involvement in the arts began at a young age, when he appeared in the 1993 'Big Gun' video by AC/DC, standing alongside Arnold Schwarzenegger in the crowd wearing a baseball cap and a white T-shirt, while Schwarzenegger catches a stick of dynamite. He also made a cameo as Hansel's Posse member in the film Zoolander, and documentary 'Screamers.'

Besides that, Shavo is an avid painter. His artwork has been featured in many SOAD music videos and live-shows. For example, one of his abstract pieces is included in the 'Hypnotize' video.