10 Famous Left-Handed Guitarists Who Play Right-Handed
Some genuine legends we have here.
UG Team
Ultimate Guitar

UG Team
UG editorial team. A group of people who are passionate about guitar and music in general.
Posted Jul 31, 2015 02:28 PM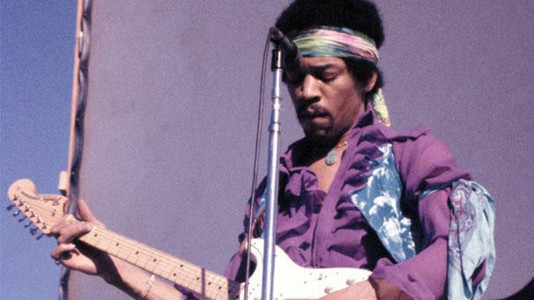 Being a leftie is not an easy thing to do, especially when you're learning how to play the guitar. It's either you buy a left-handed guitar that costs more or you have to restring a right-handed one like Jimi Hendrix did. But he was not the only one who did that, many famous guitarists were also lefties, but didn't have left-handed guitars.


Some of them rocked out like the right-handed folks, having to learn to use the instrument in a far complicated way. We'll honor them with a brief Top 10 list, here goes!
Robert Fripp
King Crimson mastermind Robert Fripp is a unique artist in every possible way, so it's not surprising whatsoever that apart from coming up with his own guitar tuning among other things, Bob took a different approach in learning the guitar.
He said: "I work on the assumption that you have two hands, so why not use each of them. I think the plectrum hand is more important than the left. I'm left-handed, incidentally, playing the guitar right-handed. It seemed to me that most people learned to play the instrument this way, so I learned to play it that way.
"I put the guitar on many years ago the other way just to try and find out how a beginner felt. When I was 15 I started developing this technique with the plectrum whereby the ball of the thumb was pivoted on the bridge so that one picked across the strings with the ball of the thumb as a pivot. But since my Fender doesn't really have a bridge, that makes it very difficult.
"So in 1971, I started a different approach to the right hand where I lifted the hand off the bridge and just operated in a kind of free suspension where the hand hovers above the strings which makes cross-picking a lot easier. However, it made my playing very difficult, and still does because it takes three years to adopt and fully integrate a change into your playing. In five years' time it'll be a far more fluid style of playing, since I'm more interested in a technique which has a solid base for expanding.
"At the same time, although I realized I played with my thumb behind the neck of the guitar, it wasn't as far behind as would enable me to create a far more solid base for playing. So my left hand is very similar, if you like, to a classical guitar position, and my right hand is operating in free suspension which demands a great deal of control."
Duane Allman
Along with his brother Gregg, late great Duane Allman of the Allman Brothers Band was left handed. Nevertheless, he tackled the six-string the "standard" way and secured his spot in the pantheon as one of the all-time greats.
Gary Moore
Another late blues rock legend, Gary Moore was a leftie who played right-handed. Perhaps that was one of the key ingredients in delivering all those soulful licks and solos, we'll probably never know.
Shawn Lane
Yet another late giant, Shawn Lane went against the grain and became a true guitar virtuoso despite the swerve leftie approach and severe health issues.
Mark Knopfler
Left-handed Dire Straits frontman reportedly opted to play the guitar in right-handed position because it gives him a possibility to play stronger vibratos.
Kiko Loureiro
New Megadeth guitarist Kiko Loureiro has a neat story behind his right-handed playing. It all started when he was 11 years old.
He said: "I was sharing the [guitar] class with my sister for a while and we only had one acoustic guitar. I am left handed and our guitar was for right-handed people so I had to learn guitar right-handed. I couldn't change the strings to play left handed because we had to share the guitar."
Steve Morse
Another prominent finger-flasher, Steve Morse is also capable of playing circles around many right-handed shredders.
Johnny Winter
Another late blues titan on the list, give it up for the one and only Johnny Winter!
Herman Li
Representing the power metal realm, DragonForce guitar shredder Herman Li is also a leftie doing the rightie.
Billy Corgan
And now the grand finale. Guitar shredding and hair are the last thing you'd associate with Smashing Pumpkins mastermind Billy Corgan these days, but this video does just that.
Got more to share? Do it in the comments!