10 Greatest Anti-War Metal Songs
Why do they always send the poor?
Niass
Ultimate Guitar

Niass
Serial Walken comma user. Stroopwafel enthusiast.
Posted May 29, 2017 10:31 AM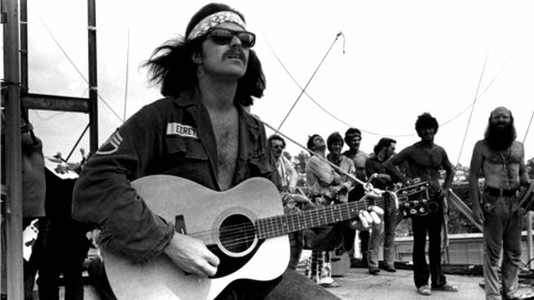 Not only Bob Dylan and The Beatles wanted the humanity to give peace a chance.
This Memorial Day, we remember the most powerful anti-war metal songs, both musically and lyrically.
10. Two Minutes to Midnight by Iron Maiden
The title of this song is a reference to the Doomsday Clock, which was created in 1947 by the magazine Bulletin Of Atomic Sciences. It was set at 7 minutes to midnight, indicating that due to the threat of nuclear war, the world was running out of time. As tensions escalated over the years, the clock was moved forward but has been set back several times as treaties are signed and the threat decreases. In 1958, the United States and the Soviet Union were both testing hydrogen bombs, and the clock was moved up to 11:58 - the closest it ever got to midnight.
2 minutes to midnight
The hands that threaten doom
2 minutes to midnight
To kill the unborn in the womb
9. Refuse / Resist by Sepultura
Brazilian thrash masters Sepultura came of age dealing with Latin America's often shockingly violent political tumult. That awareness informs the band's identity as much as their music, which ranks among the most powerful metal of the '80s and '90s—or ever.
"Refuse/Resist," from 1993's masterful Chaos A.D., represents Sepultura's full forward charge against the powers of oppression and exploitation. The song's lyrics describe the insanity of streets run rampant with riots, while the music rages out in a call to keep standing, keep going, keep refusing, keep resisting.
8. Some Heads Are Gonna Roll by Judas Priest
Another example of metal's examination of the torments of combat and anger at irresponsible warmakers, this Judas Priest single showcases the band's two lead guitarists, who trade off solos, and its singer's trademark operatic falsetto.
7. B.Y.O.B. by
System of A Down
Why do they always send the poor?
This song is about the business behind war, and how privileged politicians start them, but expect the poor to fight them. And System delivers their message as good as always.
6. Wind of Change by Scorpions
The band wrote this during a visit to Moscow in 1989. They became the first hard-rock band to play in Russia. At this show, they were inspired by the sight of thousands of Russians cheering them on even though they were a German band. Guitarist Rudolf Schenker called this song, "a kind of message soundtrack to the world's most peaceful revolution on earth."
"Everyone was there: the Red Army, journalists, musicians from Germany, from America, from Russia-the whole world on one boat. It was like a vision; everyone was talking the same language. It was a very positive vibe. That night was the basic inspiration for Wind Of Change."
5. One by Metallica
"One" is an anti-war song that portrays a World War I soldier who is severely wounded—Arms and legs blown off by a landmine, blind and unable to speak or move—begging God to take his life as he feels constant pain. His only hope is to devise a way to communicate with the hospital staff. In the music video, he jolts in the hospital bed, spelling "Kill me" in Morse code.
4. Killing in The Name by Rage Against the Machine
While being a song with a political message, Killing In The Name Of also delivers a strong anti-war message against "the military–industrial complex, justifying killing for the benefit of, as the song puts it, the chosen whites." It is without a doubt, their most famous and explosive song.
3. Holy Wars... The Punishment Due by Megadeth
When such crazy shit happens around the world, Holy Wars is now more relevant than ever.
The song tells you that Holy Wars can happen anywhere. People are dying for a cause. Mustaine believes that religion should not play a role in the division of people if its purpose is to unite and as major religions are supposed to be religions of peace. But many answers of the question of religion as a justification are definitely influenced by perspective. Since its beginnings, religion was used as a driving force for conquering, fighting, and conversion. Holy Wars are not new nor are they confined only to the Middle East or Israel, and Mustaine realizes this as he says that "it might be in your homelands".
2. War Pigs by Black Sabbath
This famous song by Black Sabbath Bass speaks out against the horrors of war and the lives it ruins. Totally against the Vietnam War, about how these rich politicians and rich people start all the wars for their benefit and get all the poor people to die for them. The band wanted to use this song as the title of the album, but the record company thought it was too controversial and made them use "Paranoid," another song on the album, instead.
1. Peace Sells by Megadeth
One of Megadeth's most popular songs deals with disillusion, Cold War politics, and military combat - all recurring themes in Megadeth songs. Well, it just can't go the other way when the band's name itself refers to megadeath, a term used by nuclear strategists to stand for 1 million deaths. 
The first part of Peace Sells tells about the negative stereotypes of metalheads in the 80s. The second part goes a lot deeper talking about the idea that everybody wants peace, but no one is willing to sacrifice anything to get it.
Sorry Metallica fans, but this is a battle that Dave Mustaine and the crew wins by a mile.