10 Grooviest Cartoon Theme Songs
Straight back to childhood.
Maria_Pro
Ultimate Guitar
Posted Mar 30, 2017 01:09 PM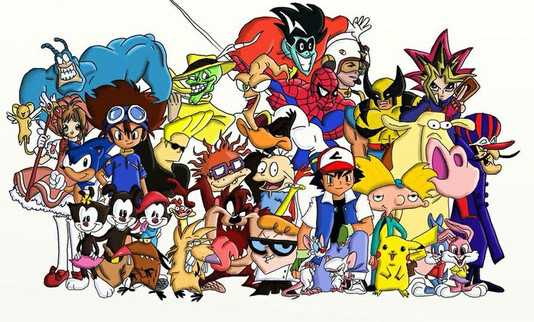 Have you ever thought about what got you into music in the first place? For me, it certainly was those peculiar mix tapes my mother used to put on for me before bedtime, the songs we used to sing in the church, and (undoubtedly) those cartoon TV-series intros.
The following 10 songs eventually transformed me into a music junkie I am now.
Can you relate?
1. Street Sharks
This groovy tune was composed by award-winning composers Bruce Chianese and Geoff Levin. Bruce's music was used in the hit television shows, The Sopranos, Friends and Sabrina the Animated Series. Geoff has also scored some animated shows "Sabrina" and "Back to the Future".
2. Sonic Underground
The famous intro is the child of Mike Piccirillo. Mike has also been a prolific underscore composer in many animated TV series. Between 1995 and 2004, Piccirillo's musical underscore appears in over 500 half-hour episodes including Sabrina, the Animated Series, Trollz, Archie's Weird Mysteries and many others.
3. DragonBall Z
The American version of DBZ intro was brought to life by Peter Berring. The official domestic US soundtrack was released in 2007 and was the only one to be produced for consumers.
4. The Real Ghostbusters
All of the songs in The Real Ghostbusters Soundtrack were performed by a band called Tahiti. Although both members of the gang (Tyren Perry and Tonya Townsend) later guest-starred in various TV shows such as "Diff'rent Strokes" and "Silver Spoons", The Ghostbusters soundtrack was definitely the highlight of their careers!
5. Darkwing Duck
Philip Giffin's scored his first solo composing assignment by making a theme song for the animated Disney series "Dark Wing Duck." This success opened additional doors for Giffin in television such as "Muppets Tonight", "Beethoven's 4th", "Deadly Relations" and "Boomtown".
6. Ducktales
The famous opening is written by a two-time Emmy nominee and ASCAP award-winning songwriter Mark Mueller and performed by Jeffrey Pescetto (who has also contributed to the video game Tekken 5 as a sound designer).
7. Teenage Mutant Ninja Turtles
Dennis C. Brown is still known best for composing the soundtrack for the 1987-1996 Teenage Mutant Ninja Turtles animated TV series along with Chuck Lorre—whom he continued to work with ever since. He is a six-time BMI TV Music Award winner for Grace Under Fire and Dharma & Greg, respectively.
8. Pink Panther
Doug Goodwin composed the show's opening title music while William Lava and Walter Greene created music scores heard throughout the cartoons. Many of which, by the way, were variations on Henry Mancini's "Pink Panther Theme" that he composed for the live action films.
9. Inspector Gadget
The theme music was inspired by Edvard Grieg's movement "In the Hall of the Mountain King" and was composed by Shuki Levy. For many years Levy had a partnership with his friend Haim Saban, with Levy composing the music and Saban running the business. Their records company, Saban Records, (now Saban Music Group) has provided music for many DiC cartoons and children's shows in the 1980s and 1990s and is still running to this day.
10. Biker Mice From Mars
Emmy award nominee William Kevin Anderson has not only written the theme song for Biker Mice from Mars but also released a few unforgettable soundtracks for My Little Pony, X-Men, and the Astro Boy series. He is an alumnus of the famous "Weird Al" Yankovic band as well, with which he recorded and toured nationally.
Know any better cartoon themes? Share them in the comment section below.