10 Mugshots of Famous Musicians
They fought the law and the law won.
Niass
Ultimate Guitar

Niass
Serial Walken comma user. Stroopwafel enthusiast.
Posted May 23, 2017 12:37 PM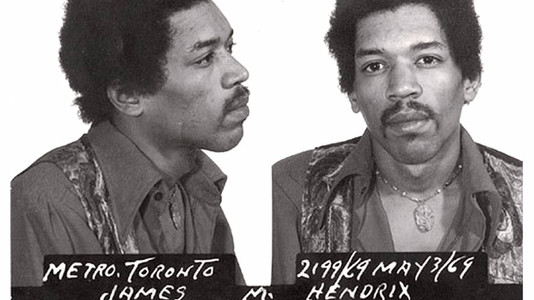 A surprisingly great number of various musicians have been arrested at least once. But all of them have something in common - mugshots. 

Here are 10 mugshots of famous musicians accompanied by stories of their arrests. 
Jim Morrison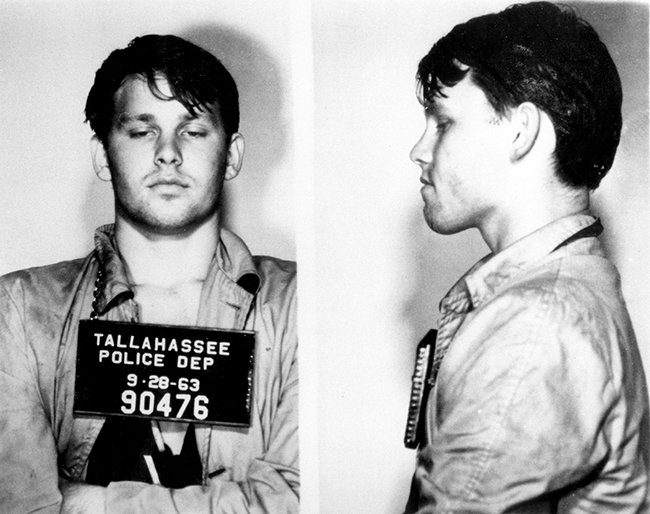 Charged With: Disturbing the peace, resisting arrest, and petty larceny.
While in college, Morrison once had drunk a lot of wine and started to make fun of the football players at Campbell Stadium. But when the police arrived he managed to steal an umbrella and a police officer helmet from their car. Six years later, he would take it to the next level by wiggling his junk in front of the 60,000 crowd. 
James Brown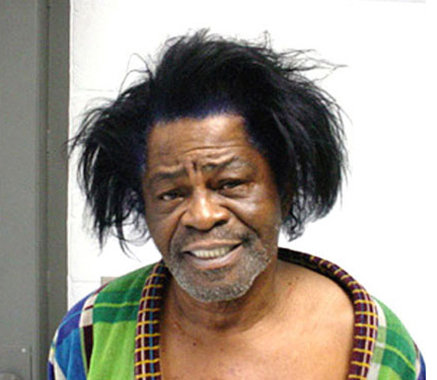 Charged with: Domestic violence
In August, 2004, James Brown showed his wife that this is the man's world by pushing her to the ground and bruising during a bedroom dispute. That time, he got off easier than before when he had to 6-year sentence for high-speed police chase. 
Frank Sinatra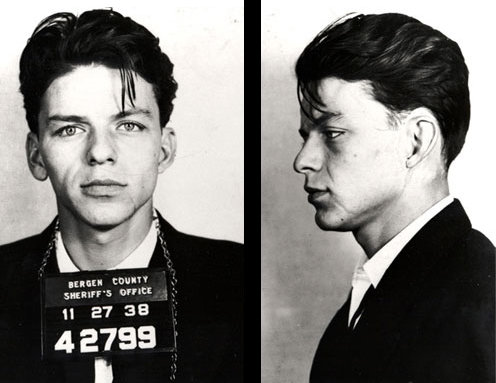 Charged with: Seduction and adultery.
Yup, they used to arrest people for that.  According to the protocol: "On the second and ninth days of November 1938 at the Borough of Lodi" and "under the promise of marriage" Sinatra "did then and there have sexual intercourse with the said complainant, who was then and there a single female of good repute." But then, charges were dismissed when it was determined that the woman involved was married. (Apparently, New Jersey had really weird laws)
Johnny Cash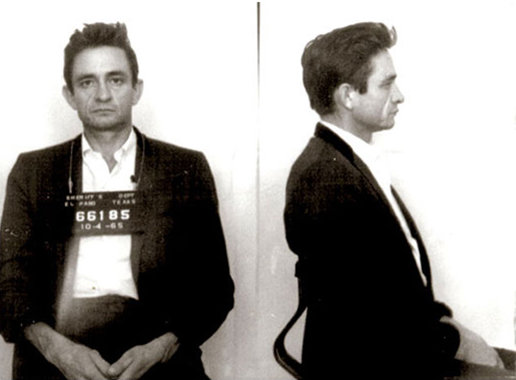 Charged with: Arson
Man in Black used to do a lot of crazy stuff, but this one was the mother of them all.
His overheated party truck became an igniting torch, scorching hundreds of acres, destroying foliage on three mountains and roasting, into near extinction, 49 of the area's 53 endangered California condors.
And here's what he said during the questioning:
Investigator: "But how about driving all of those condors out of the refuge?"
Cash: "You mean those big yellow buzzards?"
I: "Yes, Mr. Cash, those yellow buzzards."
C: "I don't give a damn about your yellow buzzards. Why should I care?"
Prince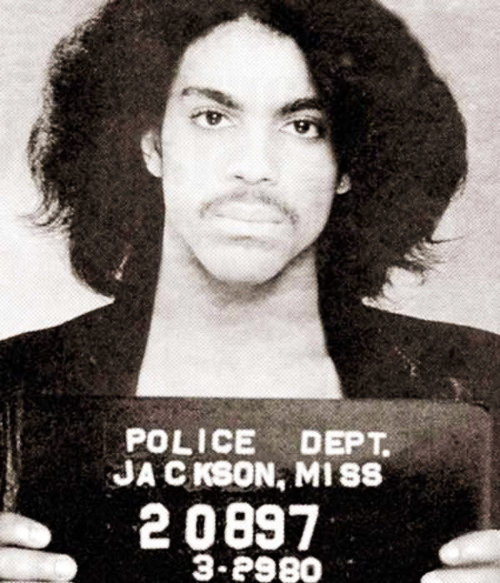 Charged with: Theft
Prince and keyboardist Dr. Fink were detained for stealing a megaphone from an airplane. While on tour in 1980 opening up for Rick James, Fink had suggested to Prince that they should get a police megaphone as a stage prop. The next day, the band boarded a plane and coincidently, Fink noticed the plane had an emergency bullhorn in an overhead bin. He pointed it out to Prince, who then convinced him to put it in his bag since he didn't have a carry-on. A lady sitting behind Prince notified the flight attendant of the theft while the plane was still on the tarmac. Fink explained,
"The next thing we know, the pilot comes out and announces, 'It has come to our attention someone has removed some emergency equipment from the airplane, which is a federal offense "
They both were arrested and sent to a local joint, but it turned into a big meet and greet and Prince ended up posing for pictures and signing autographs in jail.
Jack White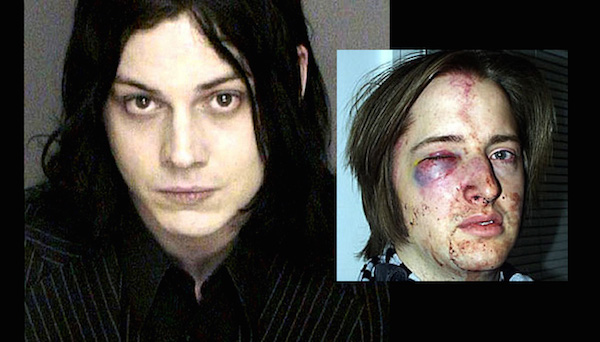 Charged With: Aggravated assault
In 2003, Jack White had tried to speak with Jason Stollsteimer, singer for the garage rock band the Von Bondies, but Jason ignored him. White became enraged, spat in Stollsteimer's face, threw him to the ground and repeatedly punched his eye and nose until witnesses separated them. Talking about anger issues...
Randy Travis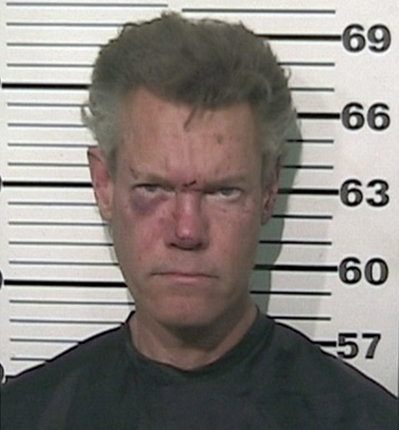 Charged with: Driving while intoxicated

On the 8th of August 2012, the police in Tioga, Texas,  got a 911 call from a clerk at a convenience store, who complained that a naked man had come in and tried to buy cigarettes. The man reportedly became angry when the clerk asked how he would pay for the pack. A little while later, another 911 report described a naked man lying by the side of the road. When officers arrived, they found... you guessed it, country star Randy Travis, bruised and smelling of alcohol near to where a Pontiac Trans Am had crashed into a set of construction barricades.
Ozzy Osbourne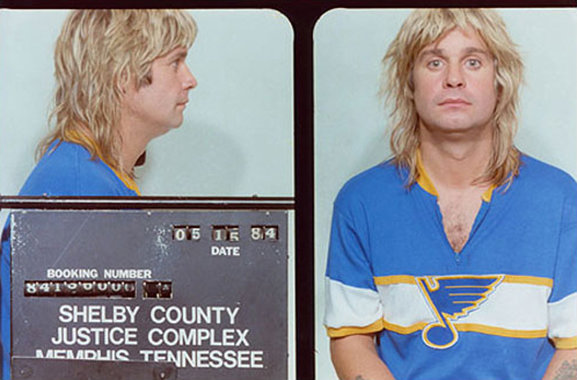 Charged with: Public intoxication
May 14, 1984, tour stop at Memphis' Mid-South Coliseum ended with Ozzy in the drunk tank. He was arrested at on a misdemeanor charge of public intoxication,   they found the former Black Sabbath frontman "staggering drunk" in Memphis' Beale Street entertainment district.
Later Ozzy said: "See, I can't have a casual line of coke — that doesn't equate in my head," Osbourne later admitted. "I never went to the bar for a drink, I never smoked a joint. I used to go into a bar to get absolutely s—faced. It didn't really occur to me that other people were going there for a drink."
Jerry Garcia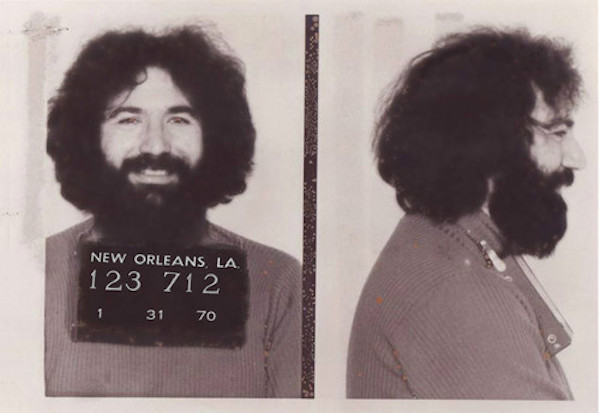 Charged with: drug possession 
The Dead, with Fleetwod Mac as openers, had just played the first of two nights at the Warehouse, a brand-new ballroom, when they returned to their Bourbon Street hotel to find the police waiting for them, having already searched their rooms.
Nineteen members of the group's touring party were arrested. This included their famous chemist, Owsley Stanley, who was described as a "technician," their roadie Laurence "Ram Rod" Shurtliff, their "spiritual advisor," a 26-year old woman going by the name of "Summer Wind" and a handful of locals who returned to the hotel with them. Only keyboardists Ron "Pigpen" McKernan and Tom Constanten — both of whom abstained from illegal drugs — remained free.
David Bowie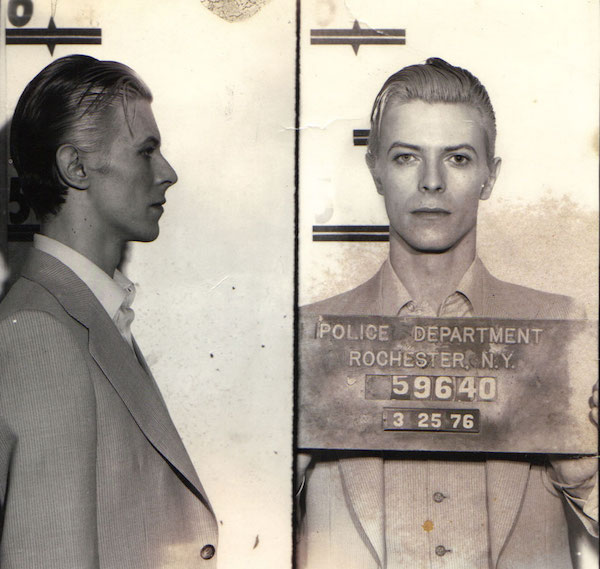 Charged With: Pot possession 

On March 21, 1976, Bowie and a few friends — including James Osterberg, Jr. were arrested at the Americana Rochester Hotel on marijuana charges.
A crowd of about 200 police, fans and reporters looked on" as Bowie and his entourage were guided into the Public Safety Building, but Bowie ignored most of the reporters and fans — "except for one teenager who got his autograph as he stepped off the escalator," the Democrat and Chronicle wrote, adding that Bowie's "biggest greeting was the screams of about a half-dozen suspected prostitutes awaiting arraignment in the rear of the corridor outside the courtroom."
And guess what date City Court Judge Alphonse Cassetti set for the preliminary hearing for Bowie and the three others facing cannabis charges? April 20, a.k.a. weed holiday 4/20.
And this James Osterberg, Jr. guy... he would become famous as Stooges frontman Iggy Pop.