10 Songs with Hidden Messages
Hail Santa!
Niass
Ultimate Guitar

Niass
Serial Walken comma user. Stroopwafel enthusiast.
Posted Jul 19, 2017 07:48 AM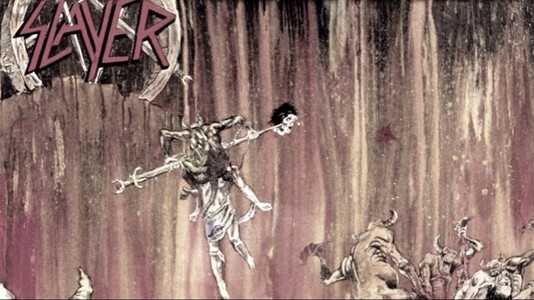 Pink Floyd - Empty Spaces
Message: "Congratulations, you've just discovered the secret message. Please send your answer to Old Pink, care of the funny farm, Chalfont."
This hidden message has been interpreted by fans as having two different meanings. One is the foreshadowing of The Wall's character's descent into madness, while others believe it references Syd Barrett's mental breakdown before the song's release.
At The Drive-In - 300 MHz
Message: "Your enamel made no reflection in our mirror, coughing up the coffins, cotton candy coated teeth these pockets were clinching all filled with teeth, amnesia proletariat, in the unlikely event that sarcasm is an unfitting dress, amnesia proletariat, amnesia proletariat, amnesia, coughing up the coffins cotton candy coated teeth, these pockets were clinching, all filled with teeth sharpened on the f**king hides of men."
The fact that this lengthy hidden message is made up of re-cut lines from earlier parts of the song doesn't change the fact that this is the strangest, most disturbing message on this list.
Electric Light Orchestra - Fire On High
Message: "The music is reversible, but time is not. Turn back! Turn back! Turn back! Turn back!"
Electric Light Orchestra might not be the first band you'd turn to when thinking of creepy hidden music, but their various works are littered with bizarre backwards statements.
Darkthrone - As Flittermice As Satan's Spy
Message: "In the name of God, let the churches burn."
Darkthrone's brand of Norwegian heavy metal has no qualms about offending people, as shown in this anti-religious sentiment found near the end of the track.
Weird Al" Yankovic - Nature Trail To Hell
Message: "Satan eats Cheez Whiz."
As someone who makes his career through parodying the music industry, it's no surprise that Weird Al decided to create his own hidden backtrack, in this satire of the Satanic message hysteria.
Tool - Intension
Message: "Listen to your mother. Your father is right. Work hard. Stay in school. Listen to your mother. Your father is right. Listen to your mother. Your father is right."
This seems like quite a nice sentiment initially. As it goes on though, things start to get creepy.
Slayer – Hell Awaits
Message: Join us! Join us!

Slayer was definitely not trying to claim their reverse lyrics were merely a coincidence. In 1985, they released the album "Hell Awaits" and the title track may have a creepy intro, but when it's played backwards the creepy factor moves to a whole new level as they're heard chanting, "join us, join us" over and over. Your mom will not be happy you're listening to this song.
Soundgarden – 665
Message: "Santa, I love you baby/ My Christmas king, Santa, you're my king/ I love you, Santa baby/ Got what I need"

Instead of praising Satan in their 1988 track, Chris Cornell and the gang included a bunch of hidden messages about how much they love Santa Claus and how he's the king of Christmas. Honestly, it's almost more troubling than the hidden messages about the devil.
The Beatles – Strawberry Fields Forever
Message: "I buried Paul"

There's a huge conspiracy that Paul McCartney died in a car crash and the band replaced him with a lookalike but left hints and clues in their songs so their fans could discover the truth. The first "clue" was supposedly in "Strawberry Fields Forever" when John Lennon says, "I buried Paul." Later, John Lennon stated that he said "Cranberry sause" that makes even less sense.