10 Weirdest Cover Bands
Real weirdos...
AndreyGlushkov
Ultimate Guitar
Posted May 16, 2017 10:09 AM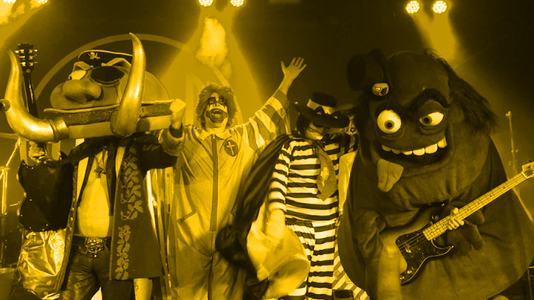 There are many cover bands and tribute bands playing all over the world. Most of them play covers in the same style as the original song and have nothing weird in how they look like. But there are some bands that make immiscible blend of music styles, and dress or look like real weirdos. Here's a list of 10 weirdest cover bands.
10. Richard Cheese & Lounge Against the Machine
This band plays rock, metal and modern pop hits in a lounge style. Can you imagine what it would sound like if Frank Sinatra was signing Slipknot songs? Or Dean Martin signing "Welcome to the Jungle" by Guns N' Roses? Just listen to Richard Cheese and his orchestra to find out.
9. Tragedy
Imagine metal head coming to the disco party. That's Tragedy.
8. 8-Bit Operators
This band features the top 8-bit artist from Europe, USA, South America and Asia and covers Depeche Mode, The Beatles, Kraftwerk and Devo in a 8-bit style.
7. Galactic Empire
Founded by the drummer for the metalcore band Century Grant McFarland, Galactic Empire plays "Star Wars" original soundtrack in progressive metal style. For "Star Wars" fans it will be shocking that stormtrooper playing bass didn't miss a single note.
6. DMK
Cover band from Colombia, featuring Dicken Schrader, his daughter Milah Schrader and his son Korben Schrader. They are playing Depeche Mode using xylophone, ukulele and various toys and household stuff as musical instruments.
5. Misfats
As you can understand from their name they are playing Misfits covers and, yes, they are a little bit overweighted.
4. Mini Kiss
Little people playing Kiss songs. As creator of Mini Kiss Joey Fatale says "THE HOTTEST, LITTLEST BAND IN THE WORLD!".
3. Beatallica
What would it be if James Hetfield was on vocals in The Beatles? The answer is Beatallica. They take The Beatles' song, add Metallica's riff, combine both bands' song names and here you get "The Thing That Should Not Let It Be" or "... And Justice for All My Loving."
2. Mac Sabbath
Nothing strange, just Ronald McDonald signing Black Sabbath's songs. Band members call their style "Drive Thru Metal" and Australia's magazine "FasterLouder" boldly proclaimed them "the best fast food-themed Black Sabbath tribute band ever".
1. Dread Zeppelin
Dread Zeppelin is just a clear weirdness. They perform Led Zeppelin's songs and classic rock songs in a reggae style. Not weird enough? Ok, they have a 300 pound Elvis impersonator on vocals.
Bonus. Hurra Torpedo
This band didn't get to the top as it's not cover band and have their own songs. But they're really weird and have recorded some covers. It's Norwegian band Hurra Torpedo and they use only one "classic" instrument - guitar. All the other instruments that they use are fridges, ovens, toasters, microwave ovens etc.
Feel free to share more weird cover bands in the comment section below.