15 Bands With Non-Human Members
Animals, robots, and more...
N-D
Ultimate Guitar

N-D
UG editor. Music lover. Constant searcher of something interesting and unique.
Posted Mar 06, 2017 05:26 PM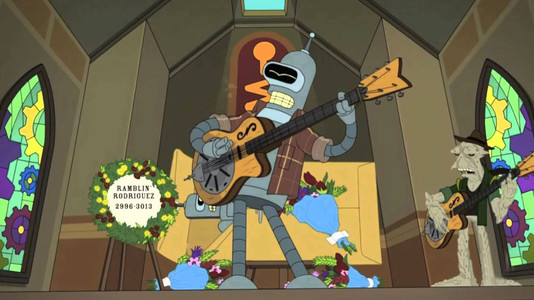 When we think about rock or metal band, it's almost obvious that all music in it is played by human members. But sometimes there are more bands that use non-human species in their music - most notable example being Pink Floyd with the song "Seamus" named after the Collie dog (belonging to Humble Pie leader Steve Marriott) who performed howling "vocals" on the album version of the track (it was even performed live in a greatly altered form, excluding lyrics, and retitled "Mademoiselle Nobs" for "Live at Pompeii"). Another example is Lou Dog, Nowell's dalmatian and the mascot of Sublime, who sometimes was invited on stage.

But we have prepared a special rundown of 15 bands that officially include non-humans as a band members (we mean REAL non-humans, not just impersonated by humans).

Honorable mentions:


So, here's the list.
15. Thai Elephant Orchestra
Maybe the biggest band on the list, Thai Elephant Orchestra consists of... as many as fourteen elephants near Lampang in Northern Thailand. The elephants play music, essentially as conducted improvisations, on specially designed heavy-duty musical instruments. The orchestra was co-created by elephant conservationist Richard Lair of the National Elephant Institute and the American musical artist and neuroscientist Dave Soldier. They have released three CDs with an orchestra ranging in size from six to fourteen elephants. The orchestra currently performs for visitors at the center. But it's debatable in term of animals abuse, of course - you can see, these elephants are specially trained.
14. Lothar & the Hand People
Lothar and the Hand People were psychedelic rock band active from 1965 to 1970 known for its spacey music and pioneering use of the theremin and Moog modular synthesizer. The band was fronted NOT by a musician, but by a musical instrument, a theremin named "Lothar," with the "Hand People" being the musicians in the band, who included John Emelin (vocals), Paul Conly (keyboards, synthesizer), Rusty Ford (bass), Tom Flye (drums) and Kim King (guitar, synthesizer). The band was notable for being "the first rockers to tour and record using synthesizers, thereby inspiring the generation of electronic music-makers who immediately followed them."
13. Woofers & Tweeters Ensemble
"Beatle Barkers" is a 1983 album released by the "Woofers & Tweeters Ensemble." The album consists of dogs barking a parody of popular Beatles songs. The guitar and other instrumental tracks, performed by anonymous backing musicians from Germany, are very similar to the original Beatles recordings, with the animal sounds taking the place of the sung lyrics. In addition to dogs, performances by lambs, parakeets, and a cat are included. All the animal sounds were sampled from real animals except for the howling dogs which were recorded by a dog impersonator.
The album was a collaboration between engineer Roy Nicolson and producer Gene Pierson. Nicolson had begun experimenting with animal sounds on an E-mu Emulator I, an early sampler. Pierson jokingly asked him if he could play "Paperback Writer" using dogs barking. He did and soon Pierson had commissioned him to create the album, which was created in about two weeks on an 8-track tape machine, with two tracks for the backing tracks and six for the animals.
12. The Sisters of Mercy
You may think, "What Sisters of Mercy, rather popular gothic rock/post-punk, are doing on this list?" But The Sisters of Mercy have Doktor Avalanche, who is renowned as the only member of the Sisters of Mercy to have remained with the band's leader Andrew Eldritch through the whole band's history. And Doktor Avalanche is... a drum machine, who took over drumming duties from Andrew Eldritch after the first single, "Damage Done." Yes, there a lot of bands who use drum machines in their music, but not so many proclaim them as the band's official member!
The Doktor has gone through a number of incarnations during his career, beginning life as a Boss DR55 "Doctor Rhythm" machine (only four sounds, not much of a memory - and one MONO output), then became a Roland Drum Machines TR606, then a TR808, and, briefly, a TR909. The Doktor transformed into an Oberheim DMX for the band's first album. Recently, after many incarnations, The Sisters of Mercy have upgraded The Doktor's components with 3 MacBooks Pro.
On recent tours, the Doktor has been intermittently responsible for playing bass as well, probably when guitarists' hands got tired. When not providing the band with their characteristic drum sounds, the Doktor also writes the Dear Doktor column on the band's homepage.
11. The One Love Machine Band
Berlin, Germany native Kolja Kugler learned his craft in the early 1990s, when he worked alongside the Mutoid Waste Company, an anarcho-punk performance art group that transformed scrap metal into creative sculptures. His current pet project is The One Love Machine Band, a pneumatically controlled robot band that plays real instruments, which means he used old car parts and junk metal to construct a set of moving, wind-powered humanoid sculptures that make music on basses, guitars, and drums.
10. Lancelot Link and the Evolution Revolution
Lancelot Link and the Evolution Revolution were an all-chimpanzees band, created for the 1970's American TV series "Lancelot Link, Secret Chimp." The band, dressed in colorful hippie-style wigs and wardrobe, featured Lancelot Link (played by the show's ape Tongo) on guitar and Mata Hairi (played by Debbie) on tambourine, with Blackie as "Bananas Marmoset" on the drums. "SweetWater Gibbons" (in fringed vest and granny glasses) was credited for playing Farfisa organ, although the organ usually pictured in the clips was a Vox Continental organ. In the show's episode "The Evolution Revolution," it was established that the band's music was used to communicate coded messages for APE agents.
The songs were usually co-written and performed by musician Steve Hoffman, in the Bubblegum pop style then in vogue; Hoffman received "voices" credit along with the various character actors. The band's self-titled album was released in 1970, as well as a single titled "Sha-La Love You," a song originally intended for The Grass Roots. Some songs contained heavy guitar riffs, reflecting the growth of hard rock.
9. The Trons
This New Zealand-based self-playing robot band was formed in 2008. The band is managed by its creator, Greg Locke, a New Zealand musician and mechanical engineer who has played in garage bands including The Hollow Grinders. The band contains no human members, consisting only of four robots named Ham, Wiggy, Swamp and Fifi, and is based in Hamilton (nicknamed Hamiltron or The Tron for short). The Trons toured Europe in 2009 and released one EP "Sister Robot" (2010) and self-titled debut album in 2011.
8. Tuna and the Rock Cats
If you love avant-garde music and cats at the same time, the Tuna and the Rock Cats is your band. It's a touring act of felines trained to play instruments. They may not be the most technically proficient, but Tuna, the cowbell player, has some serious Blue Öyster Cult talent.
7. Captured! By Robots
Captured! By Robots is band originally consisted of 9 members with only one of them being human member. The group is composed of JBOT, the human "slave" to the robots (actually an alias of musician Jay Vance); DRMBOT 0110, a severed doll's head that plays the drums; GTRBOT666, who plays bass and guitar; AUTOMATOM, the assistant drummer created by robots, The Ape Which Hath No Name who plays tambourine halo; The Son of the Ape Which Hath No Name, who plays Monkey Cymbals; and the Headless Hornsmen, a full three-piece horn section.
The C!BR backstory claims that the human, in an attempt to make his own band, created the robots. Instead of following him, they revolted, pulled out his intestines and eyes, and now force him to travel the world with them, performing music and making him contemplate the inferiority of the human race.
6. Dangerous Pigeons
Dangeous Pigeons is an Ukrainian grindcore band with... a pigeon on vocals. But the bird became the singer by an accident. Originally the band's female vocalist Mary was nicknamed "Pigeon" for his vocal parts by other band's members, Owl and Pingwi. After that, she decided that the Dangerous Pigeons need a real pigeon on vocals. A bold idea was soon realized. During the recording of their debut album "Pigeon Wing" brutal sound of guitars and dense bits were supported by pigeon's vocals. Dangerous Pigeons continue to work with the bird, and write new songs.
5. Z-Machines
Another robot band, Z-Machines were created in Japan by the alcoholic beverage maker Zima as a "Social Party Robot Band." It includes Mach (guitarist with 78 fingers and 12 picks), Ashura (drummer with 21 drumsticks) and Cosmo (keyboardist with green lasers hitting each key with pinpoint accuracy).
In 2014 famous electronic musican Tom Jenkinson, better known under his name Squarepusher, composed the music for collaborative EP with Z-Machines called "Music for Robots," where all parts written by Tom were carefully performed by the mechanical band.
4. Compressorhead
Compressorhead is a German four-piece consisting of... yes, robots. The band members are: Fingers, the guitarist (he is equipped with two hands, with a total of 78 fingers), Bones, the bassist (he has two hands, each with four individual fingers. Mounted on a platform equipped with caterpillar tracks that allows it to move around onstage), Stickboy, the drummer (he has four arms to which the sticks are secured, and two legs that play the kick drum) and Junior, an "assistant" to the drummer that operates the hi-hat cymbal.
Compressorhead originally is a project of Berlin-based artist Frank Barnes and collaborators Markus Kolb and Stock Plum. The robots are made from recycled parts and are controlled via a MIDI sequencer and were built between 2007 and 2012. Their first live performance was held at the 2013 Big Day Out festival in Australia. The band started out playing covers of bands such as Motörhead, AC/DC, Pantera and Ramones. In early 2013, Barnes recruited John Wright of the Canadian punk bands Nomeansno and The Hanson Brothers as a songwriter and "musical director" for the group. Three songs from this collaboration have so far been released via the band's YouTube page: the original songs "Compressorhead" and "Speed Walking Lady" and an instrumental cover of the Hanson Brothers song "My Girlfriend is a Robot". In November 2015, the team behind the band started a crowdsourcing campaign on the platform Kickstarter to raise 290,000 US dollars to build a robotic "singer."
3. Insect Grinder
This band has the smallest frontman ever, because it's... a cricket! And if you'll pay attention to the lyrics of this Russian grindcore outfit, it'll definitely changed your perspective on life. By the way, the song "Big Green Murderer" on the debut EP features an alligator on guest vocals. And yes, this is just ideal music for those ants mosh pits!
2. Hatebeak
Hatebeak (you know, word play on Hatebreed name) are a death metal band, formed by Blake Harrison (member of grindcore band Pig Destroyer) and Mark Sloan, featuring Waldo, a Congo African grey parrot. Like most good ideas, Hatebeak were born out of sheer boredom. Blake Harrison explained: "You know, my friend [owns the parrot] and Waldo learned these brutal growls. I don't know actually from where - we think some of it's from mimicking water going down the drain, that sort of guttural noise. So, we're goofy dudes, and myself and Mark didn't have a band at the time, so we decided to put something together. Once we came up with name Hatebeak - that was the big clincher."
Hatebeak have released two split 7-inches since forming: the first, 2004's "Beak of Putrefaction" (a spoof of Carcass' 1988 opus "Reek of Putrefaction"), contains the title track and "God of Empty Nest" (which was inspired by Morbid Angel's "God of Emptiness"); and the second one being 2005's "Bird Seeds of Vengeance" (a title borrowed from Nile's 2000 album "Black Seeds of Vengeance"). In 2015 Hatebeak released their first full-length disc, "Number of the Beak" (obviously a play on Iron Maiden's "Number of the Beast").
1. Caninus
Caninus, New York deathgrind band, was formed as a side project by Most Precious Blood guitarist Justin Brannan, Rachel Rosen, drummer Colin Thundercurry and... two rescued female pitbull terriers, Budgie and Basil.
But the dogs aren't just barking for tummy rubs, Caninus' music have a message: "Animal rights, vegetarianism, veganism, and trying to spread the word about adopting homeless animals," said Justin Brannan. "The whole purpose of the band is to spread those messages, because Budgie and Basil are adopted, rescued dogs." The whole idea behind Caninus was giving people what the band's members assume people really want. "All these death-metal bands have dudes that are trying to sound like animals, so we figured we'd give people the real deal," Brannan said.
Caninis have three releases, including the full-length album "Now the Animals Have a Voice," split with Hatebeak ("birdcore" band from above) and a 7" split with death metal band Cattle Decapitation. On January 5, 2011, Basil, one of Caninus' pitbulls, died. The band has ended because of the dog's death. Budgie died in early 2016.
Know more bands with non-human members? Feel free to share them in the comment section below.