15 Best Rock Bands From Wales
The coolest Welsh rockers.
N-D
Ultimate Guitar

N-D
UG editor. Music lover. Constant searcher of something interesting and unique.
Posted Mar 04, 2017 04:21 PM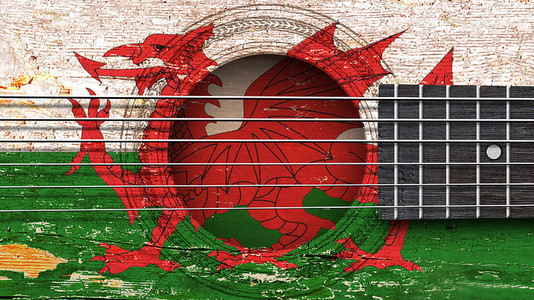 You know, Wales is a country that is part of the United Kingdom. But what do you know about Welsh music?
You'll be surprised, but a lot of famous people are Welsh, and among musicians too - for example, Bonnie Tyler, Roger Glover, John Cale, Tom Jones, Marina and the Diamonds, all of them are from Wales. We prepared a list of 15 famous rock bands which you may not have known are from Wales.
Let's start!
15. Attack! Attack!
No, it's not an American metalcore band Attack Attack! - Attack! Attack! (with 2 exclamation marks) were an alternative rock/pop punk band formed in 2006 in Wales. The band released 3 studio albums and then unfortunately split in 2013.
14. Catfish and the Bottlemen
Formed in Llandudno in 2007, Catfish and the Bottlemen are among the most promising indie rock bands nowadays with their loud and explosive songs.
13. Man
Formed in 1968 as a reincarnation of Welsh rock harmony group The Bystanders, Man are renowned for the extended jams in their live performances, mixing psychedelia, progressive rock, blues and pub rock. Reformed in 1983 after their split in 1976, Man are still active - with 16 full-length albums and more than 400 (!) releases overall.
12. Feeder
Forming in Newport in the mid-'90s, the trio's brand of punchy, anthemic rock found success worldwide and a hugely dedicated fanbase who held the band together following the suicide of drummer Jon Lee in 2002. At the moment they have released nine studio albums, three compilations, two EPs, and 34 singles.
11. The Joy Formidable
Another famous indie rock band from Wales, The Joy Formidable are known for their own blend of indie, shoegaze, alternative and post-rock.
10. Mclusky
Mclusky (stylized as mclusky), originally known as Best, were a three-piece post-hardcore/noise rock group formed in Cardiff, Wales. They are well-known for combining the energy and ethos of punk with varied dynamics and intelligent, black-humoured lyrics.
9. Lostprophets
It's hard to ignore all that really dark stuff and to separate the music from the people behind the music, but Lostprophets undeniably were one of the most known alternative rock/metal band during their 17 years career.
8. Super Furry Animals
Cardiff-based Super Furry Animals have drawn on heavy rock, glam, psychedelia, punk, soul, electronica and everything else in between, bringing it all together in their own genre. Adored by their army of die-hard fans, they're one of the most creative and left-field collectives to have emerged from Wales.
7. Budgie
Though never been labeled as heavy metal, Cardiff-based Budgie, formed in 1967, played an important role in establishing heavy metal and making it more prominent. Budgie influenced a lot of artists, including Iron Maiden, Metallica, Megadeth and Van Halen.
6. Skindred
When Newport band Dub War split in 1999, frontman Benji Webb took their innovative blend of metal, reggae and dub and gave it even more nu-metal attitude to create so-called "ragga metal." Skindreds music is really unique, combining aggressive riffs, with reggae and hip-hop vocals and catchy melodies.
5. Funeral for a Friend
Formed in 2001 as a sextet called January Thirst, Funeral for a Friend are among the most well-known modern post-hardcore bands today.
4. Stereophonics
Stereophonics were formed in 1992 in the village of Cwmaman in Cynon Valley. Described as "classic UK rock delivered with whiskey vocals," the band have been summarised as possessing a sound akin to the genres of alternative rock and "British traditional rock."
3. Badfinger
Adopting the name Badfinger in 1969, the band was touted as the "heir apparent" to The Beatles, in part because of their close working relationship with the "Fab Four." Badfinger's meteoric rise and demise (marked by the suicides of founder-member and leader Peter Ham on 24 April 1975, and later of band-member Tom Evans on November 19, 1983) remain a cautionary tale for the rock music industry, and their music legacy is undeniable.
2. Manic Street Preachers
Formed in 1986 in Blackwood, Wales, Manic Street Preachers are still one of the most socially active bands for today. They have won eleven NME Awards, eight Q Awards and four BRIT Awards. The Manics were also nominated for the Mercury Prize in 1996 and 1999, and have had one nomination for the MTV Europe Music Awards. The group has reached number 1 in the UK charts three times.
1. Bullet for My Valentine
Formed under the name Jeff Killed John and started their music career by covering songs by Metallica and Nirvana, Bullet for My Valentine have become one of the biggest names on metalcore scene. The band has sold over one million albums in the United States and over 5,000,000 albums worldwide and are the most-successful act in the Kerrang! Awards category of "Best British Band" with three wins.
Know more bands from Wales? Feel free to share them in the comment section below.