15 Guinness World Records That Rock
The craziest records from the world of music.
N-D
Ultimate Guitar

N-D
UG editor. Music lover. Constant searcher of something interesting and unique.
Posted Mar 01, 2017 03:31 PM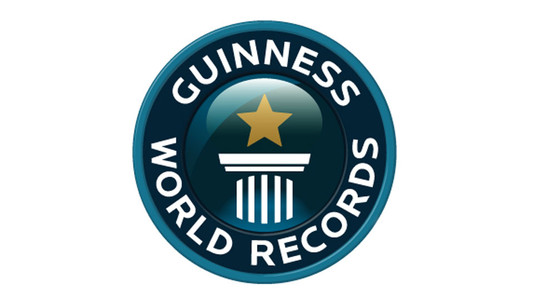 The biggest. The loudest. The craziest. That's what Guiness records are all about. Here are our top 15 Musical Guinness World Records that will blow you mind. (We're talking about the records which were officially recognized by the Guinness World Records).

Let's start it!
15. Largest Performing Rock Band
The Beijing Contemporary Music Academy in China has smashed the record for the Largest Performing Rock Band after 953 musicians played a show together in Tianjin, China on 16 June 2016. In total there were six different music sections to the enormous band, including 349 singers, 154 guitarists, 151 drummers, 101 bassists, 100 keyboard players and 98 wind instruments.
In order to achieve the Guinness World Records title, the performance had to be of a good standard and conducted by an experienced professional. The 953-person rock band from The Beijing Contemporary Music Academy was led by renowned singer-songwriter Cui Jian, who is often called the "Father of Chinese Rock" thanks to being one of the first Chinese artists to record rock music.
The previous record was set by a 520-strong band played "7 Nation Army" by The White Stripes, among other well-known tracks, on 23 Jun 2013.
14. Longest Marathon Drumming by an Individual
The longest marathon drumming lasted 133 hr 03 min and was achieved by Carlos Santos (Portugal) in Castelo Branco, Portugal, from 9 - 15 November 2014. Carlos beat the previous record by over 10 hours.
Another drum record, The Longest Drum Roll by an Individual, is 12 hr 5 min 7 sec, and was achieved by Jayson Brinkler (UK), in Dartford, Kent, UK, on 16 May 2015.
Also you'll be surprised, but the world record for Longest Drum Session was set by rock musician Andrew W.K. (yes, "Party Hard" singer) after he spent 24 consecutive hours (from June 19-20 2013) at his drum set.
13. Most Instruments Used in a Piece of Music
Playing a piece composed and directed by Rupam Sarmah, an international award-winning film and music director based in California, USA, an incredible 315 different instruments were used to play the symphony, with a total of 476 performers on stage during the attempt in the city of Jorhat, India on 24 February 2013. The total number of instruments used (including duplications) was 370, plus 106 vocalists.
12. Largest Free Rock Concert Attendance
Sir Rod Stewart made it onto the Guinness World Records website with his 1994 New Year's Eve concert on Copacabana Beach, Brazil. With a crowd of 4.2 million, it became the biggest live performance ever.
11. Longest Concert by a Solo Artist
Kuzhalmannam Ramakrishnan set the world record for Longest Concert by a Solo Artist back in 2009 by performing for 501 hours straight at the Rhythm Therapy Hall, Nandavanam Hospital, Ottapalam, Kerala, India, on 5-26 July 2009. That's almost 21 days. This record is the overall category for music marathons - Kuzhalmannam Ramakrishnan also holds the record for longest marathon hand drumming.
And regarding that 21 days performance, we're pretty sure that when everyone screamed "Encore!" at the end of the set this wasn't what they had in mind.
10. Loudest Drummer
The loudest drummer in the world is Col Hatchman (Australia) who hit a peak reading of 137.2 dBA during a gig with his band, Dirty Skanks, at the Northern Star Hotel, Hamilton, New South Wales, Australia, on 4 August 2006.
9. Most Concerts Performed in 24 Hours
The most concerts performed in 24 hours is 65 and was achieved by Helge Toft with his musicians Jens Rimau, Paul Inge Vikingstad and Anders Bjelland (all Norway) at venues in and around the city of Haugesund, Norway, from 21-22 June 2012.
Also, Most Live Concerts Headlined in 24 hours (Multiple Cities) is 10, and was achieved by Hunter Hayes (USA) at various cities in the USA on 9-10 May 2014. The Flaming Lips were previous record holders in this category with 8 concerts.
8. Largest Air Guitar Ensemble
The largest air guitar ensemble was 2,377 participants, and was organized by San Manuel Indian Bingo & Casino (USA) at San Manuel Indian Bingo & Casino in Highland, California, USA, on 22 September 2011. According to Guinness World Records, the attempt was led by "professional air guitarist" Dan Crane (aka Bjorn Turoque), and was held during the casino's annual "Rock n' Roll Bingo Night" held in conjunction with local rock station KCAL-FM. The ensemble rocking to Ozzy Osbourne's "Crazy Train."
7. Largest Guitar Ensemble
Speaking about REAL guitars, the largest guitar ensemble was achieved by 6,346 participants in an event organised by Thanks Jimi Festival, dedicated to Jimi Hendrix, in Wroclaw, Rynek, Poland, on 01 May 2009. The event also saw Steve Morse of the band Deep Purple taking part in the record attempt. The whole guitarists crowd played classic Jimi's tune "Hey Joe" together.

And though in 2016 total number of participants reached 7,356 (with 7,273 in 2012), but the 2009 record remains official.
6. Longest Scream by a Crowd
The longest scream by a crowd is 8 min 45 sec and was achieved by Drayton Manor Theme Park (UK) in Tamworth, Staffordshire, UK, on 12 April 2014. But the previous record holder was Ozzy Osbourne and 52,000 of his fans at Dodger Stadium with about 2 minutes scream.
5. Longest Album Title
Once upon a time, this record was held by Fiona Apple's 1999 album titled "When the Pawn Hits the Conflicts He Thinks like a King What He Knows Throws the Blows When He Goes to the Fight and He'll Win the Whole Thing 'fore He Enters the Ring There's No Body to Batter When Your Mind Is Your Might so When You Go Solo, You Hold Your Own Hand and Remember That Depth Is the Greatest of Heights and If You Know Where You Stand, Then You Know Where to Land and If You Fall It Won't Matter, Cuz You'll Know That You're Right."
But later it has been beaten by Soulwax and later by Chumbawamba, the current record holder, with their 2008 album "The Boy Bands Have Won, and All the Copyists and the Tribute Bands and the TV Talent Show Producers Have Won, If We Allow Our Culture to Be Shaped by Mimicry, Whether From Lack of Ideas or From Exaggerated Respect. You Should Never Try to Freeze Culture. What You Can Do Is Recycle That Culture. Take Your Older Brother's Hand-Me-Down Jacket and Re-Style It, Re-Fashion It to the Point Where It Becomes Your Own. But Don't Just Regurgitate Creative History, or Hold Art and Music and Literature as Fixed, Untouchable and Kept Under Glass. The People Who Try to 'Guard' Any Particular Form of Music Are, Like the Copyists and Manufactured Bands, Doing It the Worst Disservice, Because the Only Thing That You Can Do to Music That Will Damage It Is Not Change It, Not Make It Your Own. Because Then It Dies, Then It's Over, Then It's Done, and the Boy Bands Have Won."
4. Highest Altitude Concert on Land
The highest concert ever staged on land was at 6,476 m (21,246 ft) by Oz Bayldon (UK) - representing Music4children, a charity Oz has founded that is hoping to fund a Nepalese orphanage - on Mera Peak, Nepal, on 16 May 2012. Oz Bayldon and a team of eight volunteers carried three guitars, an iPad and a small portable amp before performing a 40 minute gig in freezing temperatures.
3. World's Coldest Gig
UK singer and the former Busted frontman Charlie Simpson has set the world record for coldest concert after playing a concert in one of the coldest populated places on Earth - Oymyakon, Siberia, Russia - with temperature being -30. In order to set the world record, Charlie had to play his set for a full 15 minutes, whilst only taking up to 30 second breaks between songs.
Charlie said, "This has been a trip of a lifetime and a gig unlike anything I thought I'd ever experience in my career. The town has no TV or radio, so they've had little to no contact with rock music before. This was definitely a world first in many respects!"
2. First Gig on a Floating Iceberg
Industrial metal band The Defiled braved sub-zero temperatures and dangerous terrain to perform a 30-minute gig on a floating iceberg in the middle of the Greenland Sea. The band's performance, organised as one of the challenges in Jägermeister's Ice Cold Gig series, was watched by an audience of dedicated fans from nearby fishing boats. The Defiled appeared in the Guinness World Records 2016 book for their icy rocking achievement, the first of its kind.
1. Shortest Recorded Song Ever
And yes, Napalm Death is here with "You Suffer," which is precisely 1.316 seconds long. It was written by band members Nicholas Bullen, Justin Broadrick and Mick Harris (who also known for inventing "blastbeat") during the sessions for the "From Enslavement to Obliteration" demo recording in March 1986, and is featured on the album "Scum," released in 1987.
Justin Broadrick (later of Godflesh), said: "'You Suffer' was largely a comedy thing, one-second song. Utterly retarded. It's ridiculous, but it was hilarious. We played that song in front of 30 local kids, like, every weekend. We played that song 30 times. It was a laugh."
Nic Bullen said that the brevity of the song was inspired by Wehrmacht's 1985 song "E!" For their "Peel Session," the band recorded a slower version called "You Suffer (Part II)."
In 1989 the song appeared on one side of a 7" single given away free with copies of a compilation album entitled "Grindcrusher." The song on the other side, "Mega-Armageddon Death Part 3" by the Electro Hippies, also lasts approximately one second, making the disc the shortest single ever released. Each side features one groove at the outer edge of the disc containing the music (with the rest of the surface containing etched writing and cartoons).
Since that the "Guinness World Records" no longer celebrate "The Shorthest [Something]": "The nature of competing to make something the 'shortest' by its very nature trivialises the activity being carried out, and Guinness World Records has been forced to reject many claims of this kind. As such, we have been forced to cease listing records for the shortest song, shortest poem and indeed the shortest concert."
So, it means that Napalm Death are the constant holders of this record! And yes, here are the lyrics for the song: "You suffer. But why?"
Know more musical Guinness records? Feel free to share them in the comment section below.