17 Best Industrial Metal Bands
Heavy riffs and electronics...
N-D
Ultimate Guitar

N-D
UG editor. Music lover. Constant searcher of something interesting and unique.
Posted May 16, 2017 07:31 AM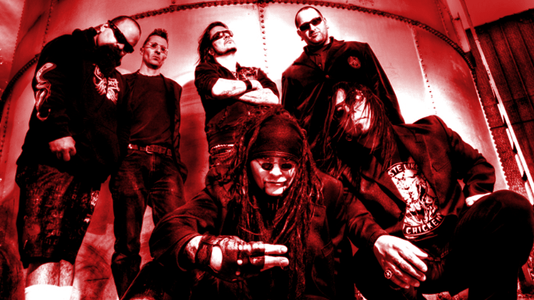 Industrial metal is a musical genre that draws from industrial music and heavy metal. It is usually centered around repeating metal guitar riffs, sampling, synthesizer or sequencer lines, and distorted vocals. The style became increasingly commercially successful in the 1990s. Subsequently, it is most well-known in various European permutations.
And if you're ready to dive into the genre, we prepared a special list of 17 greatest industrial metal bands - check out it below!
And before starting here are honorable mentions:
16Volt
Bile
Black Light Burns
Celldweller
Clawfinger [later albums]
Crematory [later albums]
Cubanate
Dååth
Dagoba
Dead World
Deadstar Assembly
Dope
Eisbrecher
Filter
Front Line Assembly [some albums]
Genitorturers
Gravity Kills
Hanzel und Gretyl
Killing Joke [some albums]
Megaherz
Mnemic
Mortiis [later albums]
Mushroomhead [industrial metal + nu metal]
O.L.D.
Orgy
PIG
Red Harvest
Revolting Cocks
Skinny Puppy [some albums]
Spineshank
Stabbing Westward
Sybreed
Tanzwut
The Kovenant
Turmion Kätilöt
White Zombie
Zeromancer
And here's the actual list:
17. Die Krupps
Die Krupps were one of the first industrial bands who caused interest from the fans of heavy music. Actually, Die Krupps themselves provoked a clash of electronic and metal genres, recording in 1992 a whole mini-album of their industrial versions of classical Metallica songs. Critics worldwide hail them alongside Kraftwerk and Einstürzende Neubauten as pioneers of electronic and industrial music.
16. Deathstars
Deathstars are a Swedish industrial metal band formed in 2000. In fact, they grew out of of 1993 founded black metal act Swordmaster, featuring former Dissection drummer Ole Öhman ("Bone W Machine") and guitarist Emil Nodtveidt ("Nightmare Industries"). But then the completely changed their image and musical direction and became Deathstars.
15. Powerman 5000
Powerman 5000 were formed in Boston in 1991 and known for their own mix of industrial metal and nu metal. Lesser known fact, but frontman Spider One (Michael Cummings) is the younger brother of Rob Zombie (Robert Cummings).
14. Oomph!
Oomph!, formed in Germany in 1989, are considered the pioneers of the German "Neue Deutsche Härte" movement, fusion of hard metal music and industrial sounds.
13. Samael
Although Swiss Samael were originally founded as black metal band in 1987, since the mid-1990s onwards they incorporated electronic sounds into their music which and later went on full industrial metal.
12. Static-X
Static-X were formed in Los Angeles in 1994. The line-up fluctuated over the years, but always held constant with band founder, frontman, vocalist, and guitarist Wayne Static. Static-X are widely known for mixing industrial metal with nu metal.
11. Pain
Sweden's Pain started out as a hobby project for atmospheric death metal band Hypocrisy frontman (and prolific music producer) Peter Tägtgren, whose idea was to fuse metal with electronic influences.
10. Pitchshifter
Pitchshifter initially known for the early industrial metal sound with downtuned guitars and the use of drum machines and being cited as one of the originators of the genre. With later albums the music became more melodic and punk-influenced, and the band eventually gained attention with their 1998 release "www.pitchshifter.com" for its fusion of electronic music like drum 'n' bass with metal and rock, which has been compared with other electronic groups like The Prodigy.
9. KMFDM
Originally formed in 1984 as industrial rock/electro-industrial metal band, later KMFDM became heavier, incorporated a lot of metal elements into their sound. Critics consider KMFDM to be one of the first bands to bring industrial music to mainstream audience.
8. Rob Zombie
Rob Zombie (born as Robert Cummings) was the former lead singer for the rock/metal group White Zombie, and later became a successful solo artist, disbanding the group after his first solo album, the 1998 release "Hellbilly Deluxe," sold more in the first week than any of the band's albums ever did.
7. Strapping Young Lad
Originally Strapping Young Lad were started in 1994 as a one-man studio project of Devin Townsend. By 1997, he had recruited permanent members; this line-up lasted until the band's dissolution. SYL are known for mixing industrial metal with the elements of death metal, thrash metal, black metal and progressive metal.
6. Fear Factory
Fear Factory were formed in Los Angeles in 1989. Over the course of their career they have evolved from a succession of styles, combining death metal, groove metal, thrash metal, with industrial metal. Fear Factory proved to be enormously influential on the metal scene, especially in the mid- to late-1990s.
5. Marilyn Manson
Balancing between industrial rock and industrial metal, Marilyn Manson are without a doubt one of the most famous names on the list. Marilyn Manson is widely regarded as being one of the most iconic and controversial figures in heavy metal music, with the band and its lead singer influencing numerous other groups and musicians, both in metal-associated acts and also in wider popular culture.
4. Godflesh
Godflesh were formed in 1988 Birmingham, UK by Justin Broadrick (guitar, vocals and programming) and G.C. Green (bass). They are highly regarded as one of the founders of industrial metal; their music is widely regarded as a foundational influence on post-metal as well.
3. Ministry
One of the most influential industrial metal bands, Ministry were formed in 1981. Originally a new wave synthpop outfit, Ministry changed its style to become one of the pioneers of industrial metal in the mid-1980s. Ministry found mainstream success in the early 1990s with their fifth studio album "Psalm 69: The Way to Succeed and the Way to Suck Eggs" (1992).
2. Rammstein
Definitely the most known industrial metal band, Rammstein were formed in 1994 in Berlin, Germany. The whole "Neue Deutsche Härte" subgenre was coined by the music press after the 1995 release of Rammstein's album "Herzeleid." The band has sold over 35 million albums worldwide.
1. Nine Inch Nails
As both a songwriter and producer, NIN's mastermind Trent Reznor changed the whole industrial metal genre, melding the typical loops and samples with a more fortified rock edge, bridging the gap between both worlds. Nine Inch Nails has been nominated for thirteen Grammy Awards, and won twice for the songs "Wish" and "Happiness in Slavery" in 1992 and 1996, respectively. In 1997, Reznor appeared in Time magazine's list of the year's most influential people, and Spin magazine described him as "the most vital artist in music".
Feel free to share more industrial metal bands in the comment section below.