20 Bands That Never Changed Their Members
Bands with no lineup changes.
N-D
Ultimate Guitar

N-D
UG editor. Music lover. Constant searcher of something interesting and unique.
Posted Apr 06, 2017 02:21 AM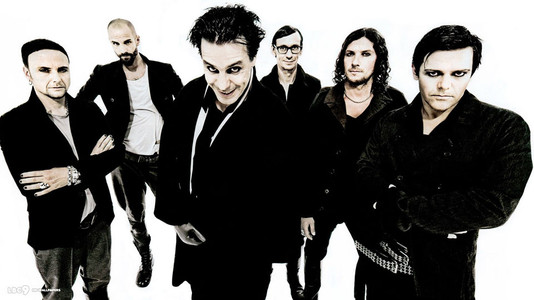 Lineup changes are very common among the rock bands through their careers for many reasons: from "personal differences" and different music tastes to such tragic causes as injuries or even death.
But there are some really rare bands without any lineup changes since the day of its foundation. So we have prepared a special list of 20 bands that never changed their members, feeling each other through their history.
NOTE:
only rock/metal bands (no pop bands, hip-hop, etc);
no short-lived bands, who released only one or two albums;
no recently formed bands;
no supergroups (Cream, Chickenfoot, The Raconteurs, Audioslave, The Dead Weather, etc);
no one man bands;
no duos.
Honorable mentions:
A-ha
Ampere
Animal Collective
Beat Happening
Biffy Clyro
Black Stone Cherry
Bombay Bicycle Club
Circa Survive
Doves
Elbow
Enter Shikari
Explosions in the Sky
Fun.
Hot Water Music
Macabre
Monster Truck
Oomph!
Ride
Silverchair
TESA
The 1975
The Bravery
The Jon Spencer Blues Explosion
The Script
The Subways
The Wombats
Tokio Hotel
Two Door Cinema Club
White Lies
Yeah Yeah Yeahs
And here's the actual list!
20. If These Trees Could Talk
An instrumental 5-piece post-rock band from Akron, Ohio, If These Trees Could Talk were formed in 2005 and since that time their lineup didn't see any changes.
19. Ben Folds Five
Since their formation in 1993 and until their final hiatus in 2013 Ben Folds Five always were a trio, consisting of Ben Folds, Robert Sledge and Darren Jessee.
18. dredg
Dredg, experimental/alternative rock band Los Gatos, California, existed from 1993 to 2014 without any lineup changes. The name Dredg comes from the initials of the band members put together by the band's leader Drew Roulette: [DR] (Drew Roulette) [E] (Mark Engles) [D] (Dino Campanella) [G] (Gavin Hayes).
17. MONO
MONO, the most known post-rock band from Japan, have a constant lineup of 4 band members since their formation in 1999.
16. The Cardigans
The Cardigans, Swedish 5-piece alternative rock band, were formed in 1992, with the lineup remaining unchanged to this day.
15. The Bats
New Zealand rock band The Bats were formed in 1982, and through their more than 35 years career they're still the same 4-piece consisting of Paul Kean (bass), Malcolm Grant (drums), Robert Scott (lead vocals/rhythm guitar/keyboards) and Kaye Woodward (lead guitar/vocals).
14. Dir En Grey
Dir En Grey, Japanese avant-garde metal band, were formed in 1997, and their lineup remains consistent since its inception.
13. Alter Bridge
Following Creed's disbandment in 2004, former members Mark Tremonti, Brian Marshall, and Scott Phillips began working with vocalist Myles Kennedy, formerly of The Mayfield Four, and since that time the lineup of Alter Bridge remains unchanged.
12. The Strokes
The Strokes were formed back in 1998, and since that time all 5 band members stay together.
11. Hüsker Dü
Hüsker Dü, influential American hardcore punk/alternative rock band, existed from 1979 to 1988, with the band's continual members were guitarist/vocalist Bob Mould, bassist Greg Norton, and drummer/vocalist Grant Hart.
10. Kings of Leon
Though working with some live/touring musicians, Kings of Leon's official and constant lineup consists of brothers Caleb Followill, Nathan Followill and Jared Followill, with their cousin Matthew Followill, since 1999.
9. Guano Apes
German alternative rock band Guano Apes were formed in 1994, and since that their lineup remains unaltered and consists of Sandra Nasić (vocals), Henning Rümenapp (guitars), Stefan Ude (bass) and Dennis Poschwatta (drums).
8. Thrice
Thrice, cult post-hardcore/alternative rock, were formed in 1998, and since that all 4 members are the same: Dustin Kensrue, Teppei Teranishi, Eddie Breckenridge and Riley Breckenridge.
7. Garbage
Since their formation in 1993, Garbage consist of Shirley Manson (lead vocals) Duke Erikson (bass, rhythm guitar, keyboards), Steve Marker (lead guitar), and Butch Vig (drums), with all four members being involved in songwriting and production.
6. Coldplay
Officially formed in 1998, Coldplay's lineup remains unchanged during all these years and includes Chris Martin, Jonny Buckland, Guy Berryman and Will Champion.
5. Muse
Muse were formed back in 1994, and their lineup consists of Matt Bellamy (lead vocals, guitar, piano, keyboards), Chris Wolstenholme (bass guitar, backing vocals, keyboards) and Dominic Howard (drums, percussion) since that.
4. U2
After changing the band's name to "U2" in 1978, the group's lineup remains unchanged for almost 40 (!) years and includes Bono, The Edge, Adam Clayton and Larry Mullen Jr.
3. Rage Against the Machine
Since their formation in 1991 and until the hiatus in 2011, RATM's lineup is a powerful 4-piece, consisting of rapper/vocalist Zack de la Rocha, bassist/backing vocalist Tim Commerford, guitarist Tom Morello, and drummer Brad Wilk.
2. Rammstein
Rammstein were formed back in 1994, and throughout its more than 20 years existence, their six-man lineup has remained unchanged: singer Till Lindemann, guitarists Richard Z. Kruspe and Paul H. Landers, bassist Oliver "Ollie" Riedel, drummer Christoph "Doom" Schneider and keyboardist Christian "Flake" Lorenz.
1. Radiohead
Formed in 1985 as On a Friday, the band changed their name to Radiohead in 1991 after the label's request. And after more than 30 years of constant experimenting and playing music together, Radiohead's lineup remains unchanged and consists of Thom Yorke (lead vocals, guitar, piano, keyboards), Jonny Greenwood (lead guitar, keyboards, other instruments), Ed O'Brien (guitar, backing vocals), Colin Greenwood (bass), and Phil Selway (drums, percussion, backing vocals).
Know more rock/metal bands that never changed their members? Feel free to share them in the comment section below.