20 Famous Musicians With Synesthesia
Musicians with an unofficial sixth sense...
N-D
Ultimate Guitar

N-D
UG editor. Music lover. Constant searcher of something interesting and unique.
Posted Mar 21, 2017 05:13 PM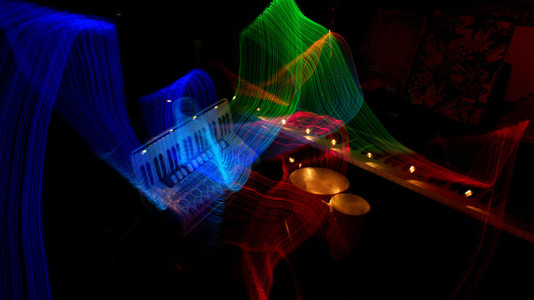 Synesthesia is a neurological condition, in which the origin of one sense triggers the other. Synesthetes are said to have unnatural behavior towards a lot of things, because their senses are cross-connected which allows them to apply two senses at a time. Like they can see a balloon in the air, but also get its taste in their mouth. They can see a normal black text as colorful as you can imagine, with every letter having a different color! They can taste the words coming from your mouth, and smell your name. They can see music in different colors, and hear the colors of paints.
Only about 4% of the total population has this rare condition called synesthesia. There are at least 80 (!) different types of synesthesia.
Though it can manifest in many ways, the most common are grapheme-color, in which numbers or letters produce colors, and chromesthesia (sound-color), in which sounds produce colors or shapes. People with synesthesia, for example, might see a certain color in response to a certain letter of the alphabet. Those who experience synesthesia "hear colors, feel sounds, and taste shapes" in a remarkably consistent fashion. For example, someone who sees "1" as burnt orange will always see "1" as burnt orange.
And you'll be surprised, but there a lot of famous people with synesthesia - from Vincent Van Gogh and Friedrich Nietzsche to Marilyn Monroe and Vladimir Nabokov. So we have prepared a list of 20 famous musicians with synesthesia.
Honorable mentions:
Alessia Cara
Mary J. Blige
Sam Endicott (The Bravery)
Brooks Kerr
Elvin Jones
Avey Tare
Dev Hynes (aka Blood Orange)
Sam Endicott
St. Vincent
Robyn Hitchcock
Itzhak Perlman
Frank Ocean
John Mayer
Hans Zimmer
And here's the list:
1. Billy Joel
Type of synesthesia: Sound → color and Grapheme → color
From an interview by Maureen Seaberg with famous singer-songwriter and pianist Billy Joel: "I would say the softer, more intimate songs - there's 'Lullaby (Goodnight My Angel),' 'And So It Goes,' 'Vienna' and another called, 'Summer, Highland Falls' - when I think of different types of melodies, which are slower or softer, I think in terms of blues or greens... When I [see] a particularly vivid color, it's usually a strong melodic, strong rhythmic pattern that emerges at the same time. When I think of these songs, I think of vivid reds, oranges and golds."
"Certain lyrics in some songs I've written, I have to follow a vowel color. A strong vowel ending, like an A or an E or an I, I associate with a very blue or a very vivid green... I think reds I associate more with consonants, a T or a P or an S. It's a harder sound. These [letters] are what I associate with reds and oranges."
2. Tori Amos
Type of synesthesia: Music → color
Tori Amos, singer-songwriter, pianist and composer, explains in her autobiography "Piece by Piece": "The song appears as light filament once I've cracked it. As long as I've been doing this, which is more than thirty-five years, I've never seen a duplicate song structure. I've never seen the same light creature in my life. Obviously similar chord progressions follow similar light patterns, but try to imagine the best kaleidoscope ever."
3. Duke Ellington
Type of synesthesia: Timbre → color
Famous jazz musician, composer and pianist Duke Ellington also was a synesthete: "I hear a note by one of the fellows in the band and it's one color. I hear the same note played by someone else and it's a different color. When I hear sustained musical tones, I see just about the same colors that you do, but I see them in textures. If Harry Carney is playing, D is dark blue burlap. If Johnny Hodges is playing, G becomes light blue satin."
4. Pharrell Williams
Type of synesthesia: Music → color
Pharrell Williams, American singer-songwriter, rapper, record producer, and film producer: "It just always stuck out in my mind, and I could always see it. I don't know if that makes sense, but I could always visualize what I was hearing... Yeah, it was always like weird colors."
5. Patrick Stump (Fall Out Boy)
Type of synesthesia: Grapheme → color
Patrick Stump, Fall Out Boy's vocalist/guitarist, explained: "So this isn't really news but it's come to my attention that I have a common form of synesthesia known as grapheme to color synesthesia. It is (according to Wikipedia... who are always right... right?) 'A neurologically-based phenomenon in which stimulation of one sensory or cognitive pathway leads to automatic, involuntary experiences in secondary sensory or cognitive pathway.' The shorthand is basically that your senses are crossed. Like some synesthetes can 'Taste' colors or 'See' sounds. In the case of grapheme to color synesthetia it basically means that one interprets written information as 'Colored.' For instance the letter 'F' for me is green. When I see it written in black I obviously still notice that it is black but it 'Feels' green. Or 'S' is red. Most of the alphabet and numbers from 1-10 have some sort of associated color to me. It's ultimately totally trivial but I found it fascinating that this is a documented phenomenon and not just me being a weirdo."
6. Franz Liszt
Type of synesthesia: Music → color
A prolific 19th-century Hungarian composer, virtuoso pianist, conductor, music teacher, arranger, organist, philanthropist, author and more, Franz Liszt was a synesthete too: "When Liszt first began as Kapellmeister in Weimar (1842), it astonished the orchestra that he said: 'O please, gentlemen, a little bluer, if you please! This tone type requires it!' Or: 'That is a deep violet, please, depend on it! Not so rose!' First the orchestra believed Liszt just joked; more later they got accustomed to the fact that the great musician seemed to see colors there, where there were only tones." (Anonymous, as quoted in Friedrich Mahling)
7. Justin Chancellor (Tool)
Type of synesthesia: Music → color
Justin Chancellor, bassist of Tool, also has synesthesia, seeing colours when hearing music.
8. Lorde
Type of synesthesia: Music → color
In the Twitter Q&A, the pop star revealed: "One funny thing is when I'm writing, if a song's colours are too oppressive or ugly sometimes I won't want to work on it - when we first started tennis court we just had that pad playing the chords, and it was the worst textured tan colour, like really dated, and it made me feel sick, and then we figured out that pre chorus and I started the lyric and the song changed to all these incredible greens overnight!"
9. Brendon Urie (Panic! at the Disco)
Type of synesthesia: Music → color
Brendon Urie of Panic! at the Disco told in his interview with Rolling Stone: "'Death of a Bachelor' was a lot of bright yellows, bright reds. But it was all very Sixties, like if you've ever seen the Doors performance where there are actual doors hanging above smoke screens and the smoke is coming up. It's very Easter-ish, soft pastel colors. It's soft but bright. It's like glow-y and there are yellows and reds and dark teals that are still popping... But sometimes it's colors, sometimes it's a tornado of words and I pick one out. Sometimes it's shapes. A song could be a square and go in that perfect order. Sometimes it's a pyramid that turns into rhombus. But there are no rules and I love that. It comes from an emotional state."
10. Kanye West
Type of synesthesia: Music → color
Kanye West explained: "'Yeezus,' though, was the beginning of me as a new kind of artist. Stepping forward with what I know about architecture, about classicism, about society, about texture, about synesthesia - the ability to see sound - and the way everything is everything and all these things combine, and then starting from scratch with 'Yeezus.'"
11. Jean Sibelius
Type of synesthesia: Sound → color
Karl Ekman about famous Finnish composer and violinist: "For him there existed a strange, mysterious connection between sound and color, between the most secret perceptions of the eye and ear. Everything he saw produced a corresponding impression on his ear - every impression of sound was transferred and fixed as color on the retina of his eye and thence to his memory. And this he thought as natural, with as good reason as those who did not possess this faculty called him crazy or affectedly original."
"For this reason he only spoke of this in the strictest confidence and under a pledge of silence. 'For otherwise they will make fun of me!'"
12. Chino Moreno (Deftones)
Type of synesthesia: Music → color
Describing how the music ties in with the Deftones "Gore" album's cover, Chino Moreno said: "It's got a different look. A different shade of color. I'd say some shade of purple. I don't know why, but I think it sits somewhere between pink, red and purple. Sometimes when I hear music, I see color, and when it came time to work on the artwork for this batch of songs, I knew exactly what I wanted."
13. Richard D. James (aka Aphex Twin)
Type of synesthesia: Musical sounds and Words → colour
Richard D James - aka Aphex Twin - is using his synaesthesia to write songs, saying that certain sounds produce strong smells. In interviews with The Wire and other magazines and blogs, James has explained that his lucid dreaming and synesthesia inspired the songs on his 1994 release, "Selected Ambient Works Volume II."
14. Ed Sheeran
Type of synesthesia: Music → color
Ed Sheeran has a mild form of synesthesia, wseeing his songs in colors. On his website, he says that his favorite color is blue, but orange for his music.
15. Rollo Armstrong (Faithless)
Type of synesthesia: Music → color
Rollo Armstrong, music producer, multi-instrumentalist, and a member of the electronic music group Faithless, is also a synesthete. Faithless' Sister Bliss said about her working relationship with Rollo Armstrong: "He gets on with the broad strokes, textures and colors - that's how he hears music, he's got that synesthesia (a phenomenon where sounds have color), he says 'make it really sad, like a rainy day, I want to hear thunder' - and I get on with all the anal fiddly bits."
16. Charli XCX
Type of synesthesia: Music → color
British singer about her synesthesia: "People would always ask me how I came up with my music and what it felt like to make music and I would always see colours and then I found out that that was synesthesia. It helps me understand songs and what I like."
"I see music in colors. I love music that's black, pink, purple or red - but I hate music that's green, yellow or brown." - XCX speaking with BBC.
17. György Ligeti
Type of synesthesia: Grapheme → color
A Hungarian composer of contemporary classical musi, György Ligeti has been described as "one of the most important avant-garde composers in the latter half of the twentieth century" and "one of the most innovative and influential among progressive figures of his time" - and he also was a synesthete: "I am inclined to synesthetic perception. I associate sounds with colors and shapes. Like Rimbaud, I feel that all letters have a color. Major chords are red or pink, minor chords are somewhere between green and brown. I do not have perfect pitch, so when I say that C minor has a rusty red-brown color and D minor is brown this does not come from the pitch but from the letters C and D. I think it must go back to my childhood. I find, for instance, that numbers also have colors; 1 is steely gray, 2 is orange, 5 is green. At some point these associations must have got fixed, perhaps I saw the green number 5 on a stamp or on a shop sign. But there must be some collective associations too. For most people the sound of a trumpet is probably yellow although I find it red because of its shrillness..."
18. Marina Diamandis (aka Marina and the Diamonds)
Type of synesthesia: Multiple synesthesiae. Music and days of the week → color.
Marina Diamandis, the Welsh singer and songwriter also known as Marina and the Diamonds, talks about her synesthesia: "A lot people think that it's something you experience day-to-day, or is a very strong sensory feeling. But it's not for me; it's more of an added sensitivity to color, so I associate a lot of different colors to musical notes or days of the week. That's how I experience it, but maybe it's different for other people."
19. Nikolai Rimsky-Korsakov
Type of synesthesia: Musical keys → color
Nikolai Rimsky-Korsakov, famous Russian composer, experienced colors for musical keys. For example, for him, the key of C major was white, and the key of B major was a gloomy dark blue with a steel shine.
20. Stevie Wonder
Type of synesthesia: Sound → color
Despite being blind almost his whole life, Stevie Wonder said music gives him the gift of colors. When the musician plays on his piano, he said he is able to neurologically perceive colors from his notes.
Know more musicians with synesthesia? Feel free to share them in the comment section below.