21 Bands With Insane Live Performances
Crazy, chaotic, and unexpected...
N-D
Ultimate Guitar

N-D
UG editor. Music lover. Constant searcher of something interesting and unique.
Posted Jul 01, 2017 07:41 PM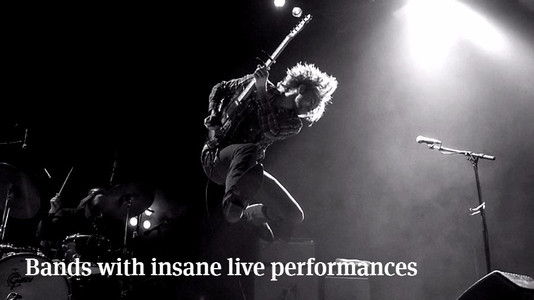 Playing rock music, especially live, means to put a lot of energy into it. But some bands go even further, making their live shows totally insane and unpredictable, with endless streams of energy pouring from the stage and many crazy things, from destroying their instruments to even hurting themselves, being in the current moment.
So we prepared a list of 21 artists and bands whose live performances are really chaotic, insane and energetic.
NOTE: This list is not about the bands with just intense shows - it's more about the bands who do something "crazy" and "insane" during their live performances: crowd-surfing by band members, crazy moshing, etc.
And honorable mentions are:
...And You Will Know Us by the Trail of Dead [early days]
Airbourne
Amen
And So I Watch You From Afar [early days]
Bad Brains [early days]
Black Flag
Boredoms
Brujeria
Brutal Truth
Butthole Surfers [early days]
Cage the Elephant
Code Orange
Dead Kennedys [early days]
Einstürzende Neubauten [early days]
Every Time I Die
Frank Carter & the Rattlesnakes
HECK
Iggy Pop [early days]
John Coffey
Gallows
GG Allin
Kickback
La Dispute
Mindless Self Indulgence
Ministry [early days]
MuteMath
Neurosis
Nine Inch Nails [early days]
Nirvana
Orchid
Oxbow
Peelander Z
Pig Destroyer [early days]
Raccoo-oo-oon
Rage Against the Machine
Rammstein
Red Hot Chili Peppers
Shining
Skinny Puppy [early days]
Sonic Youth [early days]
Spazz
Swans
The Dwarves
The Germs
The Jesus Lizard [early days]
The Locust [early days]
The Mars Volta
The Prodigy
Trash Talk
Whores.
So here's the list:
21. Raketkanon
Raketkanon are rather young Belgian band, who play a mix of noise rock, sludge metal, stoner and experimental rock, but their live shows are so energetic and crazy so they quickly begin to receive recognition.
20. The Blood Brothers
The Blood Brothers were experimental post-hardcore/art punk band. With 2 vocalists and crazy instrumentation their live shows were totally insane.
19. Head Wound City
Head Wound City are a experimental hardcore/noisecore supergroup consisting of Jordan Blilie and Cody Votolato of The Blood Brothers, Nick Zinner from Yeah Yeah Yeahs, and Justin Pearson and Gabe Serbian of The Locust. With such members their music has been described as rapid-fire bursts of noise and screams, or as vocalist Jordan Billie puts it, "It's kind of like if Alien and Predator started a band instead of fighting each other."
18. At the Drive-In
One the most known and important post-hardcore bands, At the Drive-In are known for their extremely energetic stage shows which hearkened back to the 1980s hardcore scene.
17. Converge
Converge, one of the most respected bands on the modern hardcore scene, were known for their highly energetic live shows, especially in their early days, helping to create the whole "chaotic hardcore" subgenre.
16. B L A C K I E (All Caps, With Spaces)
A great example how one man can create truly energetic and emotional performance, B L A C K I E (All Caps With Spaces), born Michael LaCour, is American experimental musician. With his own style, consting of hip-hop, hardcore punk, noise, industrial, etc and his energetic and many times unscheduled performances he became legendary in Houston and even influenced MC Ride from Death Grips AND Travis Scott/Kanye West.
15. Lightning Bolt
Lightning Bolt are a noise rock duo which consists of Brian Chippendale (drums, vocals) and Brian Gibson (bass). Lightning Bolt are known for their guerrilla-style highly-energetic live performances, where they typically play on the ground rather than a stage, with the crowd gathered around them.
14. Holy Molar
Holy Molar, experimental noise rock/noisecore band, consisting of the members of who play or have played in The Locust, Antioch Arrow, Charles Bronson, Cattle Decapitation, etc. At live shows, members of Holy Molar wear dentist uniforms - and went totally crazy.
13. Prurient
Active since 1997, Dominick Fernow aka Prurient has become one of the most well-known and influential names on the modern noise scene. As Dominick said,Prurient is strictly "anti-musical" and "selfish," so his live performances are highly intense and full of rage. Dominick Fernow also has many other projects which are more musical such as: Vatican Shadow, Christian Cosmos, Rainforest Spiritual Enslavement, Ash Pool, etc.
12. Odd Future (OFWGKTA)
Odd Future Wolf Gang Kill Them All, normally shortened to Odd Future and abbreviated to OFWGKTA, are an American hip-hop collective formed by Tyler, The Creator in 2007. They're widely known for their energetic live shows with crowdsurfing, stagediving and mosh pits and general, almost punk rock "don't give a fuck" attitude. For some shows they are also teamed up with the hardcore punk band Trash Talk.
11. The Bad Luck 13 Riot Extravaganza
The Bad Luck 13 Riot Extravaganza were a hardcore band from Philadelphia. Although never gaining an impressive amount of popularity, Bad Luck 13 were notorious for their totally violent, riot-like live shows, with extreme onstage antics, which consisted of wrestling, property destruction, assaulting each other/the crowd with weapons (trash cans, ladders, fluorescent light bulbs, thumbtacks, & barbed wire baseball bats), firework lighting, and fire starting. Due to such kind of live shows, Bad Luck 13 were banned from almost every place they played.
10. Hanatarash
Hanatarash were a noise project created by Boredoms frontman Yamantaka Eye and featured Zeni Geva guitarist Mitsuru Tabata. The outfit was notorious for their chaotic, anything-goes live shows. Not only was the music - a fusion of power noise and high-decibel screaming - extreme as all get out, but the band would also cause flabbergasting amounts of property damage whenever they played. At one show, Eye even commandeered a bulldozer and drove it through the back wall of the club. Other show was stopped due to Eye preparing to throw a lit Molotov cocktail onto the stage.
9. Norma Jean
In their early days with an original singer Josh Scogin Norma Jean were totally insane and chaotic live. Now none of the original members are in the band anymore.
8. The Chariot
When Josh Scogin, an original vocalist of Norma Jean, left the band, he formed another group, The Chariot. Led by Scogin's energy, they built a reputation around their powerful live performances. The band split up in 2013, and Josh formed his new band, noise rock/garage punk duo '68.
7. Slipknot
With 9 members in the lineup, Slipknot became popular for their totally insane live shows during their early days.
6. Death Grips
Death Grips quickly gained wide recognition for their unique form of experimental/industrial hip-hop, their "punk" attitude, many controversial "anti-system" tricks - and for their powerful live shows, often accompanied by the destruction of the gear.
5. Pg.99
Pg.99 (also spelled pageninetynine) were a screamo/hardcore punk/poerviolence band from Sterling, Virginia. Mostly being an eight-piece composed of two singers, three guitarists, two bassists and a drummer, Pg.99 were known for their really intense live shows. At their most extreme form, they would have up to 13 members on stage, from extra vocalists to kazoo players.
4. letlive.
letlive. were known for their highly energetic and insane live shows, mostly thanks to the personality of their vocalist Jason Butler. On April 28th, 2017, the band announced their split.
3. Ho99o9
Ho99o9 (pronounced horror) have earned a reputation for their insane mosh-heavy live shows. Ho99o9's unique mix of hip-hop, punk, metal and industrial genres is only amped up live.
2. Botch
Botch, one of the most influential and prominent bands on the metalcore scene, created their own style later called "mathcore" and influenced many followers, including The Dillinger Escape Plan. They were known for their absolutely insane yet technical live shows.
1. The Dillinger Escape Plan
Since their formation in 1997, The Dillinger Escape Plan earned a reputation of one of the most intense live bands. Even with their original vocalist Dimitri Minakakis (with whom their recorded 2 EPs and a debut albums) their shows were real chaos, but with Greg Puciato as the band's frontman they went even further and became one of the craziest live bands.
Know more bands with chaotic and insane live performances? Feel free to post them in the comment section below.