25 Catchiest Metal Songs Ever
As voted by UG community.
N-D
Ultimate Guitar

N-D
UG editor. Music lover. Constant searcher of something interesting and unique.
Posted Dec 02, 2016 09:31 PM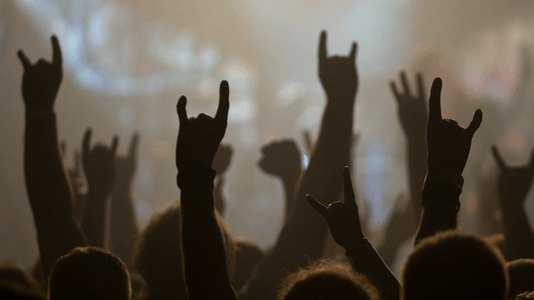 This week's traditional Wednesday Question saw the people of UG community discussing the catchiest tunes in the realm of metal. Based on your votes and almost 300 comments, we summed this one up to a traditional Top 25 rundown, make sure to check it out below.
Also, judging by your prank votes, the catchiest song is Dream Theater's "The Dance of Eternity" - as hudsonstradlin says, it "really gets the girls shaking their asses to those steady 144 time signature changes."
Anyhow, here's an actual list!
25. Meshuggah - Demiurge
Kicking things off it's Meshuggah and "Demiurge" - with its atmosphere and the band's signature uncommon time signatures (pun intended).
24. Korn - Freak on a Leash
We expand our metal list with a nu metal song - and maybe one of the most recognizable tunes in the genre - "Freak on a Leash" by Korn. Jonathan Davis' vocals, that bass sound and of course those guitar riffs.
23. Skid Row - 18 and Life
Up next is the so-called murder ballad - one of Skid Row's biggest hits, "18 and Life." It has all components that make a hit - and to take its place in our top.
22. Motörhead - Ace of Spades
Though Lemmy himself called Motörhead just a rock 'n' roll band and though he said that they "have more in common with punk than with heavy metal," "Ace of Spades" is metal enough to be on this list - and is also undeniably catchy.
21. Helloween - I Want Out
German power metallers Helloween are up next with "I Want Out," one of the their most recognizable songs, especially for its introduction and Michael Kiske's trademark high-pitched singing in the chorus.
20. Living Colour - Cult of Personality
And we are pushing the boundaries again with Living Colour and their own style of funk metal. "Cult of Personality" was essentially written in just one rehearsal session: the riff was stumbled upon while practicing something else and by the end of the session Living Colour had written what was to become their best known song.
19. Disturbed - Down With the Sickness
Disturbed add more nu-metal to the list with one of their best-known songs, "Down With the Sickness," and yes, it features the renowned "ooh-wah-ah-ah-ah" staccato noise.
18. Slipknot - Wait and Bleed
Up next are Slipknot with their debut single "Wait and Bleed." In contrast to the rest of the songs from the album, it features the recognizable - and undeniably catchy - clean-sung chorus.
17. Mastodon - Curl of the Burl
One of Mastodon's most successful single at the moment, with that recognizable guitar riff and staple "oooohoo, ooooohoo" singinging in the chorus. "Curl of the Burl" at No. 17.
16. Twisted Sister - I Wanna Rock
Yes, glam metal is metal too, hence Sister and their staple hit "I Wanna Rock" are next.
15. Danzig - Mother
Fun fact: although "Mother" was originally released in August 1988 as the lead single from the Danzig's debut album, it became a real hit almost six years after its original release, when a remixed version of the song titled "Mother '93" was released.
14. Avenged Sevenfold - Afterlife
Voted the best song off Avenged Sevenfold's self-titled album on the band's homepage, "Afterlife" was written by the band's late drummer, The Rev, and features a string orchestra.
13. Rage Against the Machine - Killing in the Name
Call them funk metal, alternative metal or rap metal, but RATM are on the list. Written about revolution against institutional racism and police brutality, "Killing in the Name" is widely recognized as the band's signature song, and has been noted for its distinctive guitar riffs and of course for its famous "Fuck you, I won't do what you tell me!" line.
12. Europe - The Final Countdown
We are on the thin line between glam metal and hard rock, but "The Final Countdown" by Europe is undeniably one of the catchiest tunes ever. The song was based on a keyboard riff which Joey Tempest had written, as early as 1981 or 1982, and in 1985, after bassist John Levén suggested that Tempest should write a song based on that riff, "The Final Countdown" was created.
11. Megadeth - Symphony of Destruction
As one of Megadeth's best-known songs, "Symphony of Destruction" from their 1992 album "Countdown to Extinction" is up next.
10. Ghost - Square Hammer
The most recent song on the list, "Square Hammer" by Ghost was released on September 16, 2016 on the band's "Popestar" EP.
9. Dio - Holy Diver
Although "Holy Diver" only reached number 40 on the Mainstream Rock chart in 1983, today it's undeniably one of Dio's most popular songs.
8. Black Sabbath - Iron Man
Upon hearing the Tony Iommi's main guitar riff for the first time, Ozzy Osbourne remarked that it sounded "like a big iron bloke walking about". The title became "Iron Man," with Geezer Butler writing the lyrics around the title.
7. Pantera - Walk
Known for its simple but powerful riff, "Walk" by Pantera is next. The riff is played in a time signature of 12/8. Dimebag Darrell played it at a soundcheck during the tour for "Cowboys from Hell" and the rest of the band loved the riff.
6. System of a Down - Chop Suey!
Often seen as the System of a Down's signature song, "Chop Suey!" is also one of the most known alternative metal/nu metal songs ever. And of course Serj Tankian's singing and lyrics are a big part of it. For those who still can't make out the words in the beginning, it's "Wake up (wake up) / Grab a brush and put a little make-up." And yes, "I cry when angels deserve to DIIIIIE!"
5. Iron Maiden - Run to the Hills
Up next, it's one of the Iron Maiden's most popular songs - "Run to the Hills." The song features lyrics focusing on the conflict between European settlers in the New World and Native American tribes during the days of colonization and later westward expansion.
4. Judas Priest - Breaking the Law
Definitely one of the band's better known singles, "Breaking the Law" by Judas Priest is also of the most iconic heavy metal tunes, and one of the main reasons for it is the song's famous opening guitar riff.
3. Ozzy Osbourne - Crazy Train
Marking Ozzy Osbourne's second appearance on the list, "Crazy Train" was his first solo single after leaving Black Sabbath. The song was written by Osbourne, bassist Bob Daisley and of course great late guitarist Randy Rhoads.
2. Rammstein - Du Hast
Rammstein call their music "tanz metal", German for "dance metal," and their "Du Hast" is a great example of it with simple industrial metal riffs, catchy keyboards playing and its famous "Du... Du hast... Du hast mich" line. The song's title is a play on the homophones "du hasst" ("you hate") and "du hast" ("you have").
1. Metallica - Enter Sandman
At the throne of UG this week, it's Metallica an "Enter Sandman." The hit tune evolved from a guitar riff that Kirk Hammett wrote; originally, it was two bars in length, but Lars Ulrich suggested the first bar be played three times.
That's all folks, hope you enjoyed the top, stay tuned until next week for another WQ!