30 Bands With Two or More Drummers
When one drum kit is not enough...
N-D
Ultimate Guitar

N-D
UG editor. Music lover. Constant searcher of something interesting and unique.
Posted May 03, 2017 06:53 PM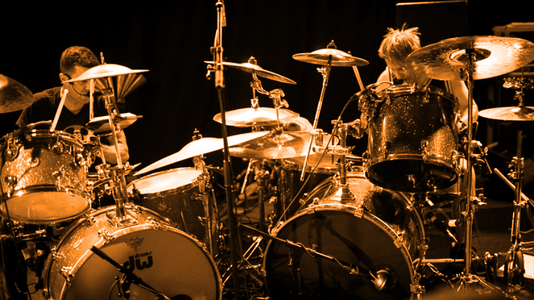 Drummer's role in the band is really crucial because often he creates the whole heartbeat, dynamics and drive. But there some cases when one drum kit is not enough...
So we prepared a special list of 30 music bands with 2 or even more drummers at the same time.
And before the actual list - here are (as always) honorable mentions:
.38 Special
Arcade Fire [occasionally]
Axehandle
B.A.L.L.
Beauty Pill
Big Pig
Bon Iver
Burmese
Butthole Surfers
Clear Light
Combichrist [live]
Course of Empire
Cult of Luna
Cyberne
Door Marked Summer
Drew of the Drew
Eagles
Garbage Island
Crash Worship
Genesis
Godsmack [live]
Ground-Zero
Hawkwind

Ill Niño

Joe Lovano Us Five
Jukin' Bone
Korn [live in 2006]
Leprous [live]
Magma
Massive Attack [live]
Mind Spiders
Ministry [live]
Modest Mouse
Motograter
N*E*R*D
Nomeansno
Pavement
Pere Ubu
Radiohead [live]
Raccoo-oo-oon
Shortparis
Sigue Sigue Sputnik
Sunburned Hand of the Man
Sydonia
Taraf de Haïdouks
The Charlie Daniels Band
The Fall
The Glitter Band
The Go! Team
The J.B.'s
The Marshall Tucker Band
The Mothers of Invention
The Tubes
The Warlocks
Tornavalanche
Tussle
Upsilon Acrux
WAR
Why?
Yes [on tour]
And here's the list!
30. Tortoise
Thouhn not on all recordings and performances, experimental rock band Tortoise often utilize 2 drummers.
29. White Rabbits
American six-piece indie rock band White Rabbits have 2 drummers.
28. Concussion Ensemble
American short-lived instrumental math rock/post-rock band from the 1990's Concussion Ensemble had three regular drum kits plus junk percussion.
27. Hidden Orchestra
Hidden Orchestra, led by multi-instrumentalist composer/producer Joe Acheson, combine many genres from jazz and world music to electronic and post-rock and include 2 drummers.
26. The Dirtbombs
American garage rockers The Dirtbombs' lineup include guitarist, 2 bassists and 2 drummers.
25. Black Eyes
Black Eyes, short-lived but already cult experimental rock band, included 2 drummers.
24. Thee Oh Sees
The lineup of American garage rock/noise rock band Thee Oh Sees included 2 drummers.
23. The Feelies
Post-punk band The Feelies, formed in 1976, have 2 regular drummers, sometimes expanded to 3 drum kits on live shows.
22. Do Say Make Think
Canadian post-rock band Do Say Make Think consist of 8 band members, including 2 drummers.
21. U.S. Christmas
American psychedelic rock/sludge metal/folk/space rock/etc band U.S. Christmas have 2 drummers.
20. King Gizzard & the Lizard Wizard
Australian psychedelic rockers King Gizzard & the Lizard Wizard have 2 guys behind the drum kits.
19. ...And You Will Know Us by the Trail of Dead
Alternative/progressive/indie/math/etc rockers ...And You Will Know Us by the Trail of Dead have 2 drummers since 2011.
18. Boredoms
Famous Japanese experimental rock band Boredoms have not 2, not 3, but 4 drummers, sometimes expanded to just unbelievable amounts (with the biggest number being 77)!
17. Gnod
Gnod, British experimental band, described by some journalists as "a collective from Manchester with an ever-rotating list of members," often have 2 drummers.
16. Year of No Light
French atmospheric sludge metal/post-metal band Year of No Light have 2 drummers, who also share electronics and keyboards.
15. Edward Sharpe and the Magnetic Zeros
Edward Sharpe and the Magnetic Zeros with their almost unlimited lineup have at least 2 drummers who play live.
14. Melvins
Since 2006 cult Melvins have 2 regular drummers in the lineup.
13. Mushroomhead
Since 2006, besides the main drum kit, Mushroomhead also have 2 waterdrumkits on their live performances.
12. Ulver
Cult Norwegian experimental band Ulver have 2 drummers since 2014.
11. Kylesa
American progressive sludge/stoner metal band Kylesa had 2 regular drummers.
10. The Doobie Brothers
Famous The Doobie Brothers have an extended lineup, which includes 2 drummers + percussionist.
9. Tedeschi Trucks Band
Blues rockers Tedeschi Trucks Band, led by Derek Trucks and Susan Tedeschi, have 2 drummers in their lineup.
8. Godspeed You! Black Emperor
The lineup of Canadian post-rockers Godspeed You! Black Emperor include 2 masters of drum kits.
7. Earth, Wind & Fire
In their various forms Earth, Wind & Fire included up to 11 musicians, with 2 drummers and percussionist.
6. Swans
Cult experimental band Swans, after reuniting in 2010 (the band was formed in 1982) had 2 drummers.
5. King Crimson
King Crimson had 2 or even 3 drummers simultaneously in different periods of their career.
4. Adam and the Ants
Now inactive new wave band Adam and the Ants had 2 actual drummers in their lineup.
3. Slipknot
Without a doubt the most known band with more than 2 drummer, Slipknot (as you all know) had one drummer and 2 percussionists/drummers.
2. Grateful Dead
For the most of their history Grateful Dead had 2 great drummers: Bill Kreutzmann and Mickey Hart.
1. The Allman Brothers Band
The Allman Brothers Band had 2 drummers from 1968 to 1982, but in their latest incarnation, from 1989 to 2014, they had even 3 drummers!
Know more bands with 2 or more drummers? Feel free to share them in the comment section below.