35 Hip-Hop Artists That Rock
Rappers with strong rock 'n' roll vibe.
N-D
Ultimate Guitar

N-D
UG editor. Music lover. Constant searcher of something interesting and unique.
Posted Apr 09, 2017 06:16 PM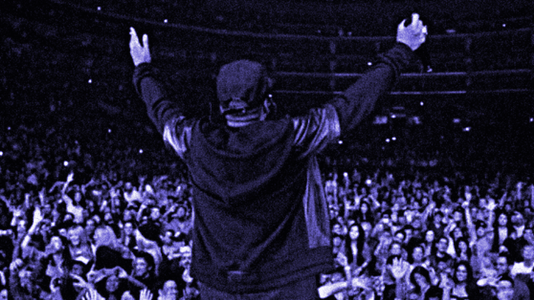 Rock music and hip-hop music always went parallel each walking in his own way. But at a certain time they came close to each other, and the result did not take long to wait - there were various collaborations between rock and hip-hop artists, and such music genres as rap metal, nu metal, rapcore, funk rock, etc were formed.
And since that time, both genres somehow influence one another. So we know many examples of rock/metal bands influenced by hip-hop - but there are hip-hop artists who were by influenced by rock music too.
So we prepared a special list of 35 hip-hop artists who have a rock approach or even incorporate rock/metal elements into their music.
P.S. Yes, of course we're Ultimate Guitar first, but it's always great to expand genre boundaries - hope you'll discover something new from this list.
Honorable mentions are (you can just scroll them down if you want):
3rd Bass
Action Bronson
Aesop Rock
Afrika Bambaataa
Atmosphere
Black Star
Bone Thugs-N-Harmony
Buck 65
Danny Brown
Das EFX
Das Racist
dead prez
Edan
Flatbush Zombies
Fort Minor
Funkdoobiest
Gang Starr
Group Home
Gym Class Heroes
Hopsin
Immortal Technique
Jedi Mind Tricks
Joey Bada$$
Jurassic 5
Kendrick Lamar
KRS-One
La Coka Nostra
Lords of the Underground
Melodica Deathship
MF DOOM
Mobb Deep
Moscow Death Brigade
Nappy Roots
Necro
Non Phixion
OutKast
Pharoahe Monch
Prozak
Saul Williams
Snowgoons
Sole
Soul Sonic Force
The D.O.C.
The Fugees
The Sugarhill Gang
twenty one pilots
Twiztid
Ultramagnetic MC's
Wudstik
Yelawolf
And here's the actual list:
35. B.A.N.G.
Johnny Reilly aka B.A.N.G. is a very active man: musician, filmmaker, MMA fighter, activist... And his approach to the music is pure and raw. Believe it or not, dude is in his 50s...
34. Boo-Yaa T.R.I.B.E.
Boo-Yaa T.R.I.B.E. are composed of the Devoux brothers Paul, Ted, Donald, Roscoe, Danny, David and Vincent, with their family being from American Samoa. When they appeared, their music was different from most rap records at the time because they played live instruments by themselves. In 1997 they even recorded an album "Angry Samoans", which is actually a rap metal record. The "Boo-Yaa" in their name signifies the sound of a shotgun being discharged, while the "T.R.I.B.E." stands for "Too Rough International Boo-Yaa Empire." They also recorded songs with such rock artists as Faith No More, P.O.D., Transplants, etc.
33. Astronautalis
Andy Bothwell, aka Astronautalis, paid plenty of dues in the underground hip-hop world before emerging with the album "Pomegranate." The thing is, the album attracted more fans from the rock world than it did hip-hop lovers. Astronautalis has been described as "if Beck were a decade or so younger and had grown up more heavily immersed in hip-hop," with his rapping style noted for "blending styles of indie rock, electro, and talkin' blues" with hip-hop. He has described himself as "historical fiction hip-hop." During live performances, he often performs a freestyle rap based on topics chosen by members of his audience.
32. Stetsasonic
Stetsasonic were an American hip-hop group formed in 1981 in Brooklyn, New York. They are remembered as one of the first hip-hop crews to use a live band, and their positive, uplifting lyrics have made the group forerunners of alternative hip-hop and jazz rap.
31. The Pharcyde
The Pharcyde are an underground/alternative hip-hop group, formed in 1991 in South Los Angeles, California, where the group's members grew up. They were one of the most well known of the first wave of alternative hip-hop acts. The Pharcyde are also best known for their hit singles "Passing Me By" (which crossed over to alternative rock radio) and "Runnin'."
30. Machine Gun Kelly
Colson Baker, aka MGK or Machine Gun Kelly, embarked on a musical career as a teenager, releasing a mixtape in 2006. His stage name comes from his rapid-fire lyrical flow and is also a reference to notorious criminal George "Machine Gun Kelly" Barnes. His live performances are known for using live instruments and being really energetic.
29. P.O.S
P.O.S (born Stefon Alexander) is an alternative hip-hop musician. He grew up punk, playing punk rock in middle school, and somewhere along the line decided to bring that energy into hip-hop. He's sampled everyone from Serge Gainbourg to such bands as Fugazi and ISIS, referenced "The Big Lebowski" and even featured guest vocals from Craig Finn of The Hold Steady and Greg Attonito from The Bouncing Souls. His rapping style is also heavily influenced by punk bands such as Kid Dynamite, Black Flag and Fugazi.
28. The Goats
The Goats were an alternative hip-hop quartet from Philadelphia, Pennsylvania. They developed a cult following after the release of two well-respected albums, "Tricks of the Shade" (1992) and "No Goats No Glory" (1994). Most members of the group were Aboriginal Americans, and their concern with Aboriginal causes is reflected in their lyrics.
27. Dälek
Dälek are an American experimental hip-hop group. Their music is dark, noisy and atmospheric, equally inspired by industrial music like Einstürzende Neubauten, the layered noise of My Bloody Valentine and the dense sound collages of Public Enemy. Dälek have often shared the stage with artists covering a wide range of genres, such as Godflesh, ISIS, Melvins, Tool, De La Soul, The Pharcyde, Grandmaster Flash, KRS-One, Dub Trio, The Dillinger Escape Plan, Mastodon and more.
26. Grandmaster Flash and the Furious Five
Grandmaster Flash and the Furious Five were an American hip-hop group formed in the South Bronx of New York City in 1976. Composed of one DJ (Grandmaster Flash) and five rappers (Melle Mel, The Kidd Creole, Keith Cowboy, Mr. Ness/Scorpio, and Rahiem), the group's use of turntablism, break-beat deejaying, and conscious lyricism were significant in the early development of hip-hop music. They have influenced many hip-hop and rock musical acts were the first hip-hop group inducted into the Rock & Roll Hall of Fame in 2007.
25. Dope D.O.D.
Dope D.O.D. are an experimental hip-hop group formed in 2006 in Netherlands. They are known for mixing hip-hop with grime and dupstep and for their high energy, especially at their live shows.
24. Vanilla Ice
Widely known for his 1990 single "Ice Ice Baby," Vanilla Ice (born Robert Matthew Van Winkle) started his musical career in 1988. He has been credited for helping diversify rap music by introducing it to a mainstream audience. Vanilla Ice changed his image and music styles several times during his career, even released 2 rap metal/nu metal albums: "Hard to Swallow" (1998) and "Bi-Polar" (2001)
23. The Roots
The Roots, cult hip-hop group formed in 1987, are known for a jazzy and eclectic approach to hip-hop featuring live musical instruments. Inspired by the "hip-hop band" concept pioneered by Stetsasonic, The Roots themselves have garnered critical acclaim and influenced later hip-hop and R&B acts.
22. Xzibit
Xzibit (born Alvin Nathaniel Joiner), is known as the actor, television host, radio personality, record producer and, of course, rapper. Achieved his fame in the West Coast hip-hop scene, Xzibit also worked with many rock musicians such as Limp Bizkit, Within Temptation, Korn, Alice Cooper, etc.
21. House of Pain
House of Pain are an American hip-hop group formed in 1991. The group's name is a reference to the H.G. Wells novel "The Island of Dr. Moreau." House of Pain are best known for their 1992 hit single "Jump Around", which reached No. 3 in their native United States, No. 6 in Ireland and No. 8 in the United Kingdom. The group consists of Everlast, Danny Boy and DJ Lethal (who later became a DJ in Limp Bizkit).
20. Everlast
Everlast (born Erik Francis Schrody) also known as the frontman for rap group House of Pain. But in his solo project he mix hip-hop with soul, country, blues, creating his own unique genre.
19. Kottonmouth Kings
Kottonmouth Kings officially formed in 1996, describing their eclectic sound as "psychedelic hip-hop punk rock." Their style ranges from hip-hop to rapcore, reggae and even punk rock.
18. Insane Clown Posse
Though many know Insane Clown Posse because of their dedicated followers, "juggalos," the group are also one of the biggest names in horrorcore, subgenre of hip-hop that focuses primarily around horror-influenced topics. ICP also collaborated with many rock artists and influenced a lot of hip-hop and rock bands.
17. A Tribe Called Quest
Cult hip-hop group formed in 1985, A Tribe Called Quest regarded as pioneers of alternative hip-hop music, having helped to pave the way for many innovative artists. The group remains very influential, and Jack White says of A Tribe Called Quest that "they were miles and miles deeper than most other people in pop music."
16. Ice-T
Ice-T (born Tracy Marrow) is one of the pioneers of gangsta rap (his track "6 'n The Mornin" is often seen as the track that triggered the whole gangster rap movement) and was also instrumental in creating rapcore with his band Body Count. His debut album "Rhyme Pays" was one of the first hip-hop albums to carry an explicit content sticker. Ice-t also was the first West Coast rapper to be accepted by the East Coast.
15. One Day as a Lion
Who can rock harder than a member of one of the most rebellious rock bands ever? In 2008, Rage Against the Machine's Zach de la Rocha started new music project One Day as a Lion with Jon Theodore, former drummer of The Mars Volta and current drummer of Queens of the Stone Age. Originally Zach performed rapping along with playing keyboards, but later the band also included Joey Karam, keyboardist of The Locust.
14. Run the Jewels
Run the Jewels are an American hip-hop supergroup formed in 2013 by rapper/producer El-P and rapper Killer Mike. They're known for their energetic tracks. RTJ also have 2 tracks featuring Zack de la Rocha.
13. RUN-D.M.C.
Run-D.M.C. were founded in 1981 by Joseph "Run" Simmons, Darryl "DMC" McDaniels, and Jason "Jam Master Jay" Mizell. The group is widely acknowledged as one of the most influential acts in the history of hip-hop culture. They were the first group in the genre to have a gold album ("Run-D.M.C.," 1984) and be nominated for a Grammy Award. They were the first to earn a platinum record ("King of Rock," 1985), the first to earn a multiplatinum certification ("Raising Hell," 1986), the first to have videos on MTV, and the first to appear on American Bandstand and the cover of Rolling Stone. They also collaborated with such rock artists as Aerosmith (on famous "Walk This Way"), Limp Bizkit's Fred Durst, Kid Rock and more.
12. 2Pac
2Pac aka Tupac Amaru Shakur (born Lesane Parish Crooks) is consistently ranked as one of the greatest and most influential rappers of all time. Though his career lasted only for 5 years before his death in 1996, Tupac's impact is really huge. On April 7th, 2017, Shakur was inducted into the Rock and Roll Hall of Fame.
11. Eminem
Eminem, born Marshall Bruce Mathers III, started his career in 1988, and since that he is one of the world's best-selling artists. In addition to his solo career, Eminem is an original member of the Midwest hip hop groups Soul Intent and D12. He is also known for his collaborations with fellow Detroit-based rapper Royce da 5'9"; the two are collectively known as Bad Meets Evil.
10. Onyx
Onyx, American hardcore hip-hop group formed in 1988, are known for their aggressive and even violent style. Despite the embrace of commercial outlets, the group maintained their hardcore image through raunchy live performances (not usually found in rap shows but rather at metal concerts). Onyx also known Onyx for their collaboration with Biohazard on the tune "Judgment Night," taken from the soundtrack album of the same name.
9. Tech N9ne
Aaron Dontez Yates aka Tech N9ne is on the front lines when it comes to merging the worlds of hip-hop and rock and roll, collaborating with such artists as Corey Taylor, Sevendust's Lajon Witherspoon, The Doors and Avenged Sevenfold. In 2013 he even released a rap rock EP "Therapy," produced by famous rock producer Ross Robinson.
8. Public Enemy
Formed on Long Island, New York, in 1982, Public Enemy are known for their politically charged music and criticism of the American media. The group consists of Chuck D, Flavor Flav, Professor Griff, Khari Wynn, DJ Lord, and the S1W group. Public Enemy were inducted into the Rock and Roll Hall of Fame in 2013.
7. N.W.A
N.W.A (an abbreviation for Niggaz Wit Attitudes) were among the earliest and most significant popularizers and controversial figures of the gangsta rap subgenre, and are widely considered one of the greatest and most influential groups in the history of hip-hop music. The original lineup formed in 1986 consisted of Arabian Prince, Dr. Dre, Eazy-E, and Ice Cube. DJ Yella and MC Ren joined later, with Arabian Prince eventually leaving shortly before the official release of debut album "Straight Outta Compton," which came out in 1988, and Ice Cube following suit in December 1989. In 2016, the group was inducted into the Rock and Roll Hall of Fame.
6. Wu-Tang Clan
Wu-Tang Clan are originally composed of East Coast rappers RZA, GZA, Ol' Dirty Bastard, Method Man, Raekwon, Ghostface Killah, Inspectah Deck, U-God and Masta Killa. Cappadonna later became an official member of the group. The Wu-Tang Clan has released seven gold and platinum studio albums with worldwide sales of more than 40 million albums, including members' solo projects, since 1992. Their debut album, "Enter the Wu-Tang (36 Chambers)," is considered to be one of the greatest albums in hip-hop history.
5. Odd Future (OFWGKTA)
Odd Future Wolf Gang Kill Them All, normally shortened to Odd Future and abbreviated to OFWGKTA, an American hip hop collective formed by Tyler, The Creator in 2007 with Hodgy, Left Brain, Pyramid Vritra, Jasper Dolphin. Later members include Earl Sweatshirt, Frank Ocean, Domo Genesis, Mike G, Casey Veggies, Syd. They're widely known for their dark, violent, and offensive lyrical content, as well as their energetic live shows with crowdsurfing, stagediving and mosh pits and general, almost punk rock "don't give a fuck" attitude.
4. Ho99o9
Ho99o9 (pronounced Horror) are an experimental hip-hop group founded by theOGM and Eaddy. They took their influences from gangsta rappers and hardcore punk/noise rock bands such as Black Flag, Big Black and Bad Brains. Ho99o9 also known for their energetic crazy live performances. The band played at many different rock festivals and also supported The Dillinger Escape Plan on their final UK tour.
3. Cypress Hill
Formed in 1988, Cypress Hill are also one of the first hip-hop groups to gain a following with fans of hard rock and metal. They recorded songs with Pearl Jam, Sonic Youth, Biohazard, members of Rage Against the Machine, Fear Factory, Downset, Deftones, etc. The band members are also involved in different rock bands such as Prophets of Rage, SX10, Powerflo, etc. In 2000 they released a double album "Skull & Bones," with the record's genre and style are divided into two - a pure hip-hop disc ("Skull") and a rap metal disc ("Bones").
2. Beastie Boys
Beastie Boys, formed in 1981, consisted of Michael "Mike D" Diamond (vocals, drums), Adam "MCA" Yauch (vocals, bass) and Adam "Ad-Rock" Horovitz (vocals, guitar) for the majority of their career. Originally formed as a four-piece hardcore punk band The Young Aborigines in 1978, they made a full transition to hip-hop in 1983. Beastie Boys are considered very influential in both the hip-hop and rock music scenes, with artists from Eminem to Rage Against the Machine to Limp Bizkit, to Sublime, and Blur citing them as an influence.
1. Death Grips
Experimental/industrial hip-hop band Death Grips are undeniably one of the most "punk" groups ever with their rock attitude, powerful live shows, often accompanied by the destruction of the gear, and many controversial tricks - for example, shortly after signing to Epic Records in 2012, the group leaked their second album "No Love Deep Web" (with one of the most NSFW album covers ever) for free download in breach of their contract and were eventually dropped from the label. The band consists of rapper/vocalist Stefan Burnett (aka MC Ride), drummer/producer/songwriter Zach Hill, and recording engineer/producer/bassist/keyboards player Andy Morin aka A2B2, often miscredited under the alias "Flatlander." Though they were formed only in 2010, many famous musicians expressed their admiration and support for Death Grips' music. According to his collaborator Donny McCaslin, David Bowie was inspired by Death Grips whilst creating his final album, "Blackstar."
Know more hip-hop artists with the rock influences? Feel free to post them in the comment section below.