40 Best Grunge Bands
Loud guitars and dirty sound...
N-D
Ultimate Guitar

N-D
UG editor. Music lover. Constant searcher of something interesting and unique.
Posted Apr 23, 2017 06:01 AM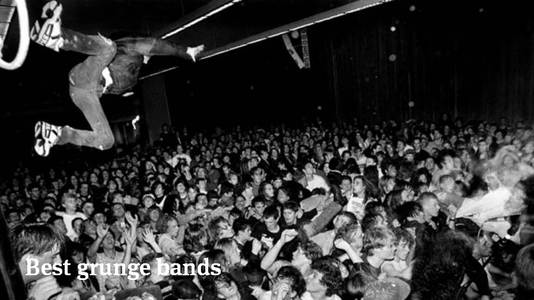 Grunge emerged during the mid-1980s in the Pacific Northwest U.S. state of Washington, particularly in Seattle and nearby towns and reached a peak of popularity in the early 1990s, building strong followings and signing major record deals.
The genre has had a huge impact on many bands and rock music in general, so we prepared a special list of 40 greatest grunge bands.
Remember: this list is not about ranking, it's just a dedication to one of the most rebellious music genres.
Honorable mentions (though most of the bands are more post-grunge, punk, alternative rock, etc):
Afghan Whigs
Bikini Kill
Bitch Alert
Blind Melon
Brother Cane
Cat Butt
Collective Soul
Comes With the Fall
Cosmic Psychos
Daisy Chainsaw
Dead Confederate
Dickless
Dover
Duman
Everclear
Failure
Fastbacks
Grey Daze
Hater
Hazel
Institute
Seaweed
Sebadoh
Send No Flowers
Swallow
The Fluids
The Gits
Three Fish
Toadies
Veruca Salt
Wellwater Conspiracy
U-Men
Here's the list!
40. Violent Soho
Being the youngest band on the list (formed in 2004), Violent Soho were formed in Brisbane, Australia - even not in the USA. But with such influences as Pixies, Mudhoney and Nirvana, Violent Soho keep the true grunge spirit, without moving to commercial "post-grunge" sound. Their latest effort, the fourth studio album "Waco" was released on I Oh You Records in March 2016. The album debuted at number 1 on the ARIA Charts.
39. Blood Circus
Blood Circus were an early, short-lived grunge band from Seattle, Washington. Both Nirvana and Mudhoney performed their first-ever shows opening for Blood Circus at Seattle's Vogue club in 1988. In 1989 Sub Pop released the band's first and only album, a five-track EP called "Primal Rock Therapy." The rerelease comprised almost all of the band's recorded output, except for the song "The Outback", which can be found on the Sub Pop 200 compilation.
38. The Nixons
The Nixons were founded in Oklahoma City in 1990. "Foma," their official debut LP, was released in 1995 on MCA Records, and after its release the group capitalized on their success with big tours (about 300 shows a year). Since 2010 the band is inactive. In 2017, they announced a couple of reunion shows which played in their native Oklahoma and also as a part of the KDGE "THE EDGE" Edgefest 25th Anniversary line-up in Frisco, Texas. The Nixons FB page was created, where the four members of the band are constantly uploading rare videos as well as unreleased pictures and memories.
37. Coffin Break
Coffin Break were formed in Seattle, USA in the late '80s, during the time that grunge was beginning to catch on; however, the group eschewed the nascent alternative sound, taking their influences from punk rock. The group released its first two full-length albums and a compilation on C/Z Records. Signing to Epitaph Records, they released two further albums in 1991 and 1992 before disbanding in late 1993.
36. Downface
Sadly, most people believe that one of the most popular songs by Downface, "Alone," is both written and performed by Alice in Chains or Pearl Jam. They were formed in Madison, Wisconsin in 1997.
35. Hammerbox
Hammerbox were a female-fronted band from Seattle, WA. They released their first LP, "Hammerbox" on independent label C/Z Records. This album earned them the opportunity to sign to a major label - they signed to A&M Records for the release of their second album. Despite the band's appearance at rock festival Endfest in Bremerton, Washington to support their album, it did not sell well and the band were dropped by the label. Vocalist Carrie Akre left soon after to form Goodness, while guitarist Harris Thurmond went on to join Orbiter.
34. Paw
Like some people said, Paw's biggest problem, recognition-wise, was that they were from Lawrence, Kansas instead of Seattle or Chicago. Formed in 1991, they signed on the grunge wave with A&M Records for their first two albums, but were dropped in 1996. In 1998 Paw released a full-length compilation of B-sides and rarities entitled "Keep The Last Bullet For Yourself" on their own label, Outlaw Records.
33. Truly
Truly were formed in 1991 by songwriter Robert Roth, Mark Pickerel (former drummer in Screaming Trees) and Hiro Yamamoto (former bassist in Soundgarden). Before meeting with his future band mates, Robert Roth auditioned for the role of Nirvana second guitarist, but they decided to continue as a trio.
32. Malfunkshun
Malfunkshun were formed in Seattle in 1980. Alongside with Green River (formed in 1983) they were one of the first grunge bands ever. Malfunkshun are often called "godfathers of grunge."
31. Love Battery
For the most part Love Battery were an unusual group in the early 90's Seattle music scene, because they combined grunge with many other styles such as psychedelic rock, post-punk, garage rock, etc.
30. My Sister's Machine
My Sister's Machine were formed in Seattle in 1989, at a time when the grunge movement was gaining strength. They released 2 albums, including their debut "Diva" on a major label Caroline in 1992, but unfortunately they weren't commercially successful, and they split up in 1994.
29. Days of the New
Days of the New were formed in Louisville, Kentucky in 1995, being one of the latest commercially successful grunge bands before the "post-grunge" genre emerged.
28. Gruntruck
Gruntruck were from Seattle, formed in 1989. Their sound was described as grunge, and the band focused more on the metal side of the genre. The band only released two albums. They toured the US and Canada with Alice in Chains in fall of 1992, as well as Europe in the winter of 1993 with Pantera, who were supporting "Vulgar Display of Power." Layne Staley named Gruntruck as one of his favorite bands.
27. 7 Year Bitch
7 Year Bitch, formed in Seattle, were active between 1990 and 1997. Their career yielded three albums, and was impacted by the deaths of their guitarist Stefanie Sargent and close-friend Mia Zapata of fellow Seattle punks The Gits.
26. Candlebox
Candlebox were formed in Seattle in 1991. Though they were sometimes looked down upon by grunge fans for their style, which was considered by many to be a derivative version of true grunge, and their commercial success suffered as a result. Candlebox had sold more than 4 million copies of their self-titled debut, and their follow up album, "Lucy," was certified as platinum.
25. Babes in Toyland
Babes in Toyland were formed in Minneapolis, Minnesota, in 1987. Their debut album "Spanking Machine," released in 1990, caught the attention of Sonic Youth's Thurston Moore, who began singing their praises in the music press and invited the band to support them on their European tour. Their second and most successful album, "Fontanelle" was released in August 1992. After a number of other tours, Babes in Toyland released "Nemesisters," their third and final studio album, in 1995.
24. Local H
Local H were formed in 1987 in Zion, Illinois. They are perhaps best known to a wider audience for their 1996 hit single "Bound for the Floor."
23. Soul Asylum
Soul Asylum were originally formed in 1981 under the name Loud Fast Rules in Minneapolis, Minnesota. All elements contributed to the band's being described as a "grunge precursor," a claim often recited in comparisons between pre-Nirvana Minneapolis and Seattle bands. Despite critical acclaim locally and internationally, they remained unknown to a larger US audience and radio market.
22. Skin Yard
Skin Yard were formed in Seattle in 1985. The group never gained any mainstream audience, but they have been an influence on their contemporaries, including Soundgarden, Melvins, and Green River.
21. Bush
Bush were formed in London, UK in 1992. Started as a grunge band, they later moved to a more post-grunge sound. Bush went on to become one of the most commercially successful rock bands of the 1990s, selling over 10 million records in the United States.
20. Hole
Hole were originally formed in Los Angeles, California in 1989 by singer-songwriter/guitarist Courtney Love and lead guitarist Eric Erlandson. And despite the contradictory image of Courtney Love, Hole undeniably had an impact on the grunge scene.
19. TAD
Among the first of the many bands which came out of Seattle in the grunge era, TAD were notable for the fact that their music had a noticeable 1970s metal influence, rather than the punk which influenced most other grunge bands. Although their commercial success was limited, their music is still highly regarded amongst grunge fans.
18. Meat Puppets
Meat Puppets were formed in 1980 in Phoenix, Arizona. Meat Puppets started as a punk rock band, but later they established their own unique style, blending punk with country and psychedelic rock. Meat Puppets has influenced a number of rock bands including Nirvana (Kurt Cobain named them among his favorite bands), Soundgarden, Dinosaur Jr., Sebadoh and Pavement.
17. Green River
Green River are considered one of the first grunge bands, forming in 1984 in Seattle. They had little impact outside of Seattle, but their influence within Seattle's music scene would eventually be felt around the world. Their influence reached to both of their contemporaries (Soundgarden, Melvins) and later Seattle bands (Nirvana, Alice in Chains) sharing the Sub Pop label. Green River's impact continued to live on through the bands who formed by its their after the group's break-up in 1988: Mother Love Bone, Pearl Jam, Love Battery, and Mudhoney. Mark Arm, the band's singer, is widely credited as being the first person to use the term "grunge", although in a different manner that is widely used.
16. Jane's Addiction
Jane's Addiction, formed in Los Angeles in 1985, paved the way and were the very precursor for alternative rock and grunge to become the pop phenomenon of the early '90s. Jane's Addiction is usually regarded as one of the most influential acts in alternative music. Tom Morello of Rage Against the Machine compared the influence of the band to that of Nirvana.
15. L7
L7 were formed Los Angeles, California in 1985. They signed to Epitaph Records for their first album and to Sub Pop in 1989. Their 1992 album "Bricks Are Heavy," produced by Butch Vig, featured in Rolling Stone's May 1999 list of "Essential Recordings of the 1990s," and is widely considered their classic.
14. Silverchair
Silverchair were formed in 1992 as Innocent Criminals in Merewether, Newcastle, Australia. The band got their big break in mid-1994 when they won a national demo competition conducted by SBS TV show "Nomad" and ABC radio station, Triple J. Their debut album "Frogstomp" was released in early 1995, when the members were only 15 years of age.
13. The Smashing Pumpkins
Although being more like an alternative rock band, The Smashing Pumpkins helped formulate the grunge era that consisted of Seattle-heavy bands like Soundgarden, Alice in Chains, Pearl Jam, and Nirvana, among others.
12. Mudhoney
Mudhoney were formed in Seattle in 1988 following the demise of Green River. The band's early releases on Sub Pop, the "Touch Me I'm Sick" single and the "Superfuzz Bigmuff" EP, were influential in the Seattle music scene, and helped inspire the dirty, high-distortion sound that would characterize grunge.
11. Mother Love Bone
Mother Love Bone was established in 1988 by ex-Green River members Jeff Ament, Bruce Fairweather and Stone Gossard, ex-Malfunkshun frontman Andrew Wood and ex-Ten Minute Warning and Skin Yard drummer Greg Gilmore. The band released only one full-length album, "Apple" (1990), released a few months after frontman Andrew Wood died.
10. Screaming Trees
Screaming Trees were formed in Ellensburg, Washington in 1985. Although widely associated with grunge, the band's sound also incorporated hard rock and psychedelic elements.
9. Mad Season
Mad Season were a grunge supergroup formed in 1994 by members of three popular Seattle-based bands: Alice in Chains, Pearl Jam and Screaming Trees. Mad Season released only one album, "Above." The band went on a semi-permanent hiatus in 1996 due to the band members' conflicting schedules and vocalist Layne Staley's problems with substance abuse. The band dissolved following the death of bassist John Baker Saunders in 1999.
8. Temple of the Dog
Temple of the Dog were formed in 1990 by Soundgarden's Chris Cornell as a tribute to the late Andrew Wood, frontman of Mother Love Bone and Malfunkshun. Cornell, Wood's close friend and roommate, helmed the project, which took its name from a lyric in the Mother Love Bone song, "Man of Golden Words." The band also included Soundgarden's drummer Matt Cameron, Wood's former bandmates Jeff Ament and Stone Gossard, and lead guitarist Mike McCready. Eddie Vedder, at the time auditioning for the position of vocalist in Pearl Jam, also provided co-lead and background vocals on several songs. One song Vedder provided co-lead vocals on was "Hunger Strike," which became the band's biggest hit.
7. Dinosaur Jr.
Though Dinosaur Jr. earned a reputation as one of the formative influences on alternative rock, the group also pretty much epitomized the "grunge" sound, influenced many bands from Nirvana to Pearl Jam.
6. Stone Temple Pilots
Stone Temple Pilots were formed in 1989 in San Diego, California. While initially displaying a sound typically identified as grunge early on in its career, further releases from the band expressed a variety of influences, from psychedelic to classic rock. The band's evolution throughout the 1990s and early 2000s involved several tumultuous periods of commercial highs and lows, brought about in part by Weiland's well-publicized struggles with drug addiction.
5. Melvins
Melvins don't really fit into one genre, being one of the most innovative, influential and experimental bands. They had impact on many genres such as sludge metal, stoner rock, etc - and they definitely were a huge influence on the grunge scene too.
4. Soundgarden
Soundgarden were formed in Seattle in 1984. Despite starting years earlier, and having a sound that more closely resembled Black Sabbath or Led Zeppelin than their contemporaries, they are considered one of the "big four" of the '90s Seattle grunge bands. Soundgarden also were the first grunge band to sign to a major label (A&M Records in 1988), though the band did not achieve commercial success until they popularized the genre in the early 1990s.
3. Pearl Jam
Formed in 1990 after the demise of guitarist Stone Gossard and bassist Jeff Ament's previous band, Mother Love Bone, Pearl Jam broke into the mainstream with their debut album, "Ten," in 1991. Pearl Jam has outlasted and outsold many of its contemporaries from the alternative rock breakthrough of the early 1990s, and is considered one of the most influential bands of that decade.
2. Alice in Chains
Alice In Chains were formed in Seattle in 1987. They created their own unique sound, combining gloomy strains of grunge with the heavy riffing of metal. This dichotomy helped the group soar to critical acclaim and multi-platinum status with their first albums. The band is also known for their distinctive vocal style, which often included the harmonized vocals of lead singer Layne Staley and guitarist and songwriter Jerry Cantrell. Staley's songs were often considered "black" or "dark," with themes such as drug abuse, depression, and suicide displayed, while Cantrell's lyrics dealt more with personal relationships. Vocalist Layne Staley tragically died in 2002.
1. Nirvana
Despite releasing only three full-length studio albums in their seven-year career (from 1987 to 1994), Nirvana have come to be regarded as one of the most influential and important alternative bands in history, with their second album "Nevermind" (1991) opened the doors for the whole grunge movement to the mainstream. Nirvana are widely known for their energetic live shows, diverse songwriting (ranging from dirty and aggressive songs to slow grunge ballads) and sincere and personal lyrics of Kurt Cobain. Nirvana's active career ended following the tragic death of Cobain in 1994.
Photo credit: Charles Peterson