5 Awesome Megadeth Live Videos You Need to Watch
Listen up Droogies!
alecplowman
Ultimate Guitar

alecplowman
Posted Apr 29, 2017 08:36 PM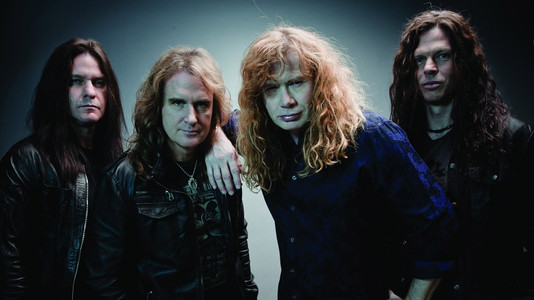 Anyone who's been following Megadeth over the years will know that they've been delivering killer shows in the live arena for the past three decades.
In this week's feature, we're revisiting some of the band's finest performances from their first ten years, showing their transition from young and hungry speed metal freaks to technical, precision thrash masters.
So, crank your speakers Droogies and strap yourselves in. If you've getting out of this one, it'll be by the skin of your teeth!
The Keystone, Berkeley, California, April 15th 1984
This video is pretty rough and ready, but it captures a unique moment in Megadeth history that fans will definitely want to check out. Firstly, there's the early band line-up that predates the release of the first Megadeth album. Lee Rausch, yet to be replaced by Gar Samuelson, is on drums, with a young unknown by the name of Kerry King on guitar (I wonder if he ever amounted to anything). Early versions of "The Conjuring" (here titled "Conjure Me") and "My Last Words" ("Next Victim") will be of interest to 'Deth fans, while the crow chant of "Kirk Hammett sucks" before "Mechanix" sees the beginning of the Metallica/Megadeth divide that would continue for many years.
Token Lounge, Detroit, Michigan, October 28th 1986
Some awesome, up close and personal footage here of the band on the "Peace Sells" tour. What's telling compared to the 1984 Keystone video is just how much of a unit Megadeth have become by this point, with Chris Poland and Gar Samuelson now in place. The setlist, drawing entirely from the first two albums, is also killer.
Essen, Germany, 20th May 1988
The first pro-shot video on this list, this one in the form of a TV broadcast. On tour in support of "So Far, So Good… So What?," the band, now featuring Chuck Behler on drums and Jeff Young on guitar, has swapped clubs for theaters and arenas, with a larger stage production in evidence. Opening with the killer "Set The World Afire" and featuring a version of "In My Darkest Hour" dedicated to the late Cliff Burton, it's a powerhouse display from Mustaine and co. 
Rock In Rio II, Brazil, 23rd January 1991
For many (myself included) the definitive Megadeth line-up, Mustaine, Ellefson, Friedman and Menza make their first appearance on the list here with this absolute powerhouse of a performance from the Rock in Rio festival, 1991. The energy level is turned up to 11, with songs like "Take No Prisoners," "Holy Wars" and (perhaps the fastest ever version of)"Tornado of Souls" from the "Rust In Peace" album eviscerating in their impact. It reminds you just how much of a beast the late Nick Menza was behind the kit.
Monsters of Rock, Reggio Emilia, Italy, 12th September 1992
Monsters of Rock 1992 has to be a contender for the greatest metal festival line-up ever. Iron Maiden, Black Sabbath, Megadeth, Testament, Pantera; all killer. Mustaine's boys certainly rose the occasion as well, with the now firmly entrenched "Rust in Peace" line-up delivering an absolute powerhouse of a performance. "Holy Wars" followed by "Skin of My Teeth" sets a devastating precedent and might be the finest one-two punch the 'Death have ever employed onstage. Mustaine has a real venom throughout this one, and the rest of the band certainly rise to the occasion.