5 Awful Performances by Famous Rock Bands
Shit happens.
Niass
Ultimate Guitar

Niass
Serial Walken comma user. Stroopwafel enthusiast.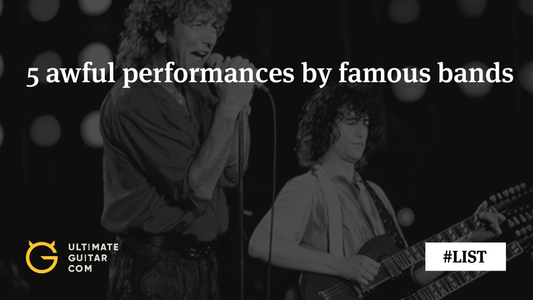 Queens Of The Stone Age - Rock Am Ring 2001
Everything went wrong during the 2001 Rock am Ring festival which according to Josh Homme was "the worst show we've ever played and it was in front of 40,000 people." Problems with guitars, problems with mic, a random smoke machine went off, problems with tuning etc. After the disastrous gig members of band and soundman made a tattoo that says "Freitag 4:15." As Oliveri explained: "The time we had to play was 4.15 in the afternoon and it was just a terrible show. It sucked, it was horrible. That's why I tattooed it on my ribs, where it would hurt, so I'd never forget."
Led Zeppelin playing "Whole Lotta Love" at Live Aid 1985
Led Zeppelin reunited for the first time since John Bonham's death in 1980 and performed in front of the crowd of 100,000 people and a global audience of 1.9 billion on television. There were many factors that made the gig terrible. Robert Plant's voice was sore after three solo shows in the nights before the concert, Jimmy Page was given a not properly tuned guitar, and Phil Collins was added as the last minute replacement minute and was unfamiliar with the material.

Most of the crowd probably didn't initially notice the flaws in the performance, but Jimmy Page noticed enough to exclude Led Zeppelin's performance from the Live Aid DVD set released in 2004.
The Stone Roses - Reading Festival 1996
The Stone Roses were headliners of the festivals and started the gig with the riff of "I Wanna Be Adored" but when IanBrown opened his mouth, it was evident he couldn't hit a note. The lead singer danced, shaking his tambourine, but remained totally off-key. The fans wept in disbelief. The band broke up soon after this terrible gig.
Eddie Van Halen Playing Jump at 2007 Greensboro show
Many of you may be familiar with this disastrous rendition of Jump. Though the guitar was completely out of tune with the pre-recorded synth part Eddie played the whole song, making for quite a clashing microtonal meltdown. Yes, just as disturbing as the possibility that backing tracks could spontaneously introduce a new tuning system in front of thousands of fans, hundreds of thousands more may know about it within days on YouTube. Techs everywhere just felt a chill go up their spine. Erm, once they stopped crying they were laughing so hard.
Red Hot Chili Peppers playing 'Under The Bridge' on Saturday Night Live 1992
Guitarist John Frusciante wasn't happy with the RHCP's huge success and deliberately sabotaged the band's "Under The Bridge" performance on SNL by playing slowly and erratically and then screaming at the song's end instead of singing his normal backing vocals. Anthony Kiedis stated in his Scar Tissue autobiography that "It felt like I was getting stabbed in the back and hung out to dry in front of all of America while Frusciante was off in a corner in the shadow, playing some dissonant out-of-tune experiment." While Chad Smith said that, "John was just up there like he didn't give a fuck about anything. And you can't be in a group and not care, it's gonna show, and it did. A lot of the shows were terrible." Soon after that, Frusciante quit the band for the first time.