5 Live Guns N' Roses Videos You Need to Check Out!
From cult legends to stadium monsters, this is GN'R Live!
alecplowman
Ultimate Guitar

alecplowman
Posted Apr 17, 2017 02:19 PM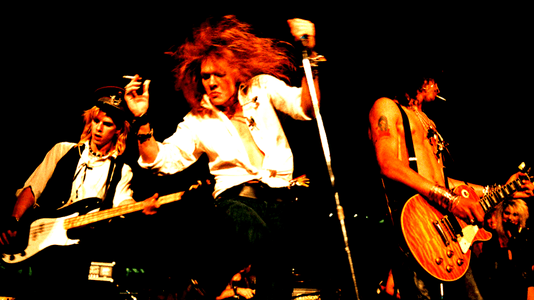 Guns N' Roses have a rightly deserved reputation as one of the great live bands in history. The energy and attitude of their early club shows was legendary, while the early 1990s saw them transform into a stadium rock behemoth of epic proportion.
In this week's feature, we've collected five of the best performances from Axl, Slash, Duff and co., showcasing the band throwing down in the live arena from the mid-1980s to the present day.
So play loud, and let the Gunners take you down to Paradise City with these kick-ass live vids.
Music Machine, L.A., 1986
It's strange to think now, but there was a time when Guns N' Roses weren't considered amongst the biggest names in the rock world. This rare, pro-shot footage from 1986 captures the young, hungry band on stage at the Music Machine in L.A., slumming it in the clubs before the release of Appetite for Destruction would change their world forever. 'Nightrain' and 'Paradise City' have different intros from what would become the studio versions, and Slash, having not yet adopted his signature Gibson Les Paul, is playing a B.C. Rich. Still, they rock pretty hard, and this show is very much a sign of things to come…
The Ritz, N.Y., 1988
Still playing the clubs, but now with a world changing record under their belts, it's a very different attitude in this 1988 footage of the band, shot at the Ritz in New York by MTV. Raw, dirty and unadulterated as one YouTube commentator notes (though not entirely, as MTV still censors the swears), seeing this footage of the band in their prime makes it easy to understand how their made such a huge impression on the world of rock. Compared to the likes of Bon Jovi, who were chart kings at the time, this shit feels positively dangerous. That the band manages to remain super tight, while simultaneously feeling like they could fall apart at any moment is testament to their rock and roll cred circa the late 1980s.
Indiana, I.N. 1991
What a difference three years makes. By 1991, GN'R had fully transformed from a cult phenomenon into a stadium behemoth. Their line-up here is significantly bolstered, not just with new drummer Matt Sorum, but the myriad backing musicians that became characteristic of the band by the early 1990s. The setlist I also a 2+ hour monster, with now-classic songs from Appetite for Destruction bolstered with many new numbers from the Use Your Illusion records.
River Plate, Argentina, 1993
Guns N' Roses' tour supporting the Use Your Illusion albums turned into a two-year behemoth, and this TV broadcast footage from 1993 catches them at the tail-end in 1993. Further line-up changes are apparent in this clip; Izzy Stradlin is gone, replaced here by Gilby Clarke (though Stradlin would make a reappearance later in the tour). The Gunners are mixing up the setlist a bit here, throwing in covers of The Rolling Stones' 'Dead Flowers,' as well as their Duff McKagan-led version of Misfits' 'Attitude.' Little did fans know it at the time, but these 1993 shows would be the end of an era for the band.
Lincoln Financial Field, P.A., 2016
One of the best examples of audience-filmed footage from Guns n' Roses' Not in this Lifetime tour, this one captures a full, two-and-a-half hour performance from the band's show at Lincoln Financial Field in Philadelphia. The band is on fine form during this performance (to be fair, they were for pretty much all of the tour). Heavy on hits, including a couple of surprise inclusions from Chinese Democracy, it's a reminder that the current Axl/Slash/Duff led version of the band is still very much a force to be reckoned with when it comes to live performance.