5 Live Mastodon Videos You Need to Watch
Awesome rare footage from the modern metal masters.
alecplowman
Ultimate Guitar

alecplowman
Posted Feb 27, 2017 01:39 PM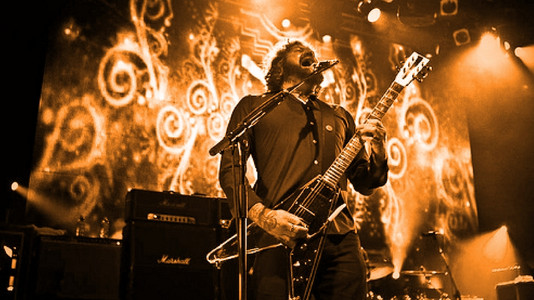 Unless you've been living under a rock for the past few weeks, you're likely aware that the release of new Mastodon album "Emperor of Sand" is a mere month away. We here at Ultimate Guitar are pretty psyched.
To get ourselves - and you - in the mood for the oncoming onslaught of metal mastery, we've been trawling through the YouTube archives to bring you a selection of some of the finest live footage of the band. You can check out five complete shows below, from the very beginnings of their career onwards. So, what are you waiting for? Fullscreen that shit and play it fucking loud!
Mastodon, Cow Haus, Tallahassee, Florida, 28th May 2000
Mastodon is at their most embryonic here in this clip filmed just four months after they formed. It's also a rare example of footage featuring original vocalist Eric Saner is at the helm, his exit from the band imminent at this point. The music is raw, uncompromising and brutally performed, with the young and hungry band playing like there's no tomorrow.
The Creepy Cawl, St Louis, 21st May 2001
Some awesome early pro-shot footage here from the guys at Leper's TV, featuring the now four-piece band on tour in support of their debut EP. "The middle act" in "some random midwest show," there are about as many people in the audience as there are on stage. Nonetheless, the performance is a powerhouse, and even features a rare-run-through of the blistering "Trilobite" from the band's 2002 Remission album.
Mastodon, Scala, London, UK, 12th May 2005
Excellently shot from the balcony of London's Scala Theater, this show is heavy on cuts from the band's breakout album, Leviathan, which was released the year earlier. Along with some pretty gnarly sounding Brent Hinds vocals, it also features the live debut of the monolithic "Circle of Cysquatch" from the as-then-unreleased Blood Mountain record.
Scion Festival, Atlanta, Georgia, 28th February 2009
Another multi-camera offering, this time from the band's hometown show at the 2009 Scion Festival. A mega setlist, heavy on Leviathan and Blood Mountain tracks, this show is also notable for featuring debut performances of "Oblivion," "Divinations," and "Crack The Skye" from the Crack The Skye album, still two months away from release at this point. And, as if that wasn't enough, Scott Kelly from Neurosis – a noted influence on Mastodon – joins the band for the final three tracks.
Pinkpop Festival, 27th May 2012
A TV broadcast from 2012's Pinkpop Festival sees Mastodon touring behind the recently released The Hunter with a setlist heavy on tracks from that album. Opening with the beastly "Dry Bone Valley," it's a great showcase for plenty of latter-day Mastodon bangers as well as some tasty vocals from drummer Brann Dailor. There's also something quite satisfying about watching the band playing to a festival crowd of tens of thousands, contrasting the 5 people in attendance at the Creepy Crawl some ten years earlier.