5 More Live Metallica Performances You Need to Watch
More monolithic movies from the masters of metal…
alecplowman
Ultimate Guitar

alecplowman
Posted Mar 25, 2017 09:00 AM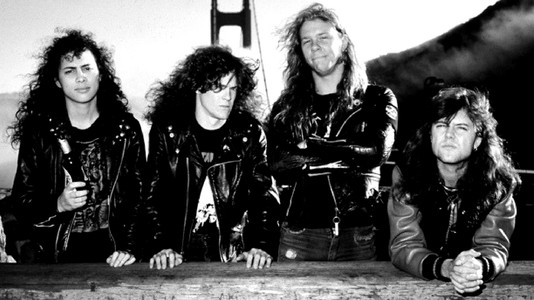 "You want some fucking more or something?" Well, we're back with five more awesome Metallica live performances you need to watch. While the previous edition of this feature focused on the 'Tallica boys in their early days, this article is all about the band throughout their stadium conquering years in the 1990s. We've got arena shit, covers shit and even intimate club shit to go through. So crack open a cold one and crank your fucking speakers…
You want heavy? Ultimate Guitar gives you heavy baybeh!
Milton Keynes Bowl, United Kingdom, 1993
This thunderous performance comes from the Nowhere Else to Roam outdoor leg of Metallica's massive tour in support of the equally monolithic Black Album. Taken from the venue's video screen feed and matched up with audio taken from the BBC's live radio broadcast of the show, the quality of this one is awesome, while the band's performance is unrelentingly fierce. Unfortunately, it isn't the complete show: the first encore is audio only while the final two songs – "Enter Sandman" and "So What" are missing. But, what we do have is an excellent example of Metallica in what was arguably their live prime.
Middletown, New York, 1994
Some awesome footage taken from the band's 1994 Shit Hits the Sheds tour. The last tour on which Metallica performed in E standard (they'd tune down to E♭ standard in following years because of James Hetfield's deteriorating vocals after the large scale tour supporting The Black Album), it also featured a scaled down drum kit for Lars Ulrich, with two rack toms removed to make the hi-hat and ride cymbals easier to access. What's awesome about this footage is the quality. Shot by four tripod-mounted audience cameras and featuring a soundboard audio track, it has all the watchability of a pro-shot video, while retaining an appealing bootleg vibe.
Astoria II, London, 1995
A super-intimate Metallica performance from London's Astoria II here. A secret warm-up show before the band's headlining performance at Donington 1995, it's a loose, fun set with the Bay Area Thrashers letting their hair down… quite literally in the case of James Hetfield, who is sporting the most '90s mullet you've ever seen. Shot from a couple of excellent vantage points with two cameras (given how tiny the Astoria II was, I'm amazed that the tapers didn't get caught), it's an up-close-and-personal account of Metallica at the tail-end of the Black Album-era. Telling of their impending transition to alternate rockers, the show even includes the live premiere of "2x4" from the then-unreleased Load.
Philadelphia, PA, 1997
This show was originally released on VHS as Banned in Philly with the 4th edition of the legendary Metallica Fan Can. A free concert given by the band in a Philadelphia parking lot, the set list deviates from the typical Metallica show circa 1997 and is markedly different from their Cunning Stunts DVD of the same era. Black Album concert staples such as "Enter Sandman," "Nothing Else Matters" and "Sad But True" are jettisoned in favor of album deep cuts, while a cover of Diamond Head's "Helpless" serves as a rare opener.
Roseland Ballroom, New York, 1998
Rounding out our list is this pro-shot MTV footage from the band's Garage Barrage tour. This one is notable for two reasons. Firstly, it sees the 'Tallica boys playing at the Roseland Ballroom, a venue intimate by Metallica standards circa 1998. Secondly, the show, in support of the recently released Garage Inc. record, is made up entirely of cover songs. Tracks like the band's version of Black Sabbath's "Sabbra Cadabra" and Holocaust's "The Small Hours" get a rare live outing here. Het, Ulrich and co are obviously having a blast tearing through some of their favorite songs by other bands, and it shows in the energy of the performance.