5 Most Anticipated Albums of August 2017
There are some real heavy hitters...
Parker_Abt
Ultimate Guitar

Parker_Abt
I write reviews for UG. I joined the team in 2012. Best team in the world! As we say here, play it fucking loud!
Posted Jul 18, 2017 07:30 AM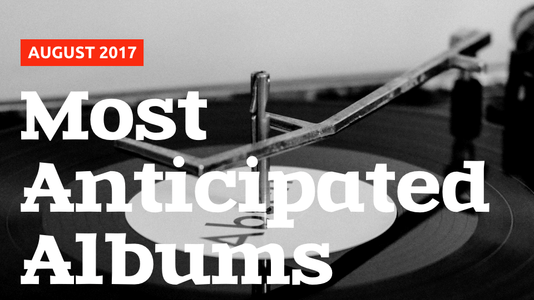 UG is back with its list of the most anticipated albums set for release in August. There are some real heavy hitters in this list, so continue reading. When you're done rocking out at your summer music festivals, you can come back home and look forward to these excellent (well, we hope) releases.
First, here's our list of albums to check out that didn't crack the top 5:
August 4 - Accept - "The Rise of Chaos"
August 4 - Quiet Riot - "Road Rage"
August 4 - George Thorogood - "Party of One"
August 4 - Dead Cross - "Dead Cross"
August 4 - PVRIS - "All We Know of Heaven, All We Need of Hell"
August 11 - Hinder - "The Reign"
August 11 - Incantation - "Profane Nexus"
August 18 - KMFDM - "Hell Yeah"
August 18 - UNKLE - "The Road Pt. 1"
August 18 - Thy Art Is Murder - "Dear Desolation"
August 18 - Eluveitie - "Evocation II - Pantheon"
August 25 - Gogol Bordello - "Seekers and Finders"
August 25 - Iron & Wine - "Beast Epic"
August 25 - Liars - "TFCF"
August 25 - Dagoba - "Black Nova"
August 25 - Die Apokalyptischen Reiter - "Der Rote Reiter"
5. Leprous - "Malina"
Release Date: August 25
Genre: progressive metal, avant-garde
The only band on our list outside of the US is a rising metal band from Norway. Since 2009, Leprous has released an album every two years and this next one appears to come at a crossroads for the band. They are looking to continue their ascent on the European album charts (the first single from this album takes a noteworthy turn toward mainstream rock) and at the same time they want to prove they can work as a cohesive unit, an important question considering their lineup has changed three times since 2013.
4. Marty Friedman - "Wall of Sound"
Release Date: August 4
Genre: progressive metal, shred, jazz fusion
Marty Friedman is a man of frequent discussion in the UG news section, mostly because Dave Mustaine likes to talk about him, and a lot of people here like to talk about Dave Mustaine (or at least click on articles that feature him). In case you're lost, Marty Friedman was a lead guitarist in Mustaine's thrash metal band, Megadeth. After he left, Friedman began a solo career as a virtuoso shredder that has seen him take up residence in Japan. Playing mostly instrumentals, Friedman is considered one of the best shredding guitarists of modern times for his mix of speed, dexterity, and melody. This latest album should see him continue with this type of music; the album's first single showcases Friedman's skill with jazz fusion, djent, and a couple of other genres, all in four and a half minutes.
3. Brendon Small's Galaktikon - "Become the Storm"
Release Date: August 25
Genre: melodic death metal
Brendon Small is famous in the metal community for developing the animated show "Metalocalypse," which follows the journey of fictional death metal band Dethklok. However, the cancellation of "Metalocalypse" by Cartoon Network has left the show's fans in a void, especially because Cartoon Network owns the trademarks related to the show, which prevents Small from using the show's characters in another setting. Brendon Small's Galaktikon is technically a separate, solo band; Small released an album with it in 2012. But now, with the demise of Dethklok, Galaktikon takes on a whole new level of significance, so much so that this album was voted one of the most anticipated albums of the year in a UG poll we ran in December. Expect an album that will please "Metalocalypse" fans and feature important contributions from Dethklok collaborators Bran Beller and Gene Hoglan.
2. Steven Wilson - "To the Bone"
Release Date: August 18
Genre: progressive rock, experimental pop
Steven Wilson is one of UG's favorite musicians for his versatility as a songwriter, guitarist, and producer. Though he is probably best-known for his work as the head songwriter for the band Porcupine Tree, his recent solo work has elevated him to god status for many in the UG community. This latest album has generated a bit of controversy before its release; Wilson has said that it will feature a good amount of pop songwriting. Needless to say, this has sent a few prog-tied fans into a frenzy. Others are looking forward to hearing the latest step in Wilson's evolution as a musician. This could really be something cool.
1. Queens of the Stone Age - "Villains"
Release Date: August 25
Genre: alternative rock
The most anticipated album for this coming August is from Queens of the Stone Age (QOTSA). For one, the band probably has the most mainstream appeal of any in our list. UG users also love the band to the point that the title of their most famous album became a way to troll the news section comments. But also, this album sees the very intriguing contributions of Mark Ronson as producer. Ronson is known for his work producing pop artists and for his own success with "Uptown Funk," which features Bruno Mars on vocals. QOTSA guitarist Josh Homme developed a friendship with Ronson while they both worked for Lady Gaga and now the duo is this year's guitarist/producer combo that we are most looking forward to.
So, how did we do? Questions, comments, concerns? Are you ready to flame us or send us beer (actually it would really be awesome if you could do that)? Let us know all in the comment section.