5 Most Anticipated Albums of July 2017
What are you gonna want to hear as the sun boils overhead?
Parker_Abt
Ultimate Guitar

Parker_Abt
I write reviews for UG. I joined the team in 2012. Best team in the world! As we say here, play it fucking loud!
Posted Jun 10, 2017 12:35 PM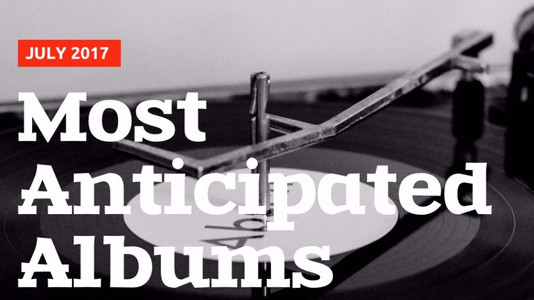 Welcome to UG's review of the most anticipated albums to be released in July. What are you gonna want to hear as the sun boils overhead? We'll tell you!
Honorable mentions:
In This Moment - "Ritual"
Release Date: July 21
Genre: metalcore
Wintersun - "The Forest Seasons"
Release Date: July 21
Genre: power metal
Decapitated - "Anticult"
Release Date: July 7
Genre: technical death metal
Mr. Big - "Defying Gravity"
Release Date: July 7
Genre: hard rock
Melvins - "A Walk With Love & Death"
Release Date: July 7
Genre: experimental rock, doom metal
Limbonic Art - "Spectre Abysm"
Release Date: July 7
Genre: symphonic black metal
Decrepit Birth - "Axis Mundi"
Release Date: July 21
Genre: technical death metal
Rings of Saturn - "Ultu Ulla"
Release Date: July 28
Genre: technical deathcore
Rage - "Seasons of the Black"
Release Date: July 28
Genre: power metal, heavy metal
Prong - "Zero Days"
Release Date: July 28
Genre: groove metal, thrash metal
And now, onto the Top 5! This month's most anticipated albums include something old, something new, something borrowed, and something blue (well that last one is a bit of a stretch):
5. Alice Cooper - "Paranormal"
Release Date: July 28
Genre: hard rock
Something old: this ghoulish singer is most famous for 1972's "School's Out." After turning up to that iconic song, students can rush into summer looking forward to this new album, Cooper's first in six years. The first single from the album was released today and you can listen to it below. If we're lucky, we'll get to hear contributions on the album from Nita Strauss, who joined the band in 2014.
4. HAIM - "Something to Tell You"
Release Date: July 7
Genre: pop rock
Something new: If it somehow seems like HAIM has been around for forever, it's because they became a hit four long years ago with rock-tinged pop songs like "The Wire." It's easy to forget that this upcoming album will only be the band's second. The first single, "Want You Back," has received significant radio support in the US and Europe. If "Want You Back" is any indication of the rest of what is in store, this album will see HAIM take a turn toward a more commercialized pop sound while still retaining some of the rock elements from the first album, most notably Este Haim's firm bass tone. Below is the second single from the album, "Right Now," which has a really cool drumming section at the end.
3. Goldfinger - "The Knife"
Release Date: July 21
Genre: punk rock
Something borrowed: July will see the release of a new album from an American band with a name borrowed from the famous James Bond movie. Actually, a lot of Goldfinger's recent history deals with borrowing. Blink-182 borrowed frontman John Feldmann to help write and produce their 2016 album, which became the band's first Grammy nominated album. Meanwhile, Feldmann is borrowing Travis Barker from Blink-182 to serve as a touring drummer for Goldfinger. Come to think of it, Feldmann only recently rebooted Goldfinger as his solo project. Kelly LeMieux and Darrin Pfeiffer are gone and Feldmann has written the first Goldfinger album in nine years. Given the circumstances, this album should be one of the most intriguing of the summer.
2. Arcade Fire - "Everything Now"
Release Date: July 28
Genre: indie rock
This rhyme scheme wasn't well thought out. So, for something blue, we bring you Arcade Fire because fire is blue...yep... In all seriousness this album should be something to look out for. Arcade Fire has a soft rock sound that is more polished than HAIM's. They also stay out of the electronic instrument realm for the most part, which gives their music a much more raw vibe than it would have otherwise. This upcoming album seems to be a continuation of what fans expect out of Arcade Fire. You can find the album's title track below.
1. Silverstein - "Dead Reflections"
Release Date: July 14
Genre: post-hardcore
So... the point this author realizes the rhyme scheme idea is terrible is when Silverstein's "Dead Reflections" becomes the #1 anticipated album of July solely because it is the only album in the Top 5 that can't be reasonably connected to the rhyme scheme. Anyway, Silverstein deserves some sort of medal for being by far the most prolific band in the Top 5, consistently releasing albums every two years. With a fairly stable lineup for its entire career, the quality of the band's music has stayed high, and UG expects nothing less from them this time.