5 Most Anticipated Albums of June 2017
Spring into summer with these great upcoming albums.
Parker_Abt
Ultimate Guitar

Parker_Abt
I write reviews for UG. I joined the team in 2012. Best team in the world! As we say here, play it fucking loud!
Posted May 11, 2017 03:56 PM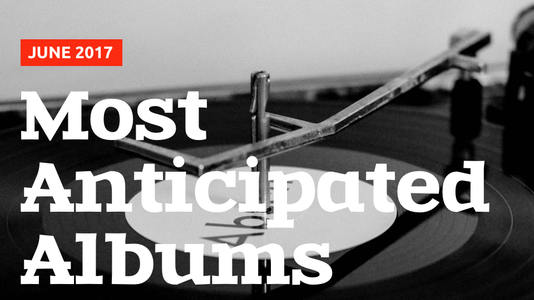 Yesterday we reviewed the top 5 albums released last month. So today, we're going to look at the top 5 albums anticipated to be released next month. What are the albums that are going to power us into summer (at least for us folks in the northern hemisphere)?
First, let's start with some honorable mentions:
Flogging Molly - "Life Is Good"
Release Date: June 2
Genre: Irish folk and punk
Rancid - "Trouble Maker"
Release Date: June 9
Genre: Ska punk
Rise Against - "Wolves"
Release Date: June 9
Genre: Melodic hardcore
Lady Antebellum - "Heart Break"
Release Date: June 9
Genre: Country
Cheap Trick - "We're All Alright!"
· Release Date: June 16
· Genre: Hard rock
Iced Earth - "Incorruptible"
Release Date: June 16
Genre: Heavy metal
Nickelback - "Feed the Machine"
Release Date: June 16
Genre: Hard rock, post-grunge
Royal Blood - "How Did We Get So Dark?"
Release Date: June 16
Genre: Hard rock
And now, onto the list!
5. Stone Sour - "Hydrograd"
Release Date: June 30
Genre: Heavy metal
Corey Taylor's lesser-known band is returning for their first album since the duo releases of "House of Gold & Nones" parts 1 and 2, which were released in 2012 and 2013, respectively. Bassist Johny Chow has said that a feature of this album was that the band recorded it live in the studio: "We didn't do it piece by piece in Pro Tools and chop it up... We really were able to capture that raw, aggressive feel and tone." Chow went on to describe the album as a bit of a departure from the band's previous metal work, noting how this album would be much more of a rock album, as he describes it, "Foo Fighters-meets-Cheap Trick."
4. alt-J - "Relaxer"
Release Date: June 2
Genre: Indie rock
This, the British band's third album, feels sprung on the music industry; its release was only announced on March 3 when the band released on audio clip of the album's first single with the title written in binary code: "00110011 01110111 01110111." Since then, the band has been out promoting the album, making appearances on the shows of Jimmy Kimmel, Jimmy Kimmel, and NPR (stands for National Public Radio, an American government-funded outlet). The album's first single, taken out of binary code and re-stylized as "3WW" can be found below.
3. CKY - "The Phoenix"
Release Date: June 2
Genre: Alternative metal
This album is the band's first studio album since 2009. Since then, the band has undergone some lineup changes and the result is that this album is the first in the band's history to be recorded by a trio (Chad I Ginsburg, Jess Margera, and Matt Deis). The first single from the album (see the video below) features a guest performance from Brent Hinds of Mastodon. The shortest of the band's albums to date, "The Phoenix" only has eight songs, clocking in for a total of a little over thirty minutes of music. Still, it will be very interesting to see how the band has reinvented themselves in the past eight years.
2. Chuck Berry - "Chuck"
Release Date: June 9
Genre: Rock 'n' roll
It seems we're reaching the years when the older of the guitar gods are starting to meet their ends. Among the long list of musicians claimed recently, perhaps none was more influential than Chuck Berry, who died this March at the age of ninety. However, much like other 1950s guitarists like Les Paul and B. B. King, Chuck Berry was still making music as long as he could still stand. He managed to record all of "Chuck" before he died, which means that it will be a posthumous album of completely new material, not just a tribute album, re-issue, or deep tracks release. The first single from the album, which you can hear below, bears a strong resemblance to "Johnny B. Goode," the famous song that, aside from being Marty McFly's anthem, was a huge inspiration to rock guitarists like Keith Richards and Angus Young, whose duck-walk is copped from Chuck Berry's own.
1. Roger Waters - "Is This the Life We Really Want?"
Release Date: June 2
Genre: Pink Floyd
Roger Waters is one of the most famous bassists of all time, acclaimed for his songwriting on Pink Floyd albums like "Dark Side of the Moon," "Wish You Were Here," and "The Wall." You could also say he has had a pretty solid solo career; his tour in 2011 was the top grossing tour of all time for a solo artist. This album is the most anticipated release of the month because it is Waters's first studio album of original music in twenty-five years. The previously released singles have been strong, channeling the Pink Floyd sound that many rock fans old and new have been craving. So take a good afternoon, find your psychedelic substance of choice, and kick back and relax to the music of this icon.