5 Rare Live Metallica Videos You Need to Check Out
Kickass bootlegs from sneaky metallifux!
alecplowman
Ultimate Guitar

alecplowman
Posted Mar 18, 2017 02:17 PM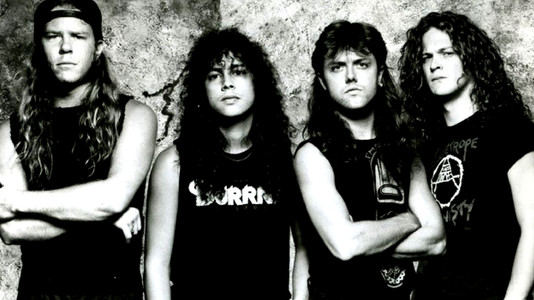 In this week's edition of 5 Live Recordings You Need to Check Out, we're raiding the bootleg vaults of the bay area's finest thrashers; Metallica. Fortunately, Metallica are one of the most bootlegged bands of all time, and there's tonnes of great footage out there from their early days to the present. These are five of my favorite bootleg videos from 1983-1991, capturing the band's transition from young, hungry metal maniacs to skull-crushing stadium rocking behemoths. Enjoy!
The Stone, San Francisco, 1983
This very generated VHS source might not be the greatest quality footage in the world, but it's worth watching for historical significance alone. The first known filmed performance of Metallica and released before the Kill 'Em All album, it features Dave Mustaine on lead guitar in the brief period that he shared the stage with the late, great Cliff Burton. A set almost exclusively comprised of material from their 1982 No Life Til Leather demo tape (including "Mechanix," the embryonic version of "Four Horsemen"), this is the "young metal attack" in full effect.
Uniondale, New York, 1986
Unfortunately, footage of Metallica from their seminal Master of Puppets tour that features Cliff Burton is pretty rare. Of the few examples out there, this New York 1986 offering is certainly one of the best. Filmed right in the pit, it gets a little shaky at points, but does a fantastic job of capturing the atmosphere of the 'Tallica boyz at a time when they were poised for greatness. Performed at the breakneck speed they were known for at this time, there's also plenty of great moments from Cliff, filmed here shortly before his tragic passing.
Toronto, Canada, 1986
Some of the earliest available footage featuring Jason Newsted on bass, this bootleg combines some very watchable, tripod shot balcony footage with a good quality soundboard recording. It's 90-minutes of unrelenting, pedal to the metal thrash metal fury, and captures the band during an interesting point of transition, with …And Justice For All just around the corner.
Philadelphia, Pennsylvania 1989
Speaking of …And Justice For All, this video bootleg features some awesome pro-shot footage from the Damaged Justice tour, taken from the in house jumbo screens in Philadelphia. Unfortunately, the soundboard audio that accompanied the original video was horrendously blown out and practically unusable, so a very good audience recording takes its place here. A nice, rough-and-ready counterpoint to the excellent, but very slick Seattle 1989 video from the band's Live Shit: Binge and Purge box set.
Moscow, Russia, 1991
This concert, from a 1991 Monsters of Rock bill that also featured AC/DC, The Black Crowes and Pantera is already the stuff of legend. The first open-air rock concert to take place in Moscow, it went down just days after the failed August Putsch that represented the implosion of the soviet union; if you don't know the full story, I'd recommend checking out the excellent documentary For Those About to Rock: Monsters in Moscow. While the documentary only features three tracks from Metallica's performance, you get the full 80-minutes of Metallica's performance in all their pro-shot glory on this bootleg, and it is a powerhouse. With The Black Album barnstorming the charts across the world at this point, this footage finds Metallica in full-on stadium metal gods mode, and reveling in every minute of it.
That's it for this week, but be sure check out next week's feature, where we'll be exploring more live triumphs from the mighty Metallica!