6 Bands That Flea Has Played In (Besides RHCP)
Flea knows how important it is to broaden the horizons from time to time.
Maria_Pro
Ultimate Guitar

Maria_Pro
If you're going to be crazy, you have to get paid for it.
Posted Oct 19, 2017 11:28 PM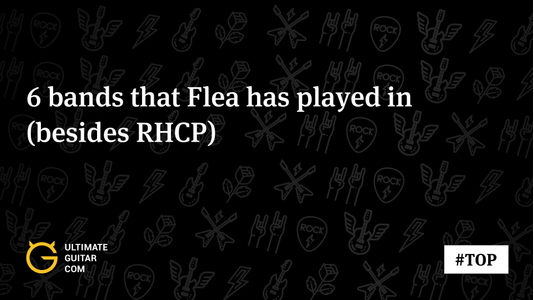 Jane's Addiction

Flea's collaboration with Jane's Addiction started in 1988 when he was invited to play trumpet on the band's first studio record, Nothing's Shocking. After Jane's Addiction dismembered, Perry Farrell (vocals) and Stephen Perkins (drums) decided to start a new band called Porno for Pyros. Dave Navarro along with Flea joined them to record "Hard Charger" in 1997 for Howard Stern's movie, Private Parts soundtrack. In 1996 the band recorded their second album Good God's Urge, with Flea playing the bass this time. The two appeared on the song 'Freeway.'

By the way, Flea also took part in Stephen Perkins' side project Banyan.
Atoms for Peace

In 2006, Radiohead singer Thom Yorke released his first solo album, The Eraser, that inclueded mostly electronic music. In 2009, wanting to recreate The Eraser with live musicians, Yorke recruited Godrich, Flea, Joey Waronker and Mauro Refosco.

Thom said:
"It's like opening a big Pandora's Box, and I don't know what direction it's going to go in. We've got these bonkers rhythms made by machines, and musicians who can keep up with them – no problem – and the two can bounce off each other. It's quite something."
The Atoms for Peace toured the United States in 2010. After the tour, the supergroup spent three days jamming and recording original material in Los Angeles. This became band's debut album, Amok. The album was followed that year by a tour of Europe, the US, and Japan. Officially, the group didn't break up, so there's still hope for a new record.
Fear

In 1982, Fear released their debut album The Record. After touring in support of the album, Ving fired Scratch. Eric Feldman (of Captain Beefheart, Pere Ubu, PJ Harvey, etc.) briefly filled in on bass before he was replaced by Flea. When Flea joined Fear, his technique centered mainly on punk rock bass lines. He began to incorporate his famous "slap" bass style only when RHCP formed. He quit the band in 1984.
The Mars Volta

The Mars Volta had no official bassist during the recording session, but Flea played bass on nine of the album's ten songs. Flea has always been open to new experiments and, therefore, gladly agreed to help the band with the record. The album became a commercial success, selling about half a million copies.

His bandmate John Frusciante also contributed additional guitar, synthesizer and backing vocals to "Cicatriz ESP."
Alanis Morissette
Flea performed on over forty records from 1995 to 1998, ranging from Alanis Morissette's Jagged Little Pill (one of the best selling albums in music history) to former Minutemen bassist Mike Watt's debut solo album Ball-Hog or Tugboat?.

Jagged Little Pill's lead single, "You Oughta Know," contained a guitar which was contributed by Dave Navarro along with bass lines by Flea. Navarro and Flea created the song in the studio together and was written with a different instrumentation. In 1996, the single was nominated for three Grammy Awards, winning the awards for Best Rock Song and Best Female Rock Vocal Performance.

Navarro said,
"The structure of the song was in place, but there were no guide tracks, we just had the vocal to work from. It was just a good time, and we basically jammed until we found something we were both happy with. Alanis was happy too."
Rocket Juice & The Moon

On 27 October 2011, it was announced that Flea's side-project with Damon Albarn and afrobeat legend, Tony Allen would be called Rocket Juice & the Moon. The band made their 20-track live debut on 29 October 2011, in London and their debut effort was released in 2012.
(Bonus)
Solo

On 19 July 2012, Flea released a solo 6-track EP, Helen Burns, composed mainly of instrumental tracks, except the title track (which Patti Smith sang on) and "Lovelovelove," which features the Silverlake Conservatory of Music's kids and adults choir.

Flea said,
"I am putting it out to raise money for the Silverlake Conservatory of Music, a community based non-profit music school that I am an integral part of."
The EP was recorded in 2007 by Flea and Chris Warren, drum technician and keyboard player for the Chili Peppers. The title of the EP, according to Flea, comes from a character in the 1847 novel Jane Eyre.