6 Rock Star Homes
These folks are living your dream.
Maria_Pro
Ultimate Guitar

Maria_Pro
If you're going to be crazy, you have to get paid for it.
Posted Jul 17, 2017 06:14 PM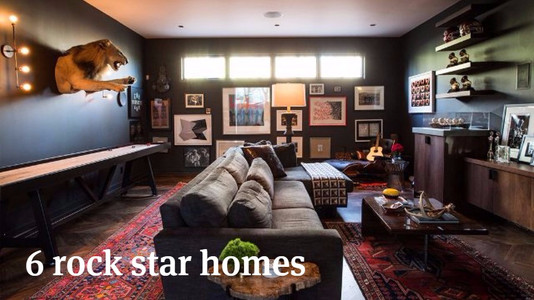 Jack White
The famous musician recently bought a mid-century Modern house in Kalamazoo, designed by renowned architect George Nelson in 1958. According to The New Yorker, White bought the home above asking for $510,000—sight-unseen. The sale of the home included most of the original Herman Miller furniture, which presumably White is going to preserve.
Despite this, Jack currently lives in Nashville, where his label Third Man Records is based and plans to use the 3,500-square-foot Kirkpatrick House as an occasional writing retreat. 'I'm a believer in nobody owns anything,' he said. 'If you could take care of it and pass it along, it's good.'

Jack Black - Tenacious D
Even though Jack Black is known for playing an affable guy-next-door, his house in Hollywood Hills screams the opposite. This house is a paean to modernism and a testament to Black's surprisingly refined architectural taste.

Nathan Followill – Kings Of Leon
Originally built in the 1970s in Tennessee by famous architect Robert Anderson, the five-bedroom house was recently remodeled by Nashville architect Steve Durden. By thoughtfully combining mid-century furniture and comfortable textiles, Vandiver created a cozy home with an accessible vibe for the KOL's drummer and his family.

Rod Stewart
Rod Stewart lives in a huge loud yellow house in Palm Beach, FL that includes a football pitch, carting track, and a private beach. Stewart collects hot-blooded marble statuary and urbane Regency furniture. He has a weakness for 18th-century Italian and French pieces, toy Scottish soldiers, model trains, real Ferraris, any shirt that's white, the newest soccer shoes and, especially, for florid silver picture frames, which blanket every tabletop in the house.

Dave Mustaine - Megadeth
The lead singer and guitarist of Megadeth used to be the owner of a sprawling 9.5-acre spread in the northern San Diego community that includes vineyards, pastureland, and a pond. But in 2015 Mustaine moved to a new house in Nashville, TN to support his daughter's aspiring country career.

He explained in one of his interviews: 'The reason we moved out here was because I've made four records out here and all those times I was recording, I did live here. It really was comfortable to be here. The last time we were here, my daughter Electra was only two years old. We didn't know that she had the gift and once she started singing — I heard her sing one time and I was really convinced.'

Understanding the differences between his career and his daughter's career, Mustaine was happy to make a move, stating, 'I could do my job from anywhere — Megadeth is that successful. I can do stuff on the net from a desert island if I wanted to. But I think for her, to be here right now and work with other songwrit­ers builds her name. She just goes in and meets people and doesn't tell them who her dad is [laughs].'

Steven Tyler - Aerosmith
Aerosmith frontman Steven Tyler owns a stunning house in Hawaii, which is situated over 3000 sq ft of land, is shaped like a pentangle and features two bedrooms and three-and-a-half bathrooms. Just a few short weeks after making this purchase, Tyler and his fiancee hired an expert to bless the home.

Located in a nature preserve on the island of Maui, the quarter acre, beach front getaway comes complete with incredible coastal views and outdoor decks leading to an infinity-edge saltwater pool.