8 Famous Songs That Bands Don't Want to Play Live
You probably won't see these songs performed live any soon.
Niass
Ultimate Guitar

Niass
Serial Walken comma user. Stroopwafel enthusiast.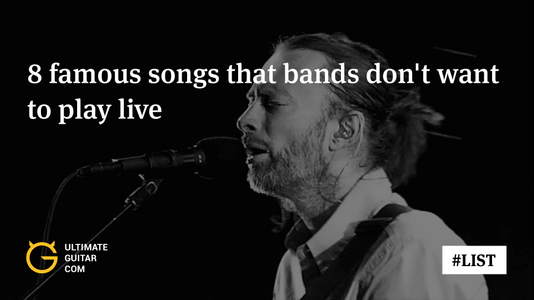 Metallica - 'Escape'
Escape was played live on June 23rd, 2012 and holds the record for going the longest without being played live, with 10,194 days. The hate can be justified as the song was written as a 'radio friendly' album filler, demanded by the record company. And this slow song paired with cheesy lyrics does the job quite fine.
Eric Clapton - 'Tears In Heaven'
This song was inspired by the death of Eric Clapton's young song who fell from the window of a tall apartment building. He doesn't sing it live not cause it's too painful, but because he doesn't feel the loss anymore and he doesn't want those feelings to come back.
Korn - 'Daddy'
This song is sure hard to listen to. It was written by Jonathan Davis about how he was molested as a child. 'He's already emotionally drained when he leaves the stage after our set," said his bandmate Munky, "so I couldn't imagine him leaving the stage after playing that song."
Megadeth - 'The Conjuring'
After Dave Mustaine became a born-again Christian, it didn't particularly appeal to him to sing songs about black magic anymore. In fact, he said it had "ruined his life." Describing his childhood obsession with Wicca, he said, "I put a hex on a dude and his leg kind of got messed up. The other one was I put a sex hex on this girl and the next night she was in my bed, so I think that it worked."
AC/DC - 'Long Way To The Top'
One of AC/DC's most loved songs can rarely be seen on the band's tracks because it was written and performed by AC/DC's original frontman, Bon Scott, who died in 1980 after a night of heavy drinking.
Foo Fighters - 'Big Me'
The song became a fan favourite as much for its music video - which parodied Mentos adverts - as for the song itself. As a consequence, fans started throwing Mentos at the band whenever they played it live. So they stopped playing it for an extended period of time, "because, honestly, it's like being stoned. Those little … things are like pebbles – they hurt." Poor Dave.
Radiohead - 'Creep'
One of the band's most beloved songs is the one they hate the most. Thom Yorke famously called it "crap," and responded to a fan's request by shouting, "Fuck off, we're tired of it." They've not got a blanket ban on it exactly - they played it in 2001, then in 2009, and most recently in 2016. So you'll probably have to wait until about 2023 before they'll be playing it again.
Oasis - 'Stand By Me'
In fact, before their split (and since), the band refused to play pretty much anything from 1997's Be Here Now. Noel Gallagher despises the whole album, describing it as "the sound of a bunch of guys, on coke, in the studio, not giving a fuck. All the songs are really long and all the lyrics are shit and for every millisecond Liam is not saying a word, there's a fucking guitar riff in there in a Wayne's World style."