8 Fictional Rock Bands
Rock stars of the parallel Universe.
Maria_Pro
Ultimate Guitar
Posted Jul 22, 2017 04:46 PM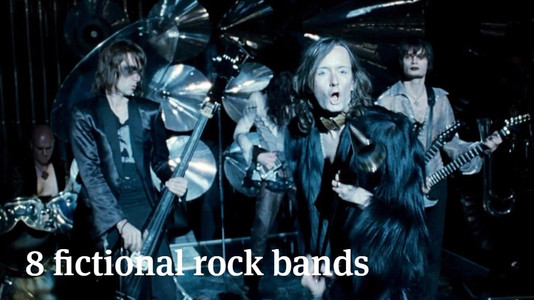 Weird Sisters
Movie: 'Harry Potter and the Goblet of Fire.'
The band has Myron Wagtail (Jarvis Cocker/Pulp) on vocals, Kirley Duke (Jonny Greenwood/Radiohead) on lead guitar, Heathcote Barbary (Jason Buckle/All Seeing I) on rhythm guitar, Donaghan Tremlett (Steve Mackey/Pulp) on bass, Gideon Crumb (Steven Claydon/Add N to (X)) as keyboardist and bagpiper, and Orsino Thruston (Phil Selway/Radiohead) on the drums. So, in the muggle world, the WeirdSisters is a real supergroup.
The Soggy Bottom Boys
Movie: '"O Brother, Where Art Thou?"
The band has Ulysses Everett McGill (George Clooney), Pete Hogwallop (John Turturro) and Delmar O'Donnell (Tim Blake Nelson) all sang, accompanied where necessary by Tommy Johnson (Chris Thomas King) on guitar. The actual singing and playing was by country and bluegrass stalwarts Dan Tyminski, Harley Allen and Pat Enright

The soundtrack to the movie was good enough to trigger a collaborative tour from many of those featured, including Emmylou Harris and Alison Krauss, whose version of "Down in the River to Pray" is the other standout musical moment in 'O Brother.'
Stillwater
Movie: "Almost Famous."
The band has Jeff Bebe (Jason Lee) on guitar and vocals, Russell Hammond (Billy Crudup) on guitar, Larry Fellows (Mark Kozelek of the Red House Painters) on bass guitar, and Ed Vallencourt (John Fedevich) on drums.

The Stillwater songs were written by Nancy Wilson of Heart (also director Cameron Crowe's then wife), Crowe, and Peter Frampton.
Drive Shaft
Movie: 'Lost' series
Drive Shaft was the rock band that Charlie Pace (Dominic Monaghan) and his older brother Liam Pace (Neil Hopkins) founded. The band found international fame after its first (and only) hit song "You All Everybody." Actor Dominic Monaghan credits the band Oasis explicitly as being an influence for the Drive Shaft.
Infant Sorrow
Movie: 'Get Him To The Greek' and 'Forgetting Sarah Marshall.'
British rock star Aldous Snow (Russell Brand) releases an album and a titular single, "African Child," which is a commercial and critical failure.

After stealing the show in Forgetting Sarah Marshall, Brand got a whole movie for his earnest rock band Infant Sorrow.
The Soronprfbs
Movie: 'Frank.'
The drummer doesn't speak, the lead guitarist speaks only French, the theremin player is homicidal, the keyboardist has been sectioned by local authorities after a suicide attempt, and the lead singer (played by Michael Fassbender) wears a giant Frank Sidebottom head at all time. The band has never successfully completed a gig or recorded a single track. This is the state of affairs for the obscure band as the film opens.

The movie is based loosely on Frank Sidebottom, a musical eccentric alter-ego created by real musician Chris Sievey, who died in 2010.
Mystik Spiral
Movie: 'Daria.'
Cartoon alternative rock quartet from MTV's Beavis and Butt-head spinoff, Daria. The band first appeared in the "Road Worrier" episode (first aired 7 July 1997), with just Jane Lane's slacker brother Trent (voiced by Alvaro J. Gonzalez), and hunky airhead Jesse Moreno (Willy Schwenz) rehearsing "Icebox Girl" in the basement.

The music is pretty terrible, and the lyrics are worse, but the suggestion that if they change their name it might earn them a big break is undoubtedly familiar to many a bedroom guitarist.
The Sacred Cows
Movie: 'Get Smart' TV series
Reputedly the "hottest musical group in the country," the Sacred Cows are actually a band of KAOS agents in league with the Groovy Guru. In conjunction with the Groovy Guru's "electronic sound control," their music becomes hypnotizing - allowing the Guru to control anyone who hears it.

The band was played by session musicians Jerry Scheff, John Greek, and Ben Benay.