9 Best High-Pitched Metal Singers
You gotta sing high or gotta go home.
Niass
Ultimate Guitar

Niass
Serial Walken comma user. Stroopwafel enthusiast.
Posted Jun 06, 2017 07:05 AM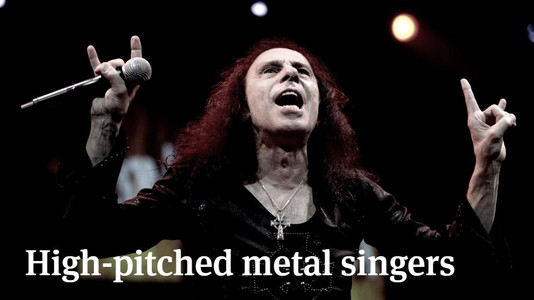 High-pitch singing has been at the heart and soul of metal since Ozzy's shrieking, nervous vocals and Robert Plant's falsetto in Immigrant Song.

Here's the list of the 9 best high-pitched metal singers.


9. Michael Kiske (Helloween)
Throughout Europe and parts of South America, where power metal bands make the covers of magazines, Michael Kiske is a living legend. Though he fronted Helloween for four albums, only a couple of them can honestly be called all-out metal. The German's performances on classics like "Eagle Fly Free" and "Dr. Stein" showcase a singer at the top of his game rocking the kind of vocal cord gymnastics only dared by true masters.
8. Dani Filth (Cradle of Filth)
Cradle of Filth was, at a time early on in its career, one of the scariest bands in extreme metal, and were at the forefront of black metal's mainstream popularity in the U.S., in the mid to late '90s. Vocalist Dani Filth was a singer with not just lyrics, but eloquent, biblical, vampiric, and evil tales and mythologies, sung in a demonic high pitch death growl. It alternates between grunting and a terrifying howling shriek that is like a black metal, grindcore version of Bruce Dickinson.
7.Geoff Tate (Queensryche)
Queensryche is no longer fronted by Geoff Tate, but he will always be remembered for his work from its early days. The sound and music of Queensryche with Tate as the front man is timeless, and was instrumental in the development of power metal, and prog rock. Even though Tate is no longer with the original incarnation of Queensryche, after numerous legal battles and a settlement, he continues on as a heavy metal singer, keeping the legacy of the album alive, with his band Operation Mindcrime.
6. Geddy Lee (Rush)
Although not a heavy metal band, Rush is in a category of bands such as Black Sabbath, Led Zeppelin, The Beatles and The Rolling Stones. The band might have a cult following, but these Canadians are celebrating 40 years, as a rock band with all original members, and at the front center, is the voice of Geddy Lee. As the band's bassist, singer and keyboard player, Lee is instrumental in the unique sound of Rush, and his higher toned voice is, to many either love or hate it. 
5. King Diamond (Mercyful Fate)
From insanely high pitch howling to singing, the King's voice is so distinct, it's one of a kind, and instantly recognizable from the first note. His obsession with evil intensified with his solo career in the 1980s, making him as influential as great acts like KISS and Alice Cooper, internationally, with a cult following of millions of devoted followers.
4. Dio (Dio, Black Sabbath)
Ronnie James Dio is one of the best heavy metal vocalists of all time. His vocal range and ability to hit and keep long notes in head banger's anthems and ballads secured his legacy and influence for a long time.
3. Axl Rose (Guns N Roses)
Notorious, unstable, violent, and fueled alcohol and drugs at the time, Rose's performance on the record is immortal and his vocals made the GNR release one of rock music's classic albums of all time. The notes Rose hits and sustains make his singing sound like it was an effortless performance. Not only is Rose forever revered as an iconic singer with dynamite stage presence and, but his voice, look and attitude make him a rock star, and a rebel.
2. Bruce Dickinson (Iron Maiden)
Although he wasn't the original first voice of the British powerhouse heavy metal group Iron Maiden, Bruce Dickinson has been the voice behind one of England's biggest bands, since he has become to establish himself as one of heavy metal's greatest singers and front man since 1982's seminal record, Number of The Beast. Dickinson's high pitched screams and long reaching echo of a singing range is perfect for Maiden's songs, about historic figures, ancient battles, modern turmoil, warfare and tales of evil and darkness.
1. Rob Halford (Judas Priest)
There is a reason that Rob Halford, of the mighty Judas Priest is known as a metal god. With a voice that is rainy, raspy a very much in tune with proto-metal/hard rock bands of the time, Halford's true talent makes high pitch notes like an opera singer and a scream like no other. Judas Priest are one of the most influential of all heavy metal bands, inspiring legions of fans such as Venom, Slayer, Pantera and so many others to pick up instruments and form bands themselves. The band's direct influence and Halford's trademark scream can still be felt and heard in punk and metal to this day.