9 Famous Infamous Fails
Epic fuck ups at live shows.
Maria_Pro
Ultimate Guitar
Posted Apr 26, 2017 09:16 AM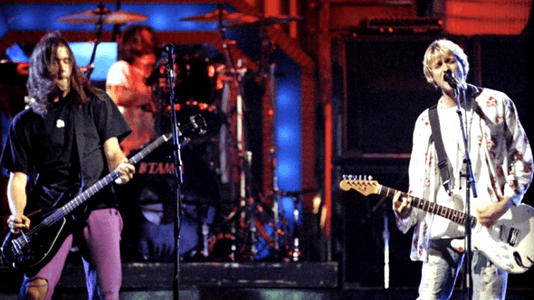 You never know what to expect at a live show. Things can go legendary and you will end up in history books or you can fuck up big time and become dinner for the media. It's a good thing that people with stage fright rarely become music stars, otherwise they'd find themselves in a complete nightmare. I bet the following 9 stories will make you cringe very hard.
1. That time when Dave Grohl broke his leg during a concert and continued to perform
According to fans at his Sweden show in June 2015, the Foo Fighters lead singer attempted to jump onto a ramp but instead fell into the security pit and broke his leg. To be fair Dave turned this fail into a win. He committed to finishing the song and continued to entertain a crowd of thousands on a freshly-broken leg.
2. That time when Krist Novoselic crushed his head with his own bass at VMA
The incident took place at the VMA 1992. MTV executives were stressed from the very beginning. They prohibited Kurt Cobain from play the new song "Rape Me" and were not sure of what to expect of the moody frontman during the band performance. It was not Kurt that they should have been worried about but Nirvana bassist Krist Novoselic. He pulled a familiar stunt that involved him throwing his bass high into the air and catching it. But this time things did not go as planed and Novoselic's bass landed on his head. He fell to the ground in front of the entire MTV audience and had to be taken to the hospital. That didn't stop bandmates Cobain and Dave Grohl from taking the time to destroy their equipment and taunt Axl Rose before leaving the stage.
3. That time when Eddie Vedder fell and dropped the mic
One moment you're a king of the stage, and the next moment you're a viral gif and a meme.
Eddie Vedder once took a spill while running across a stage. He then tried to get back up gracefully, only to drop the microphone in the process. It made him an internet star for quite a while. This happened during Pearl Jam's 2006 European tour, which happened during the fall (hehe). To be fair, Pearl Jam actually still rocks pretty hard.
4. That time when Frank Zappa nearly died in an orchestra pit
The incident happened during a Frank Zappa and the Mothers of Invention tour in 1971. The band was performing in London when a fan rushed onto the stage and pushed Zappa into the concrete orchestra pit. The fall nearly killed him. Zappa sustained a crushed larynx, fractures, head trauma, and injuries covering his entire body. The man who attacked him said he thought Zappa was eyeing his girlfriend.


5. That time when Kings of Leon were attacked by pigeons
It's hard to forget that Kings of Leon once canceled a show after performing three songs because a bird shit in the bassist's mouth. Everyone in the band was convinced it was a hoax. On the other hand, maybe the universe was trying to tell him something. Followill said: "I was hit by pigeons on each of the first three songs. We had 20 songs on the set list. By the end of the show, I would have been covered from head to toe." Luckily, the audience was given full refunds.
6. That time when Alice Cooper's snake took a shit onstage
It is no secret that Alice Cooper loves to have a snake around his neck during his concerts. It just so happened that once his exotic boa squeezed out several huge mounds of snake shit right on the stage.
"In 30 years, I've never had a snake defecate on stage, and this one decided that was gonna be the night. And let me tell you something: There is nothing on this planet more foul," Cooper said of the incident.
"So now the (roadies dressed as) clowns are on stage trying to clean all this stuff up, and it smells so bad that the clowns are throwing up. And everyone thinks, 'What a great ending for this show.' How sick is that?" asked Cooper.
The difference between this and the Kings of Leon incident is that no one felt the need to stop the show. The evening was an affair to remember. Unfortunately there's no video for this one.


7. That time when Guns N' Roses was booed off the stage
One time the crowd at the O2 Arena in Dublin was waiting for 1,5 hours for the band to show up and was obviously over it. When the band finally took the stage, the audience threw all kinds of things at them, including bottles, making the band stop the concert and leave.
8. That time when Donita Sparks threw her tampon into the crowd
L7, an all female rock band, never really got the same attention as their peers in the late '80s and early '90s. I'll give them one thing, they certainly knew how to make their show unforgettable. Once when technical difficulties gave them trouble during their set and the crowd reacted by throwing mud on the stage, lead singer Donita Sparks responded by shouting:
"Alright I got a present for y'all. Eat my used tampon, fuckers."
And then reached inside her pants and threw her used tampon into the crowd (which promptly threw it back).
9. That time when Pete Doherty...umm
Pete Doherty has always been a troubled soul and a messy performer. Media has already lost count to the unfortunate incidents during his performances. Sometimes I wonder if he's ever sober onstage. Here's one of his epic falls back from 2013.